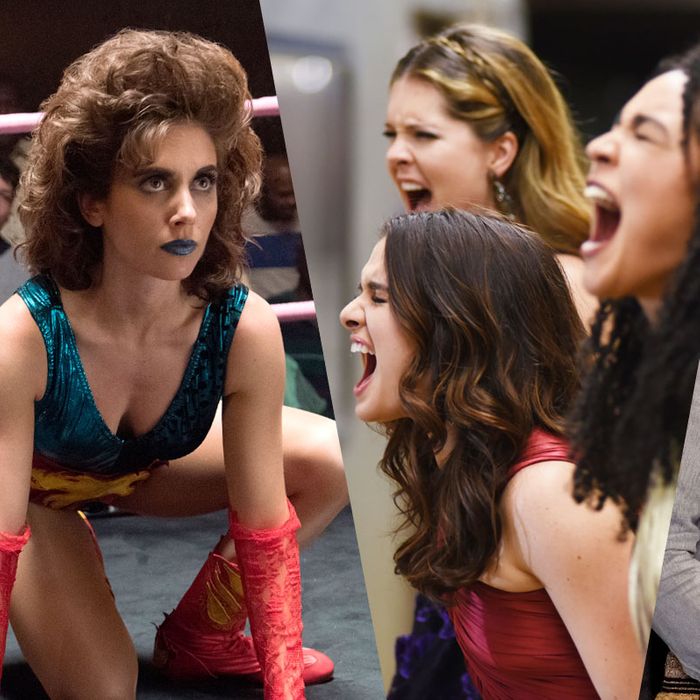 Photo: Netflix/Freeform/TVLand
You could spontaneously jump into the summer-TV season without trying to prepare in advance. But to be brutally honest, just think of all the shows you'd miss.
If you want to squeeze maximum TV enjoyment out of the next few months, it's important to make sure you're caught up before new — and, in some cases, final — seasons get underway. Vulture is here to help with this list of ten noteworthy dramas and comedies that will return during the hot and humid months, complete with details about how you can stream the previous seasons this very second. Because when it comes to watching television, why put off until tomorrow what you can do right now rather than taking care of your actual responsibilities?
Queen Sugar (OWN)
Returning: Tuesday, May 29
Where to stream the previous seasons: Hulu
The drama that plays out in Queen Sugar, created by Ava DuVernay and based on the novel by Natalie Baszile, stands out from the TV landscape for a few reasons. Its cast consists primarily of African-American actors. The directors on the series have all been women — and, in nearly every case, women of color. And its depiction of complex family dynamics is compelling enough to tempt viewers to devote a whole afternoon to a binge, even on a sunny summer day.
Unbreakable Kimmy Schmidt (Netflix)
Returning: Wednesday, May 30
Where to stream the previous seasons: Netflix
One of TV's most delightfully absurd comedies reaches the beginning of its end this month, with the arrival of the first six episodes of Kimmy Schmidt's fourth and final season. (The remaining installments will land on Netflix later this year.) Now is the perfect time to sample some "Peeno Noir"* before Kimmy takes her last bow.
*If you don't get this reference, you need to watch the first three seasons. Then you can revisit this article and laugh knowingly at this clever reference to a hilarious wine-related song-joke.
Humans (AMC)
Returning: Friday, June 5
Where to stream the previous seasons: Amazon, AMC.com
If the robots of HBO's Westworld seem too far removed from any reality you recognize, perhaps you should try Humans, a British import based on a Swedish series that was picked up by AMC. It imagines a world where robots live among us in contemporary society, as personal assistants in family homes and, sometimes, in places where we don't even recognize them as nonhumans. Humans doesn't feel like escapist sci-fi, so much as a sneak preview of what life will look like when Alexa inevitably assumes corporeal form.
Younger (TV Land)
Returning: Tuesday, June 5
Where to stream the previous seasons: Hulu, TVLand.com
If you still haven't gotten onboard for this zippy exploration of ageism, the publishing world, and versions of Manhattan and Brooklyn that are way more fun than the ones you live in, this summer is the perfect time to rectify that oversight. Younger's fifth season pushes Liza (Sutton Foster), the 40-something pretending to be a 20-something for the sake of her career, and her colleagues at Empirical Press into a #MeToo controversy, one that ratchets up the heat around the central question of the series: Will Liza's great, big lie finally be exposed to everyone?
Claws (TNT)
Returning: Sunday, June 10
Where to stream the first season: Hulu
If your version of the ideal summer TV show involves gritty Florida backdrops, crime, Niecy Nash, and a whole lot of long, blinged-out fingernails, Claws is destined to be your jam. The series has its flaws, including tonal issues and some character choices that go way too far over the top, but if the rising humidity puts you in the mood for a crime-dramedy that's a little sleazy, give season one a shot before season two premieres in June.
The Bold Type (Freeform)
Returning: Tuesday, June 12
Where to stream the first season: Hulu, Freeform.com
The Bold Type was one of last summer's nicest surprises: a series about young women working in magazine journalism that is both breezy — yes, the love lives of the three main characters are a big focus — and that also takes these women and their ambitions seriously. If you're trying to get extra-ambitious in your summer TV catch-up efforts, may we suggest that a Bold Type/Younger double feature would work rather nicely?
The Affair (Showtime)
Returning: Sunday, June 17
Where to stream the previous seasons: Showtime (or Amazon and Hulu with an added subscription)
This is the first time Showtime has scheduled The Affair in the summer, as opposed to the fall or winter, and does that decision ever make sense. The drama, which has often unfolded against the backdrop of Montauk, has the vibe of a literary beach read. Season four catches up with the four principal players — Noah (Dominic West), Alison (Ruth Wilson), Helen (Maura Tierney), and Cole (Joshua Jackson) — while introducing some new ones, including a charter-school principal played by Sanaa Lathan. To understand the context behind what's happening with any of them, yeah, you'll need to spend some time with seasons one through three.
GLOW (Netflix)
Returning: Friday, June 29
Where to stream the first season: Netflix
The first season of this Netflix dramedy functioned as an origin story about how the Gorgeous Ladies of Wrestling, a.k.a. GLOW, came together in the 1980s to become a band of misfit, empowered she-fighters who both perpetuated and subverted stereotypes. With the foundation set by that initial ten-episode run, new rivalries and resentments begin to percolate in the second season as GLOW becomes an actual TV show. If you haven't, make sure to check out season one before the second debuts. If you want to take things a step further, check out the documentary about the original GLOW, also available on Netflix, that inspired series creators Liz Flahive and Carly Mensch to create their scripted version.
Casual (Hulu)
Returning: Friday, July 31
Where to Stream the First Three Seasons: Hulu
It's the end of the road for this underrated dramedy about the dysfunctional relationship between a sister (Michaela Watkins) and brother (Tommy Dewey), who are well into adulthood but still trying to find themselves. Yeah, it's another of those sad-in-California comedies, but it was a well-acted and well-written one. It may be ending soon, but anytime you spend watching will be well spent.