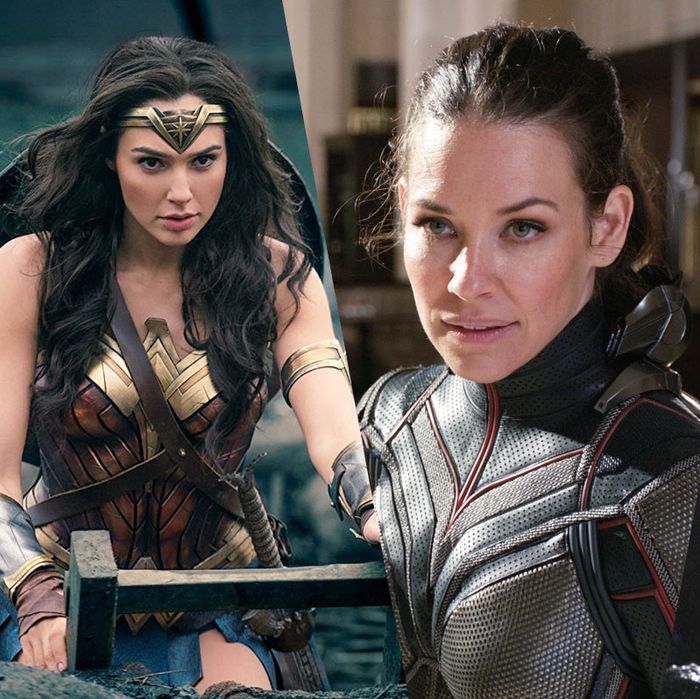 Photo: Warner Bros. Pictures/Marvel Studios/20th Century Fox
The list was first published in February, but has been updated to reflect newly announced films and production changes to ones that were previously included.
Female-fronted action pictures are becoming the Hollywood dish du jour, and it seems like there's a fresh piece of casting news about a gender-swapped reboot or a lady mercenary movie every week. So how and when will you be able to sate your unremitting appetite for badass ladies on the big screen? Vulture has mapped out all of the female-led action films either in development, in production, or in the can and on their way to a theater near you. Get ready for a slew of assassins looking for vengeance, a few precocious kids solving mysteries, a sampling of superheroes, and hopefully more high-quality wigs than we're capable of counting.
In Development
355
Status: Quickly in development. Jessica Chastain brought this one to Simon Kinberg when they were on the set of X-Men: Dark Phoenix, and he liked the idea so much he agreed to direct and help her develop it. Chastain then called up Marion Cotillard, Penélope Cruz, Lupita Nyong'o, and Fan Bingbing, and they all agreed to join the cast and travel to Cannes to pitch the movie to studio buyers, where it was promptly snatched up for a lot of money.
Description: A group of spies from agencies around the world (Chastain & Co.) will come together to defeat a "global organization" that's looking to acquire a very big and bad weapon.
A Patriot
Status: In development, with Eva Green set to star, joined by Kathy Bates and Ed Skrein. Dan Pringle will direct a script he co-wrote with Toby Rushton.
Description: Green stars as a Border Corp captain in a future authoritarian state that has walled itself away from a world ravaged by climate chaos and resource wars. Her job is to help ensure the purity of the populace, until a troubling discovery makes her doubt the regime she has pledged her loyalty to.
The Aeronauts
Status: In preproduction, but with stars and a director in place with Amazon.
Description: Eddie Redmayne and Felicity Jones star as a researcher and pilot team that goes on a science mission in a hot-air balloon. They ascend higher than anyone ever has, and have to fight for survival in the thinning atmosphere. (Of course a Jones/Redmayne action-thriller would be set in a hot-air balloon in the mid-1800s.)
Atomic Blonde 2
Status: Announced
Description: Charlize Theron said during her Watch What Happens Live appearance that the Atomic sequel was a go, but didn't provide any plot details. Expect a lot of fighting and hopefully many amazing coats.
Bad Monkeys
Status: The movie was announced two years ago and is still classified as in development, but no fresh news has been provided for a while.
Description: Margot Robbie is set to star in and produce Monkeys through her company, Lucky Chap. It's based on the novel of the same name by Matt Ruff; Robbie would play Jane Charlotte, a woman arrested for murder who gets sent to a psych ward after saying that she fights for a group called the Department for the Final Disposition of Irredeemable Persons. She proceeds to go mad — or is she the only sane one? Kind of sounds like an alternate origin story for Harley Quinn.
Ballerina
Status: Very early development. It was announced last summer, but no star is attached yet.
Description: Lionsgate won the rights to this script, and John Wick producer Basil Iwanyk is signed on to develop it. The story focuses on a young woman who's raised to be an assassin, and who's eventually tasked with tracking down and killing her own family.
Batgirl
Status: In development. Although it seemed like the project would stall after Joss Whedon backed out as screenwriter and director, Warner Bros. pushed ahead and announced earlier this year that Christina Hodson would be handling the script.
Description: Batgirl movie will follow the Barbara Gordon incarnation of the comics character. She's got crime-fighting in her veins as the daughter of Gotham City police commissioner James Gordon, and is also a very computer-savvy hacker.
Birds of Prey
Status: It's very possible this is the film Margot Robbie has reportedly been developing for two years already, which was previously listed here as an untitled project. Cathy Yan has been tapped to direct a script from Batgirl writer Christina Hodson.
Description: Robbie talked about a Harley Quinn movie that would put her with a girl gang, but that would be "totally separate" from other Harley movies that have already been announced. Meaning: This is different from Gotham City Sirens. Warner Bros. did say before Suicide Squad even hit theaters, though, that they'd like to do a Harley-centric spinoff that paired her with an ensemble of other female DC characters, and that's exactly what Birds of Prey is. The movie is expected to start shooting this year.
Black Widow stand-alone movie
Status: Screenwriter attached.
Description: It was announced earlier this year that Kevin Feige and Marvel had hired a writer for a Black Widow stand-alone screenplay. Scarlett Johansson would obviously star, and reportedly met with studio heads to talk about goals for a solo movie.
Cash Truck
Status: There hasn't been much movement since this movie was announced at Cannes last year.
Description: Sandra Bullock committed to star in this action-thriller, based on the French movie Le Convoyeur. Bullock would play a down-on-her-luck woman who starts work at an armored car company, and eventually starts pursuing her own mysterious agenda on the job.
Cleopatra Jones
Status: In development, Underground's Misha Green is producing and writing the script for the reboot.
Description: Details about the new film are not yet known, but in the 1973 original, Cleopatra Jones was a James Bond–type who worked as a special agent for the U.S. government and dealt with drug-related crimes. Her nemesis was a lesbian drug kingpin named Mommy whose poppy-growing operation Jones shut down, catalyzing a showdown between the two.
Enola Holmes
Status: This one is in early stages, since it was just announced at the start of the year, but Millie Bobby Brown is set to star in and produce.
Description: Brown plays the titular heroine in this adaptation of Nancy Springer's Enola Holmes Mysteries novel series. Enola is the baby sister of Sherlock and Mycroft Holmes, and wouldn't you know it, a crack sleuth in her own right.
The Division
Status: In development, with David Leitch signed on to direct and Jessica Chastain starring alongside Jake Gyllenhaal.
Description: In the near future, a pandemic virus is spread via paper money on Black Friday, killing millions and wreaking havoc on New York. By Christmas, society has descended into chaos, and a group of civilians conveniently trained to operate in catastrophic conditions is activated to save who and what remains. It's based on the very popular video game.
Freakshift
Status: Production is scheduled to start in August, with stars and a director in place.
Description: Alicia Vikander, Armie Hammer, and Sasha Lane star in the next film from Ben Wheatley (Free Fire), which follows a group of cops who hunt down and kill nocturnal subterranean monsters.
Gotham City Sirens
Status: There is a long and confusing slate of Harley Quinn–related projects in the hopper with Warner Bros. and this is one of them. Margot Robbie would star and David Ayer is attached to direct, but no more news has been announced yet.
Description: The movie would theoretically star Robbie's Harley Quinn alongside Catwoman and Poison Ivy, i.e., it would follow bad girls doing bad-girl things.
Hummingbird
Status: This one is in preproduction, but has a star and a director attached.
Description: The lead role has changed hands on this movie three times, going from Zoe Saldana to Olivia Munn and now Milla Jovovich. It's about a black-ops assassin who starts to doubt her training when she's given a dubious assignment; producers say it's like both Lucy and the Bourne franchise.
The Killer
Status: In development, with John Woo returning to direct a reboot of his action classic, this time starring Lupita Nyong'o.
Description: An assassin with a strict moral code can no longer abide the amoral ways of her employer, and so seeks to get out of the game. Nyong'o will play the role previously held by Chow Yun-fat.
Kitty Pryde stand-alone movie
Status: Deadpool director Tim Miller is reportedly developing a stand-alone Kitty Pryde movie with Brian Michael Bendis writing a script.
Description: No story details yet, but Kitty was previously played fleetingly by Ellen Page in the X-Men franchise. The character attended Xavier's School for Gifted Youngsters and can phase shift at an atomic level, meaning she can run through solid surfaces, among many other skills.
Marian
Status: The project was announced with Margot Robbie attached to star in and produce the movie, based on a spec script, but no director has been hired.
Description: Maid Marian rises to power after Robin Hood dies, and she leads her people in a war that will decide the fate of the kingdom.
Monster Hunter
Status: In development, with Paul W.S. Anderson directing Milla Jovovich in the starring role. It's set to start shooting this fall.
Description: Anderson and Jovovich will keep their Resident Evil mojo going with this adaptation of the Capcom video game, in which players assume the role of a hunter in order to kill or capture large monsters across various landscapes. So, not totally unlike Resident Evil.
The Mother
Status: Announced and with a script from Misha Green that was acquired by Netflix.
Description: The Mother is an action-thriller with a plot that's said to be in the style of La Femme Nikita or The Professional. It has a female lead, and is considered to be a franchise opportunity, according to Deadline's reporting.
O2
Status: Announced, with a Black List script from Christie LeBlanc and Anne Hathaway lined up to star.
Description: A woman wakes up inside a cryogenic chamber with no memory of how she got there, but she must escape before her air supply runs out.
Painkiller Jane
Status: The movie was announced last fall, and while there is no director attached, a screenwriter has been signed on to adapt it from the comic of the same name. Jessica Chastain is set to star and produce.
Description: Chastain would play Jane Vasko, a New York cop recruited by the FBI to infiltrate and take down a drug- and human-trafficking ring. After almost dying, she develops regenerative abilities and becomes an almost indestructible vigilante. It's like Luke Cage and Daredevil and Jessica Jones all rolled into one!
Realm
Status: Possibly stuck in development, since it was announced in 2015 and there haven't been any updates since. But it hasn't been declared dead yet.
Description: The movie's announcement made waves, since it was based on an original concept from Stan Lee and billed as the first Chinese female superhero for the big screen. Li Bingbing (whom Americans will see later this year in The Meg) was attached to star, but no plot details were given at the time.
Ruthless
Status: In development. San Andreas director Brad Peyton is attached to helm, and Steve Spielberg's Amblin Entertainment is producing.
Description: It's another "female John Wick!" In this iteration, she'll be a retired assassin who decides to take one last job after being diagnosed with terminal brain cancer, because she needs the money to provide for her daughter.
Silver & Black
Status: There are screenwriters attached, and Gina Prince-Bythewood will reportedly direct.
Description: A Sony-produced superhero film based on the characters Silver Sable, a mercenary who hunts war criminals, and Black Cat, a burglar turned hero.
Star Wars Episode IX
Status: Definitely happening and definitely no one is spilling secrets.
Description: Star Wars remains an ensemble-powered saga, but this trilogy has always been about Rey's journey.
Untitled Lupita Nyong'o and Rihanna movie
Status: A really good pseudo-idea that was born on Tumblr and has been picked up by Netflix.
Description: If this thing really comes to pass, it will star Lupita Nyong'o and Rihanna in a heist movie directed by Ava DuVernay and written by Issa Rae. Or it will die as the best vaporware ever.
Untitled Harley Quinn and Joker movie
Status: Warner Bros. is in the Margot Robbie business big time. This project was announced last fall, but is still in the earliest stages of development, though it reportedly has a writer-director pair attached.
Description: Margot Robbie and Jared Leto getting up to all kinds of Harley and Joker high jinks and aggressively loving up on each other.
Untitled Terminator Sequel
Status: In development, with Linda Hamilton and Arnold Schwarzenegger committed to reprise their iconic franchise roles, and Deadpool's Tim Miller slated to direct. James Cameron is also involved with the production, making it the first officially Cameron-blessed Terminator since Judgment Day in 1991.
Description: Plot details are secret so far, but it was described in The Hollywood Reporter as "a movie that once again sets up the battle between (wo)man and machine." Mackenzie Davis has been cast as a soldier-assassin, and a casting search for a Latina lead is reportedly ongoing.
Wonder Woman 2
Status: Patty Jenkins is slated to return as director with Gal Gadot to star in the sequel, which is in development.
Description: The timeline will reportedly move into the '80s for the Wonder sequel, with the Cold War and USSR factoring in. Jenkins has also teased another love story.
In Production
Dreamland
Status: Dreamland is in production with Miles Joris-Peyrafitte directing a Black List script from Nicolaas Swart. Margot Robbie is starring and producing through her LuckyChap banner.
Description: A 17-year-old boy in Dust Bowl America is set on capturing a wanted bank robber so he can collect the bounty on her head, and save his family farm from foreclosure. He manages to find her before law enforcement can, but finds out that she is a lot more capable and deadly than anyone realized.
Peppermint
Status: The film was in production earlier this year. It's expected to debut in 2018, but does not yet have a release date.
Description: Jennifer Garner stars in this action-thriller that's been described as John Wick, but with a lady. It focuses on a woman (Garner) who devotes herself to becoming a killing machine so she can avenge the drive-by shooting deaths of her husband and daughter. Naturally, it's directed by Pierre Morel, of Taken fame.
Bumblebee
Status: Currently filming, and will hit theaters on December 21.
Description: This Transformers spinoff gives us a look at Bumblebee's life in the 1980s, and it stars Hailee Steinfeld as his faithful owner.
Anna
Status: Currently in production, and expected to be released later this year.
Description: A Luc Besson thriller joint that stars Sasha Luss as his latest exceptional female, Anna. She's probably going to beat a lot of people up.
Captain Marvel
Status: Currently filming, and will hit theaters March 6 of next year.
Description: Marvel's first female-lead superhero movie stars Brie Larson as Carol Danvers, a.k.a. Captain Marvel, an extremely powerful figure in the comics canon. We don't know much — except that it's set in the 1990s, and that, based on behind-the-scenes photos snapped of Larson, she'll be rocking a Rachel hairdo.
Rhythm Section
Status: On a filming hiatus until June, with a theatrical release scheduled for February 22 of next year.
Description: Blake Lively will seek vengeance and wear many wigs as assassin Stephanie Patrick in this action-thriller based on the spy-novel series by Mark Burnell. It's the third feature from director and cinematographer Reed Morano.
Postproduction and Coming Soon
Ant-Man and the Wasp
Status: In theaters July 6.
Description: Granted, this isn't called just The Wasp, but it's obvious Evangeline Lilly and Michelle Pfeiffer are the true stars of this next Marvel entry.
The Darkest Minds
Status: Designated as being in postproduction, and has a theatrical release date of August 3.
Description: Amandla Stenberg stars in this sci-fi thriller, wherein a disease has wiped out all but 2 percent of American kids, and the survivors have developed superpowers and have been placed in internment camps. Stenberg breaks out and joins a bunch of teens on the run from the government.
X-Men: Dark Phoenix
Status: Designated as being in postproduction, and has a theatrical release date of November 2.
Description: Sophie Turner stars as young Jean Grey in this origin story of her evil alternate persona the Dark Phoenix, with previous X-Men franchise anchors Jennifer Lawrence, Michael Fassbender, and James McAvoy reprising their mutant roles.
Widows
Status: In theaters November 16.
Description: Brace yourself for this screen adaptation of a British mini-series from 1983, in which four widowed women plan to finish a heist job their dead husbands failed to complete. It stars Elizabeth Debicki, Viola Davis, Carrie Coon, Michelle Rodriguez, Cynthia Erivo, Jacki Weaver, and that doesn't include any of the men, like André Holland, Daniel Kaluuya, Jon Bernthal and — do we even need to go on? Oh yeah, and it's directed by Steve McQueen.
Alita: Battle Angel
Status: In theaters December 21.
Description: Robert Rodriguez directs this adaptation of the popular manga of the same name, which stars Rosa Salazar as Alita, a cyborg with no memory of herself before being destroyed and put back together. She must solve the secrets of her past while she also changes the world. It also stars Mahershala Ali, which is a win for us all.
The New Mutants
Status: In theaters February 22, 2019.
Description: The next X-Men franchise entry after Dark Phoenix is a haunted-house thriller about a bunch of young mutants who need to escape a derelict medical facility. Anya Taylor-Joy and Maisie Williams topline as Magik and Wolfsbane, respectively.
Close
Status: Categorized as in postproduction, but with no release date.
Description: Noomi Rapace plays an elite bodyguard forced to go on the run with her charge, a billionaire heiress, after a kidnapping attempt.