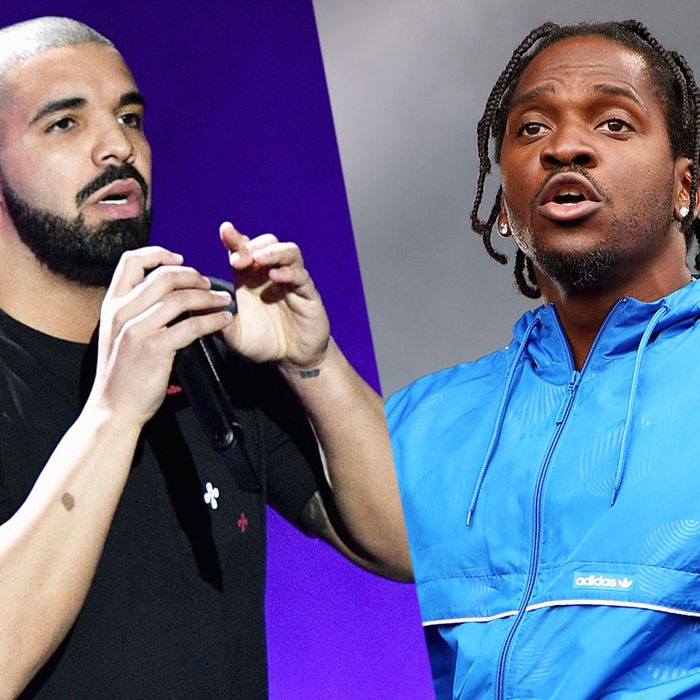 In 2006, Lil Wayne was a jaw-dropping, prolific superstar in his prime. Clipse — Virginian brothers Pusha-T and No Malice — were a pissed-off crime rap duo who had just escaped label limbo and were armed with their now-classic, Neptunes-produced, Hell Hath No Fury. It was a tumultuous time for the rap industry, but no one could have predicted that their fates would be tied for more a decade because of a Japanese clothing brand.
Here's what happened: Clipse took some offense when they saw Lil Wayne wearing a BAPE hoodie, a brand they'd sported first. The brothers subliminally called out Lil Wayne on "Mr. Me Too" in 2006, but the Young Money founder scoffed at the idea that he was copying. "That nigga [Pharrell] wore BAPE and y'all thought he was weird. I wore it and y'all thought it was hot. C'mon man. C'mon now," Lil Wayne told Complex. Not many expected the resulting beef to outlast BAPE hoodies by so long, but a few fiery diss tracks and one (alleged) secret baby later, here we are.
In a biblical sons-bear-the-sins-of-the-father situation, Drake eventually became the target of Pusha-T's ire in an eight-year dance that grew from a cold war to a verbal fistfight. The animosity finally peaked over a five-day stretch that included Push's razor-sharp ghostwriting disses in "Infrared," Drake's timely and blunt "Duppy Freestyle," and Pusha's resulting roundhouse kick named "The Story of Adidon." Here's how we got to this point.
May 15, 2010, Drake Really Loves Clipse
This year was peacetime for the Clipse vs. Lil Wayne war, though it's worth noting it's hard to wage a war when one of the belligerents is incarcerated. While Weezy was serving his eight-month prison sentence for weapon possession, his Young Money signee Drake appeared on MTV's When I Was 17 to proclaim his teenage love for Clipse. He revealed that he bought a $200 microphone supposedly signed by Pusha-T on eBay, a purchase of which he says, "At the time, it meant the world to me." As one friend of Drake's friends notes in the clip, Drake could've easily been duped with a fake signature — but he was enough of a fan to settle for a maybe. Drake's admiration, like all innocent loves, would soon fade.
May 20, 2011, Drake Drops Loosie "Dreams Money Can Buy" Drake's pre–Take Care campaign included this early Angry Drake highlight, a nocturnal dispatch delivered over a sample of Jai Paul's "BTSTU." "Dreams Money Can Buy" is mainly about his newfound wealth, the women who now pine for him, and his ability to steal yours as an act of imposition. Drake was no stranger to shit-talking ambiguous enemies (Drake's "I'm just feeling like the throne is for the taking" on DJ Khaled's "I'm on One," released the same day, was interpreted as a snipe at Jay-Z before Drake denied it), and this missive features couplets like, "And I feel like lately it went from top five to remaining five / My favorite rappers either lost it or ain't alive."
"I just felt like at that time, my favorite rappers weren't moving me," Drake said in an interview with Complex explaining the lines. "I was like, do I really rap better than this guy that I look up to? What happened, did something change? I won't even say names, just based off the fact that, it wasn't meant to, it could be anybody." There's a chance Pusha-T was on that Top 5 list: Drake was geeking out over that microphone just a year before.
September 26, 2011, Pusha-T Jacks Drake's Beat for "Don't Fuck With Me"
The same Jai Paul sample also saw possible warning shots from Pusha-T. After allegedly throwing a few jabs at fellow Virginia native Ambassador Rick — whose claim to fame is basically being mentioned in this song — Push taunts an unnamed rapper who's one of the "sophomores, actin' like they boss lords" whose "swag don't match the sweaters." Drake, who had an affinity for sweaters, was prepping his sophomore effort, Take Care, at the time.
Pusha-T denied there were any specific targets in a HipHopDX interview, saying that he "actually love[d] what Drake did on ["Dreams Money Can Buy"] initially, that's why I did it."
October 14, 2011, Drake on Hot 97: "It's a frustrating time for a lot of people right now"
When Drake was still cool with Hot 97's Funkmaster Flex, he sat down with the personality and explained he didn't take offense to the supposed disses from "Don't Fuck With Me." In fact, Pusha-T and Drake were apparently cordial with one another when they crossed paths. However, Drake lets some gumption crack through the niceties during the conversation: "I've never had an issue with him. But, you know, it's a frustrating time for a lot of people right now — I get it. So if it was directed at me, just make it a little more direct next time." The passive-aggressiveness would gradually make way for haymakers within the coming months.
May 23, 2012, Pusha-T Drops "Exodus 23:1"
Over production that sounds like The Wire's Barksdale scenes scored by Giorgio Moroder, Pusha-T wages a biblical war against rappers in financial entanglements. Once again, Pusha refuses to name-drop anybody in his verses, but this is pretty specific: "Contract all fucked up I guess that means you all fucked-up / You signed to one nigga that signed to another nigga / That's signed to three niggas, now that's bad luck." Drake's signed to Young Money, a subsidiary of Cash Money, which is part of Universal Records, and Lil Wayne is also under a labyrinth of label umbrellas.
Lil Wayne took offense and tweeted, "Fuk pusha t and anybody that love em." It seemed like Lil Wayne was pretty charged up, but "Ghoulish," his response track, starts off with the weak line "His head up his ass, I'mma have to head-butt him." This round went to Pusha-T.
Pusha-T again played coy when Funkmaster Flex questioned him on "Exodus 23:1"'s targets, but he couldn't sidestep "Ghoulish" — "Fuck Pusha-T" is in the song. "It was horrible," Pusha-T said. "It was trash. It was not good."
September 24, 2013, Drake Finds Time for More Subs on "Tuscan Leather"
Pusha-T got off an extra alleged shot at Lil Wayne on Alley Boy's "Your Favorite Rapper" ("How real is he if he been paying for his blood ties? / He blood in, he blood out at a blood drive" — Push thinks Weezy's Blood gang affiliation is shaky) before Drake stands up for his team on Nothing Was the Same's panoramic and paranoid opener. "I'm just as famous as my mentor / But that's still the boss, don't get sent for / Get hype on tracks and jump in front of a bullet you wasn't meant for," Drake warns in the first verse. The Boy is feeling anguish, but he takes solace in Ellen DeGeneres's liking his music by the verse's end.
October 8, 2013, Pusha-T and Ab-Liva team up for "Suicide"
Pusha-T was kind enough to dedicate some (alleged) bars to Drake on his solo debut, My Name is My Name. Drake's 2011 single "Headlines" gets revived with a backhanded reference: "I build mine off fed time and dope lines/ You caught steam off headlines and co-signs/ Young niggas cliquing up with my rivals/ Like the Bible don't burn, like these bullets don't spiral." As a corollary, Pusha-T acknowledged his beef with Lil Wayne was out of the freezer in a March 2013 interview with Hot 107.9. "I don't wanna see that," Pusha said when presented the idea of collaborating with Lil Wayne. "You acting like this Carter II Wayne … All these people out here rapping good and you wanna tell me you wanna see me with … you disrespecting me."
Weeks later, Pusha-T went even harder at Weezy on Ludacris's "Mad Fo": "Now your crack swag gone ever since you came from prison / Got you tweetin' all stupid, is you skatin' is you dissin'?" It's around this time where the "allegedly" disappears, and people start naming names.
October 12, 2016, Pusha-T Ends the Quiet Time With "H.G.T.V. Freestyle"
In the interwar period following My Name Is My Name, Pusha-T became president of G.O.O.D. Music and finally got a one-on-one collaboration with Jay-Z, while Drake continued his supremacy with an album, a "playlist," and surprise mixtapes. Lil Wayne had his successes — he won a Grammy for his feature on Chance the Rapper's "No Problem" — but he was clearly burning out under a shelved album, financial issues, a public feud with Birdman, and a weakened musical output. At this point, Drake was the bigger target.
So, Pusha-T decided to punch up. In year three of the King Push hype, Push decided to briefly dust off Drake's breakthrough Too Far Gone for the Mike WiLL Made-It–produced "H.G.T.V. Freestyle": "It's too far gone when the realest ain't real / I walk amongst the clouds so your ceilings ain't real / These niggas Call of Duty 'cause their killings ain't real / With a questionable pen so the feelin' ain't real." Of course, that last line is another probable reference to Drake's ghostwriting controversy.
October 23, 2016, Drake's Hits Two G.O.O.D. Music Affiliates With "Two Birds, One Stone"
When Drake's hookless exhibition first dropped, much of the controversy surrounded his shots at Kid Cudi ("You were the man on the moon / Now you just go through your phases"), which came after Cudi had dissed Drake on Twitter for using ghostwriters. They came off as low blows because he had checked himself into rehab for depression and suicidal urges. Cudi was pissed.
But the disses that would come back to bite him in 2018 were the ones directed at Pusha-T. In an extended bit, Drake admonishes him for telling these "drug dealer stories," because, try as he might, Chapo he is not. Essentially this was a star who made great use of someone else's pen questioning his opponent's realness. "If you're gonna question me, now I have to question authenticity, and what I feel it is that you claim," Pusha-T said to Vulture. "You claim a lot of music superiority. You run the charts, for sure. You got it, bro. Got it, homeboy. But, I have to question the authenticity of it when you get into the idea of skill set and what you do, off of what I've heard publicly."
May 25, 2018, Pusha-T's "Infrared" and Drake's "Duppy Freestyle" drop on the same day
At the end of Pusha-T's album, Daytona, comes "Infrared," a track where Pusha-T icily preaches over a cold bassline. It portrays Push as an anti-hero within a vanguard of rap that includes Jay-Z, J. Cole, and Kendrick Lamar, and bars a star wrecked by debt and label issues and another who doesn't even write his raps: "The bigger question is how the Russians did it / It was written like Nas, but it came from Quentin."
Drake didn't even let Pusha-T finish enjoying his release day before hitting back with "Duppy Freestyle," which tackles Pusha-T for being a hypocrite because Kanye doesn't write his own stuff either. The "father had to stretch his hands out and get it from me" lyrics drew some claps because of its directness, even though it was a bit unsurprising since Drake is publicly credited as a songwriter on The Life of Pablo. Drake also acknowledged that signed microphone, called out Pusha-T for acting like he 'sold drugs for Escobar in the '80s," name-drops his fiancée Virginia Williams (don't do that), and states he's sending an invoice for his services (for "promotional assistance and career reviving").
May 29, 2018, Drake Has a Kid (Allegedly)!
In which Pusha-T responds to Drake's "You're not that good of a drug dealer" with "You're not that good of a father." Using a compromising image of Drake grinning in blackface for the song's cover, Pusha-T went on a head-chopping spree (or, since there's only one real target, decapitating, re-capitating, and decapitating again) that includes acknowledging Drake's long-rumored child with former adult-film star Sophie Brussaux, being left by his father, and a brutal subversion of his 6-God moniker to poke at his producer and friend Noah "40" Shebib's battle with multiple sclerosis. Even strays like these seem like chess moves: "The Story of Adidon" dropped the night before World MS Day.