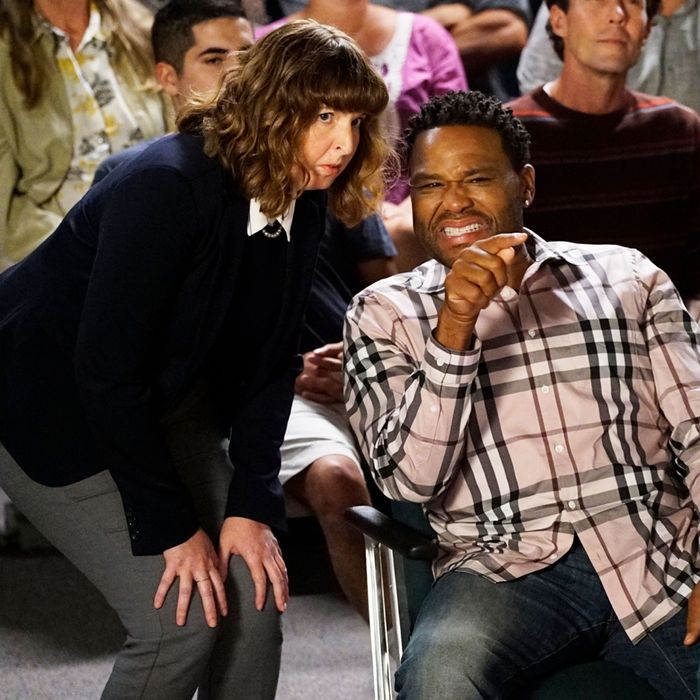 Dre (Anthony Anderson) in the "Juneteenth" episode of
Black-ish.
Photo: Kelsey McNeal/ABC via Getty Images
When ABC and Black-ish showrunner Kenya Barris agreed earlier this year not to air an episode of the ABC comedy that had been shot in November over "creative differences," it was widely believed the disagreement was over a scene in the episode where Dre (Anthony Anderson) and Junior (Marcus Scribner) argue over the rights of athletes to kneel during the national anthem at football games.
But in a call with reporters on Tuesday, ABC Entertainment Group president Channing Dungey said there was a lot more to the disagreement than that. Co-written by Barris and Peter Saji, and directed by the showrunner, "Please, Baby, Please" featured Dre telling his baby son a bedtime story in which he discusses how he feels about multiple modern-day political and societal issues.
"We have long been supportive of Kenya and team tackling challenging and controversial issues in the show and we have always traditionally been able to come to a place creatively where we felt good about the story he was telling, even if we felt it was pushing some hot buttons," Dungey said. "And he felt he was getting to share the story in the way it should be shared. I think with this particular episode, there were a number of different elements to the episode that we had a hard time coming to terms on. Much has been made of the kneeling part of it, which was not even really the issue. But I don't want to get into that too much. At the end of the day, it was a mutual decision between Kenya and the network to not put the episode out and I think we all feel that was the best decision overall."
Barris, who issued a statement in March saying that the episode was pulled by mutual agreement, has never spoken publicly about the elements of the episode that were in question. On Monday, during an interview with Vulture, Barris did not explain the situation further, but said he felt he and the show had moved past the conflict.
"We had our moment," he said. "You know, what I'm saying? We got past it. I think we still had a really great season. We decided that the body of the show speaks for itself. And it's nothing we harped on. We've moved past it. We just had a difference of opinion. I don't think it's the first time an episode hasn't aired. It probably won't be the last. And I feel like it was something for us that we felt like we couldn't come to an agreement and mutually decided just to move past it."
For Barris, the fourth season represented an opportunity to push the twice Emmy-nominated show further, experimenting with story formats and delving into unexplored topics, like postpartum depression. The season kicked off with a Hamilton-esque musical episode "Juneteenth," commemorating the long-delayed release of black slaves, that also concerned the network.
"The testing kept saying white viewers were uncomfortable. And I was like, Wow, you mean the episode about how talking about slavery makes white people uncomfortable is actually making white people uncomfortable? Shock!" Barris said. "There were a lot of people from the network, to the writers and actors … this season was the season of trust. It took a lot of trust for people to get onboard and trust what we were doing and hope that it worked out. And I really feel like, in my opinion, it did."
After it was revealed that "Please, Baby, Please" would not air, rumors began circulating in the TV industry that Barris is exploring exiting his contract with ABC Studios, possibly with an eye toward moving to Netflix. Barris's contract at ABC is up in 2020. "I can't really speak for the studio," Dungey said, "but I can talk about the fact that we are thrilled and excited to be moving into the fifth season of Black-ish. The conversation with Kenya has been extremely collaborative. And he and I have been in conversations recently about some potential good business. We love working with Kenya and are happy to continue doing so."
Dungey also addressed an episode of Roseanne in which Roseanne cracks a joke aimed at Black-ish and Fresh Off the Boat that some viewers, including producers on those shows, felt was reductive and belittling. "We slept from Wheel to Kimmel," Roseanne says in the episode, after waking up from a nap in front of the TV with Dan. "We missed all the shows about black and Asian families," Dan responds. "They're just like us," she says. "Now you're all caught up."
"I was a little bit surprised to be honest to the reaction to that line," Dungey said. "We felt the writers were simply tipping the hat to those shows. It certainly wasn't meant to offend. That said, I do stand by the Roseanne writers in terms of the decision to include that line. I think they felt as though they were expressing the point of view of the Conners in what they would actually have said. And we do very similar things on our other shows, too. We're very clear on Black-ish on how many of the opinions and views that are voiced are those of Dre Johnson."
But when Vulture asked Barris how he felt about the Roseanne joke on Monday, an ABC representative interrupted and didn't allow him to answer.