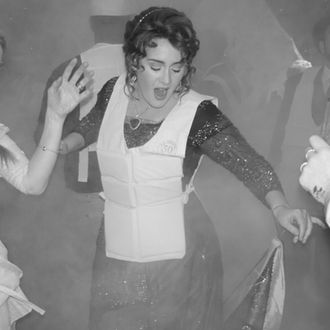 Adele.
Photo: Instagram/@adele
There's no better way to get ready for your dirty 30s than a cleansing plunge into the North Atlantic. As revealed in pics posted to her Instagram, Adele celebrated her 30th birthday this weekend with an impressively accurate party version of James Cameron's 1997 gem Titanic. More than 1,500 perished. Just kidding! At least, we hope so. She'd almost certainly mention it in her captions.
Instead, Adele thanked her loved ones for indulging her. "Thank you to everyone for coming along for the ride the last 11 years with me. My family and friends for entertaining my super fandom of the Titanic movie," she raved. "Last night was the best night of my life."
And just because the singer was busy handing out life jackets and perfectly recreating Kate Winslet's hair does not mean she slept on everything Donald Glover delivered Saturday night. "Childish Gambino how the hell do you have time to offer us so much greatness on so many platforms," she wrote. "I adore you x." So, do you think Jack got to see the "This Is America" music video in time? Definitely seems worth swimming back out of a watery grave for, that's for sure.