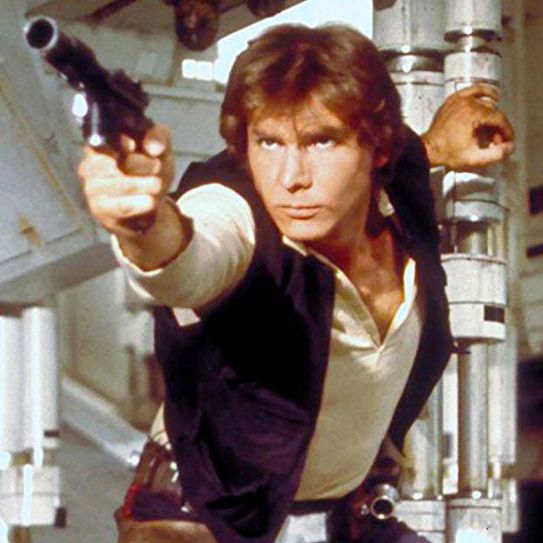 Harrison Ford and Alden Ehrenreich.
Photo: Lucas Films/Disney
Imagine, if you can, a world where Carrie Fisher and Al Pacino delivered Star Wars' iconic "I love you," "I know." What about Fisher and Bill Murray? Or what if Kurt Russell was chosen to slip on Han Solo's vest, twirl his blaster, and play the rebellious smuggling hottie?
It's hard to picture anyone but Harrison Ford as the charming rogue, but George Lucas was actually reluctant to cast him at first, because he'd appeared in American Graffiti, and Lucas didn't want his burgeoning sci-fi epic to seem like "American Graffiti, but in space." As Ford and Lucas recalled during a celebration of A New Hope's 40th anniversary, it was producer Fred Roos who advocated for Ford's casting; Ford had the perfect fusion of orneriness and charm that would ultimately bring the Millennium Falcon's pilot to life.
But when it came time for the Lucasfilm team to decide on a new prodigal Solo in 2015 — the casting search was reportedly code-named "Red Cup" — it seemed a little more complicated. "You want someone who isn't going to be exactly like Harrison [Ford], you want someone who suggests him," writer Lawrence Kasdan told Vulture in December 2015. "It's like when you adapt a book … You don't want to adapt it word for word, you want the essence to come through." By that time, it was rumored that 2,500 actors read for the spot that eventually became Alden Ehrenreich's. But what about the other possibilities? Vulture has rounded up a list of as many would-be Han Solos as we could find — the guys who almost won custody of the part over Ehrenreich and Ford.
Alternate-Universe Harrison Fords
Al Pacino
After The Godfather, Pacino was high on everyone's list. The actor has said he turned down roles in Kramer vs. Kramer, Taxi Driver, Days of Heaven, Pretty Woman, and Star Wars. "Star Wars was mine for the taking," Pacino told the Evening Standard in 2013, "but I didn't understand the script."
Kurt Russell
Russell auditioned for both Han Solo and Luke Skywalker, but ultimately pulled himself out of the running to take a TV Western called The Quest. "I really loved the part," Russell said. When he asked if Lucas was going to cast him, the director demurred. "He said, 'I don't know which part I prefer you in. I don't know if I like you as Han and this guy as Skywalker, or this guy as Han and you as Skywalker. I don't know.'" Russell decided to just take the TV gig, but his audition is still online. "The rumor is that I 'turned down Star Wars,' and I didn't turn down Star Wars. But that's the fun history of that," he told the Daily Beast in 2015. "You know, it was pretty fun because George taped it, and I had no idea what I was saying. I'm talking about a Millennium Falcon and however long it took to get from here to there and the Death Star. So we're just doing stuff having no idea what you're talking about and no idea what you're doing."
Nick Nolte
Back in 2011, Nolte addressed rumors that he was in the running to play Han Solo, but insisted that he was never really a contender. "I think that was a given that [Han Solo] was going to go to Harrison Ford," Nolte told NextMovie. "In that group of filmmakers, he was their actor. I'd have been kind of a goofy Star Wars guy." Still, noted Nolte fan Patton Oswalt frequently guessed at what could've been if Nolte had nabbed the part:
Sylvester Stallone
Right after Sly finished Rocky, he auditioned for Star Wars. As he recounted on The Tonight Show, he was instantly wrong for Han. "Let me just make it easy for you," he said. "I would look like crap in spandex leotards and a ray gun. Guys in space don't have this face, I get it."
Bill Murray
It's been long-rumored that Murray was up for Han Solo, but during a surprise appearance at the 2015 SDCC, he said he wasn't ever totally sure. "I don't know if I was up for [the original Star Wars film] — I can't tell you for sure," he said, adding that he was willing to throw his name in the ring for the new Solo movie. "I am working out in hopes of getting this new thing. I'm doing a lot of swimming and Pilates."
Alternate-Universe Alden Ehrenreichs
Emory Cohen
Cohen won hearts playing Saoirse Ronan's aw-shucks love interest in Brooklyn, and auditioned for Solo. "I read for it once and then there was some release thing about me testing for it in London when I was in New York," Cohen told the Daily Beast. "But they did bring me in." Lately he's been busy with The OA, and we'll see him next in the Timothée Chalamet summer-vacation movie, Hot Summer Nights.
Dave Franco
"No, no. I'm not good with impressions," Franco told MTV, explaining that he didn't audition with a Harrison Ford impression. "I think that's why it's so hard to cast this role, too. Do they want someone to perfectly embody who Harrison Ford is, or do they want to go a completely different route? I think they're struggling with that."
Miles Teller
Coming off the success of Whiplash, Teller found out he'd made the Solo short list from news reports. He was ambivalent about the project, though, given the less-than-positive reception of Fantastic Four. "There's also some caution there and some hesitation because I know how passionate the Star Wars fans are," Teller told Business Insider in 2016. "I just went through an experience where the fans were very pissed off, apparently, at what we did with their beloved franchise."
Ansel Elgort
Baby Driver, king of LaGuardia High School, Vulture-hat hater, and would-be Han Solo? More likely than you think! Ansel was one of the tall boys who auditioned for Solo, but he was sort of pleased that he didn't get it. "I was pretty worried that if I got it, I'd have to change my DJ name," Elgort, who DJs under the name "Ansolo," told HuffPost in 2016. "So I'm relieved."
Scott Eastwood
Would you believe Scott Eastwood — once just a hot Hollywood son, and/or Clint's Horcrux — was also in the running to be a blaster-swinging bad boy?! Eastwood never spoke about the gig, but Bustle seemed convinced he should nab the role because he "has charisma" and "looks good in all weathers."
Taron Egerton
The Kingsman star was also rumored to be in the Solo audition room, but he said it was all talk. "I've heard this rumor, yes. I mean I've seen the stuff on the internet, and I think any lad of my age would kill to play a part like that," he said on ITV's Jonathan Ross Show in March 2016. "It's very, very flattering. I've no idea if there's any truth in it but I mean, Lucasfilm, Disney, if there is then you know where I am." By April, Egerton denied he ever auditioned, and said he might be wary of taking on such an iconic role.
Jack Reynor
Reynor, known primarily for Transformers: Age of Extinction, seems to have been closest to being the young Han Solo. "That Han Solo movie is going to be really tough," Reynor told the Irish Times last year. "I think the guy who is doing it is a really good actor, but, for myself, I was afraid of it. I kept thinking: if you fuck this up you'll ruin people's childhoods. If it doesn't turn out great, you won't be forgiven. That's a lot of responsibility. And even if it goes great, you'll do it, people will know you only from that and that defines your career. That would be very difficult. For me, working on original material is very important."