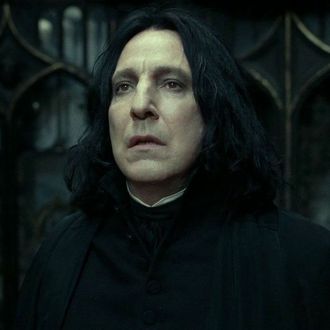 As polite and cutting as ever.
Photo: Warner Bros. Pictures
Turns out that Alan Rickman, as you might expect, had a quibble or two about one of his most famous roles. Two years after his death, some of the actor's personal letters have been put up for auction. According to The Independent, a few of them hint at his reservations about playing Professor Severus Snape in the Harry Potter movies. "Thank you for making HP2 a success," producer David Heyman writers in one letter. "I know, at times, you are frustrated but please know that you are an integral part of the films. And you are brilliant." In a 2009 note, which he titled "Inside Snape's Head," Rickman jotted down some of his complaints about Snape's story line while working on Harry Potter and the Half-Blood Prince: "It's as if David Yates has decided that this is not important in the scheme of things i.e. teen audience appeal." It's kind of poetic that Rickman wanted what Snape wanted: fewer meddling teens.
Still, Rickman seems to have been a consummate professional otherwise, and judging by the general affection for the actor, the character, and specifically the way he pronounced Potter, things all turned out okay. In fact, in a separate letter, J.K. Rowling thanks Rickman for "doing justice to my most complex character." Rickman's letters are going up for auction at the ABA Rare Book Fair in London and have been valued at £950,000. Good luck finding the money for them!