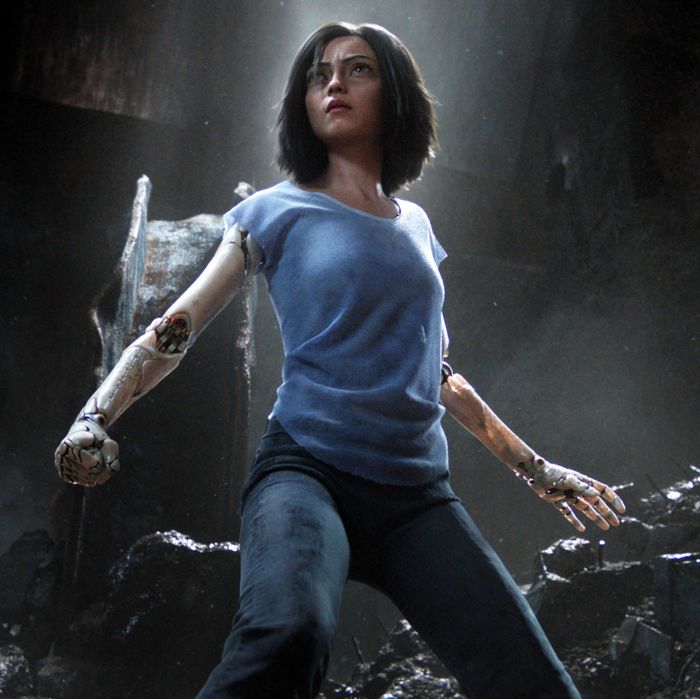 Alita: Battle Angel
.
Photo: Courtesy Twentieth Century Fox/Twentieth Century Fox Film Corporation.
Robert Rodriguez and Jon Landau — co-writer/director and producer, respectively, of the December manga movie-adaptation Alita: Battle Angel — have absorbed certain hard lessons from the financial underperformance and general audience disdain toward Ghost in the Shell. The $110 million Scarlett Johansson sci-fi thriller, itself an adaptation of a long-running Japanese comic book series, arrived in multiplexes in March last year amid fan petitions and howls of controversy over its perceived whitewashing of Johansson's lead character. The scuttlebutt surrounding her casting — to the exclusion of Asian actresses who lobbied for the role — helped scare off Ghost's core fanboy audience, resulting in a gigantic flop for the film's distributor Paramount.
Like Ghost's protagonist Major Motoko Kusanagi, the titular Alita in Battle Angel is also raven-haired, a fierce fighter (who later becomes a bounty hunter) and comprised of both robot parts and human genetic material. But to head off any impending controversy, Rodriguez (Spy Kids, Sin City) and Landau tell Vulture that they'd like to make abundantly clear that Alita: Battle Angel does not whitewash any of its characters — because none of them were specifically Japanese in the comics in the first place. "The author, Yukito Kishiro, did something very different: He wrote manga that is not set in an Asian world," says Landau, who won an Academy Award as producer of James Cameron's Titanic, seated beside Rodriguez in a swanky hotel suite 67 floors about the Las Vegas strip. "He wrote it set in a place called Iron City, which is a melting pot. He actually set it in Kansas."
Never mind that the stridently Teutonic Christoph Waltz portrays a kindly father figure/cyborg-fixing physician named Daisuke Ido in the film. Alita's action has been transposed from America's breadbasket to somewhere in equatorial Latin America of the 26th century, a post-apocalyptic urban conclave where characters speak Spanish, English, Chinese, and Portuguese. It is there viewers first meet Alita (played by Canadian actress Rosa Salazar of the Divergent and Maze Runner franchises), a teenage orphan found by Ido on a junkyard scrap heap, with no memory of her past. And in two sequences screened during Las Vegas's CinemaCon last month, attendees learned of the character's capacity to both fight (she is shown capably squaring off against a hulking cyborg colossus with clawed metallic tentacles to both literally and figuratively test her "metal") and feel (ever the moody teen, Alita must discover the truth of who she really is).
But the perception of whitewashing has clung to the film since December, when Alita's first trailer hit the internet, setting off rounds of discussion about Alita's "disturbingly large" eyes and whether, in the absence of any actual Asians in the film, they are supposed to connote a kind of implicit Japanese-ness. "It signals to the audience, 'Yes this is Japanese and we're not trying to erase the source material,'" Carli Velocci wrote in Vice. "Yet that's what they're doing. Alita's eyes are the only thing that is distinctly Japanese about the movie, which features no main Japanese actors or characters." In an article entitled "Another Anime Remake Gets Whitewashed," Earlene Mary Escobal also took the film to task: "Salazar's eyes are edited to look larger than her normal eyes, much like an anime character. Salazar isn't Japanese, let alone Asian, but large anime eyes gave me the impression that they were trying to give her an Asian characteristic in a movie where Asian characters are minimal." And as far back as 2016, when Salazar's casting was first announced (and the film's title was slightly different), critics began contemplating Alita within the context of "the erasure of Asian actors in Hollywood" — "'Battle Angel Alita' learns nothing, casts non-Asian actress in the lead," read one less-than-admiring headline on HitFix.
Hollywood is in the midst of an unprecedented push to monetize manga — even if there has been no significant return on investment to date. The comics' sheer visual density, crammed with action-filled illustrations and a unique grammar of sequential drawings, are quite distinct from American superhero procedurals. And they've cultivated a devoted readership that follows manga's installments over decades with nearly religious fervor. Among the live-action manga projects currently in various stages of development in the studio pipeline: Warner Bros.' adaptation of Hajime Isayama's Attack on Titan (in which mankind battles a race of flesh-eating giants), with longtime Harry Potter producer David Heyman overseeing production. There's also Lionsgate's big-screen blowup of Naruto, a beloved ninja-focused manga serial that has sold over 200 million copies, and a planned adaptation of one of manga/anime's seminal texts, Akira, by Thor: Ragnarok director Taika Waititi. (Netflix's live-action version of the horror/thriller manga serial Death Note arrived on the streaming platform last year to a crescendo of criticism over its perceived whitewashing).
Alita, co-written and produced by James Cameron — who first began adapting the source manga in 2000 with an eye toward directing the project himself, before abandoning it for Avatar — is more pedigreed than many of those projects. But its box-office viability is hardly a foregone conclusion. At CinemaCon, early critics seemed polarized into two distinct camps, both celebrating and decrying the footage.
To hear it from Rodriguez, however, job number-one was maintaining fealty to Cameron's signature cinematic style. The Dusk Till Dawn director created a 90,000-square-foot studio in the parking lot of his Austin moviemaking compound that encompassed the entirety of Iron City — creating a physical setting to offset the film's computer-generated imagery and the sheer otherworldliness of Alita's source material. Ultimately, Rodriguez says, that foundation in a tangible reality, following a "unique female hero," is what will save the movie from the creative and commercial failure of Ghost in the Shell.
"It's not even because of the whitewashing," says Rodriguez of that Ghost's failure. "I think it's because they didn't connect emotionally. I felt like I was only looking at it; I wasn't feeling it. This story and character feel so relatable. That's why we used real sets. It's got to be really grounded. Jim's stuff is always really grounded before you buy into any of the flights of fancy. Out of the 30 volumes of that manga, Jim focused on the father-daughter relationship, Alita feeling insignificant, remembering who she was, becoming powerful — it's all human stuff that an audience will go, 'I identify with that.'"
As for the comparisons to Ghost in the Shell, Landau adds, the two stories are "totally different." Ghost in the Shell, he says, was "set in a very Asian-specific world. The central character is a very unemotional character from the manga page. This is the exact opposite. This is a character that is all about heart and following the heart and choosing what is right and not right. One of my favorite shots is Alita shedding a tear. It is about emotion. Whether it's manga or based on a book or an original script, you can fall into the trap of relying on technology instead of humanity. This is not that."