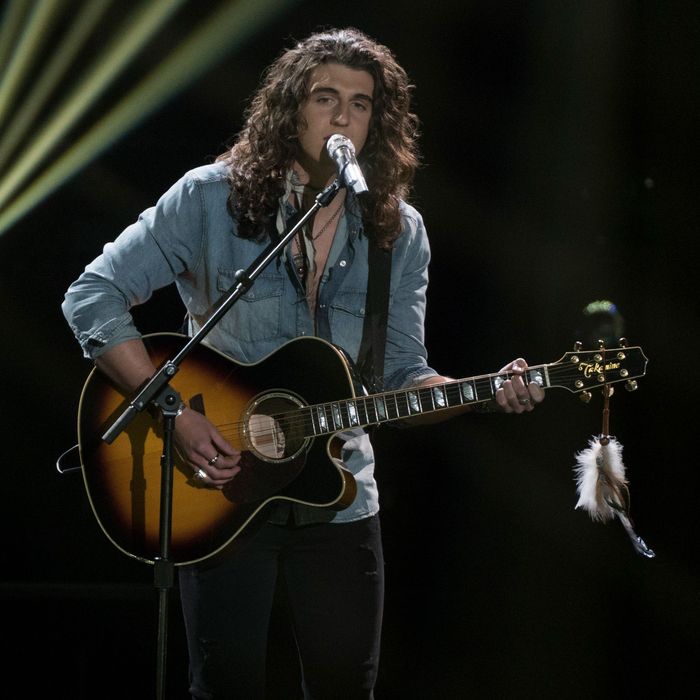 Photo: Eric McCandless/ABC
I don't know how to tell you this, but American Idol staged a Carrie Underwood night and no one performed "Before He Cheats," my favorite song about a woman who spells her name during a violent crime scene and pretends it was a dope move. Do you think her friends at the police station leaned in, clinked their rings on the jail bars, and said, "That was foolish, Carrie. Scrawling a capital C in leather seats is a lot of work. You should've fled by that point!"
Anyway: Without Ada Vox gurgle-shrieking to the gods and Catie Turner staging Urkel-like pratfalls every week, Idol needs all the extra grit it can get. A pretty little souped-up four-wheel drive would've been ideal. Instead we got so-so Carrie Underwood covers with so-so Carrie Underwood mentoring, a baffling Macy's campaign full of poses I expect from the children on Zoom, some touching Mother's Day interactions between the contestants and their sweet parents, and an appearance from some sneering little brat with a slingshot named Trent Harmon. Oh, also: We got a pair of performances from one contestant that made the whole episode worth it. I swear!
Let's rank the week's performers from worst to best, and then discuss which two performers went home, setting us up for next week's finale.
Caleb Lee Hutchinson
"So Small"
Does Caleb Lee Hutchinson not look like the love child of Jesse Plemons and Kirsten Dunst, who coincidentally had a love child this week? It's startling me. And not just because Caleb's solemn backwoods vibe has shades of Fargo season two. This week he proceeded to welp and yayep through this conversational Underwood song, torturing us with a level of predictability unseen since the last Air Bud movie. He's sticking to this general-store manager charm and you can't pry him away from it. I picture him on local TV commercials yelling, "You always know what yer gettin' at Caleb's!" with finger guns blazing. I appreciate his wryness during interviews, but he lets none of that subversive fun show onstage. It's a bit of an Adele tactic, keeping performances austere and saving the personality for, say, Carpool Karaoke. But now is the time to marry those qualities with a dynamite song choice if he wants to ensure a Top Three finish.
"Stars in Alabama"
It was during Idol's second hour that I realized Caleb should play young Pat Sajak in a biopic. Can't you see him drumming a handful of blue cards on that Wheel of Fortune balustrade and directing us to a Prize Puzzle? I'm in. As for this performance, sigh. I mean, sigh! He kept it calm and light and cuddled the whole stadium in his bourbon-stained sleeping bag of a voice. He's got one trick and it's a countrified scalp massage. Kentucky Fried ASMR. Have another bite.
Gabby Barrett
"Last Name"
You know what you got from this performance without even watching it: winkin' sass, tootin', hollerin', no-nonsensin', a hair toss up to Jesus, all topped off with Gabby's signature Rita Repulsa wail. Luke Bryan blew my mind with the most insightful critique of the group: "It's like Carrie Underwood is reincarnated right in front of me." Of course that's right. But that's also the problem. Gabby makes so few moves outside the Underwood playbook (aside from her rad Prince cover) that it's hard to figure out what she'd bring to mainstream country music, not that they're in the business of innovation or anything. This is another of Gabby's admirable, rambunctious performances and you'd swear you already saw her do it before. It blows my mind that people with outrageous vocal talent would want to be as conventional as humanly possible, but there is a serious market for Young But Same Ol'.
"I Have Nothing"
I remember loving "I Have Nothing." It was when Whitney Houston handled it. But over the course of 16 years of American Idol, choosing "I Have Nothing" has become less a tribute to Whitney's greatness and more a shortcut to credibility, a way to brand yourself a front-runner based on sheer mechanical output. Even though Gabby bellowed this anthem with all the tuneful hysteria you want, she couldn't make her performance novel. It's an uninspired song choice treated with good vocals and nothing more. There was no introspection, no fight, no lightning in her performance. This was competence masquerading as a moment and the judges fell for it. It upsets me how little pushback Gabby has received in this arena because she probably could've been an intriguing, versatile contestant if our trio of perpetually awed barristers had ventured to challenge her.
Cade Foehner
"Undo It"
First of all, props for picking "Undo It" and rousing the ghost of its songwriter Kara DioGuardi, who roams the Idol studio at night whispering "You're a package artist…" from the walls. But this Daughtryville take was forgettable, arguably Cade's least momentous performance of the season. "Undo It" is lacking in dynamics, and Cade's booming guitar crunch only underscored that. I appreciated last week when he tried to turn "Who Will Save Your Soul" into a Crash Test Dummies B-side, but with few exceptions Cade's been content to dish out familiar 2000s rocker vibes. How hasn't he performed "Are You Gonna Be My Girl" yet? Or "Dig In" by Lenny Kravitz? Carrie Underwood and Katy Perry were both right to drag him for his statically loud performances, but even with a few delicate notes thrown in, Cade still feels like the front man of a cover band called Re-Staind or Who?!bastank.
"Simple Man"
Well, dammit, I cried at Cade's letter to his mother. He cried, his mom cried, and I blubbered with self-pity at the Pixar-like execution of this Emotional Moment. Points, Simon Fuller. Here's an additional head-fake: I thought "Simple Man" was Cade's best performance of the season. Finally, he took time to give us a stark vocal instead of a rockin' ad campaign for the Buckle. His delivery was adorable! It had charm and diction. Some softness. Some reflection. I don't exactly believe in his depths as a confessional artist, but his performance was mature and thoughtful. I muttered, "Wow, good for him!" afterwards. Do "Never Going Back Again" by Fleetwood Mac next!
Michael J. Woodard
"Flat on the Floor"
I spend most weeks barking, "Give me ebullience!" at these contestants like a raspy cheerleading coach played by Eileen Brennan. Michael has never failed us in this department: glistening eyes, IMAX-size smile, and with his adorable matching cerulean vest and pinstripe pants, he summoned a knowing grin from Miranda Priestley herself. You can't deny his sauciness and charisma. You can maybe deny the power of "Flat on the Floor," which is as medium-rollicking as anything else in the Carrie Underwood discography, but he still chirped and bopped it with grace and enough audience handshakes to shame Jay Leno. Bonus points for staying on top of those lyrics, which went on and on and on. Michael's buoyancy remains fabulous and from where I'm sitting, he's giving us TTTB (Typical 'Top Three' Behavior.)
"Still I Rise"
Oh, Yolanda Adams? You know Michael J. Woodard is approaching this song like a sharpshooter, clipping every note with soulful precision, and taking a giant vaudeville bow at the end. Unlike the other contestants — even Maddie — Michael is a master at maintaining a sense of whimsy even in his most serious performances. So many balladeers on Idol think they have to give A Star Is Born–type performances full of humorless bluster to win votes. What they really need is commitment, a sense of fun, and an ideal song choice. Michael served that up and basically folded his arms in victory afterward like a rad Burger King Kids Club member.
Maddie Poppe
"I Told You So"
Here's the kind of consistency you can love: Maddie always finds the heart of a song, ignores its genre, and grounds it with longing. She's the only remaining contestant who listens to her lyrics as she sings them and reacts with recognizable human expressions. She's never whooping up the crowd and slapping hands like the warm-up comic at Kevin Can Wait. Maddie's spirit guide is so so so Natalie Maines, since she evokes the Dixie Chicks' mix of angst, self-possession, and woe in every note. If she covered "Not Ready to Make Nice," Lionel Richie would throw his Grammys into the garbage disposal and cry. "I Told You So" is the type of sad belter Maddie nails. Did I mention she's the only remaining contestant whose repertoire is stylistically unified without being repetitive? Far and away the best Carrie cover of the night.
"God Only Knows"
Look, some of us remember Wilson Phillips' comeback album a few years back and the cover of "God Only Knows" they tried. The production on that song is so specific, spooky, and Dali-strange, any recreation seems half-baked in comparison. It was a valiant effort for Emmy-nominated game-show host Carnie Wilson but it did not stick. I feared the same fate for Maddie Poppe once I saw the words "God Only Knows" creep onto the screen, but she kept it so simple that we got to zero in on her glum, poignant vocal and then — wait for it — compare it favorably to Brian Wilson's original! It may not have been a tormented pop classic the way the Beach Boys' is, but Maddie found a way to be herself on an impossible song. It was a feat. And it would sound lovely in the background on an early episode of The Wonder Years.
And now for your results.
The surviving contestants are: Caleb Lee Hutchinson, Gabby Barrett, Maddie Poppe
The eliminated contestants are: Cade Foehner, Michael J. Woodard
Are you also picturing a Maria Ouspenskaya figure gazing into a crystal ball and cackling, "An all-white finale! Just as the prophecy declared!"? Kinda grim. But Maddie is fabulous, and I'm glad we still have her. Caleb and Gabby have had powerful moments, but they've given up on ever shocking us. I think if you look back at Idol's past, you'll see that most of our past Cade Foehners ended up in about fourth place, so you can't be shocked there. It's Michael J. Woodard's exit that stings the most. He glittered every single week, knew more styles of song than Caleb and Gabby combined, and oozed with inspiration. Just like in season ten, we'll be clinging to the rad, seasoned singer-songwriter (Maddie Poppe/Haley Reinhart) and mustering a crooked smile for the final performances of her two twangy competitors (Caleb and Gabby/Scotty McCreery and Lauren Alaina). God only knows what Maddie must do to win, but she's made me reconsider my hatred of the ukulele this season, so anything is possible.