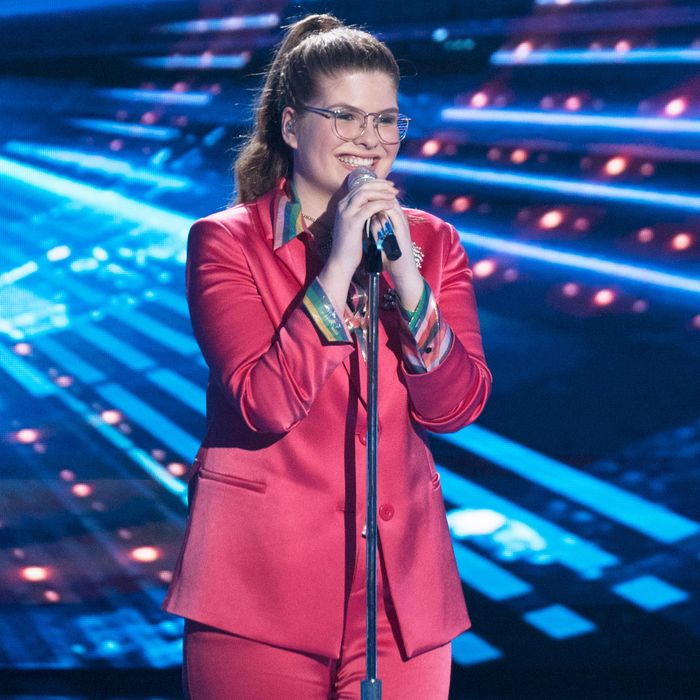 Catie Turner.
Photo: Eric McCandless/ABC
Here's the problem with the judges on American Idol: They refuse to treat this as a competition. Lionel Richie sits there with an elbow on the table and yelps, "The sky's the limit!" at anyone with frayed jeans. Katy Perry coos, "No matter what happens, I love you!," like a zombified Barney & Friends tot, at everyone on the Idol stage, including the boom operator. Luke Bryan throws up his hands, chortles, "You really did sing up there, my garsh" and then returns to thinking about nothing. What this panel needs is someone who says, "Hey, Caleb Lee Hutchinson? I know you think you can McCreery your margarine-fed ass to the final with boring Lonestar covers, but Maddie Poppe is out here stealing your votes with second-stage Lilith Fair bliss and you better up your game AND twang." I don't want to hear legitimate superstars condescend to 17-year-olds with bland support. This is why The Voice will always blow. I want acknowledgment of what a petty cockfight this is. And I don't mean to say we need Simon Cowell; we need someone who screams about quality and talent like an aggro stage mom. We need Michelle Visage.
Fortunately, the theme of this week was fire: the catalogue of Prince and songs from the Year You Were Born (henceforth known as YYWB). Prince is an excellent muse for Idol: His songs teem with POV and style. If you're covering Prince, you're forced to express personality and saucy side-eye along with killer vocals and rhythm. It's a tall order and it's a good one. And I loved Sheila E. lurking to the side on drums. Her effervescence and throbbing beat pull focus, and I giggled watching these scraggly teens attempt to establish stage presence near the "A Love Bizarre" legend. The YYWB portion of the evening was a sober reminder of how young everyone in the competition is. Some of these kids were born … four years ago? Seriously, I expected Jurnee to say, "Here's what was playing in the hospital the minute I was born" before ripping into "All About That Bass." Nick Jonas served as mentor this week, and because Idol has nothing to do with posing shirtless for Out magazine, his contributions felt a little basic.
We dropped from seven contestants to five this week. At the end of our rankings we'll bid adieu to the losing duo, but first: Put on your assless yellow jumpsuit because it's time to watch baby millennials raid Paisley Park.
7. Catie Turner
Prince pick: "Manic Monday" (by the Bangles)
YYWB pick: "Oops! … I Did It Again" by Britney Spears
What a crazy, unpredictable week for Catie Turner, who has been one of the surest bets in the competition since she overwhelmed Ryan Seacrest with violent hugs during the first episode of the season. She gave us more Theater of the Awkward this week when she met Nick Jonas, burying her face in her hands and scream-laughing for what seemed like hours, but it seemed like she was gearing up for another well-received batch of performances. Funny enough, "Oops! … I Did It Again" would've been an ideal song choice for Catie had she stuck with the original version in all its Max Martin perfection and not the corny Tom Jones version we got tonight. Katy Perry tried to compare it to Amy Winehouse, but Amy's version of "lounge" was booze-soaked and tortured. This was blander and built for goofy hip-thrusting. But the worst fate to befall Catie last night involved her follow-up performance: She chose the Prince-penned "Manic Monday" and attempted to serve up a straightforward, Susanna Hoffs–evoking take. What ensued was one of the biggest Idol snafus since Brooke White's aborted rendition of "You Must Love Me" in season seven. Catie forgot the lyrics, took extra time to get back on track, and hit a couple of terrible notes in her quest to remind us that Mondays are hard. All season, Catie has played up her underdog qualities. It was wild to see her sincerely come up short and then react to her own misfortune with — get this — mature, funny self-deprecation at song's end. It was like we were finally meeting the real Catie, even though she's a more polished performer than what we saw.
6. Caleb Lee Hutchinson
Prince pick: "When Doves Cry"
YYWB pick: "Amazed" by Lonestar
Well, this is simply astonishing: Caleb Lee Hutchinson took on Lonestar's "Amazed," which is the Calebest, Leeest, Hutchinsonest song I know. In past seasons, Paul Jolley and (wait for it) Scotty McCreery performed this track, which makes it the official anthem of Idol contestants who seem like youth pastors. We got the performance we expected: that deep, luvin' vocal tinged with folksy sadness. Later, Caleb picked his most provocative choice of the season so far, a take on "When Doves Cry" that could've worked had Prince's lyrics not sounded terrifying coming from his mouth. You don't want to hear a gentle country teen warble sing "The sweat of your body covers me." You don't. "Animals strike curious poses" is another thing Caleb shouldn't say, even if he is familiar with animal poses thanks to his farm upbringing. You know what Caleb should've performed? "Sign 'O' the Times." It's heavy, but it has that tender sadness he could've doubled down on. And we could've heard him say "reefer," which I believe would be funny.
5. Cade Foehner
Prince pick: "Jungle Love" (by the Time)
YYWB pick: "Who Will Save Your Soul?" by Jewel
Another failed experiment in rock-based sensitivity: Cade tried to rough up Jewel's radio classic with his weird growl that sounds the same whether he is belting or whispering. I found it contrived and a little songless, but it worked for a split second during the "Some are walking, some are talking" part. And you know what? Jewel is deeply underrated as a vocalist and I hope the teens of America hollered at Alexa to play her more after this performance. "Intuition" still bops! But Cade rebounded from his middling Kilcher kitsch with the fiercest song choice of the evening: "Jungle Love" by the Time. I almost dialed 777-9311 myself to report how happy I was. He crushed it with the guitar solo, Sheila E. jammed hard, and America got a rad reintroduction to Morris Day. It wasn't just good. It was impressive. And for the first time all season I counted myself among Cade's thrashing acolytes.
4. Gabby Barrett
Prince pick: "How Come U Don't Call Me Anymore?"
YYWB pick: "I Hope You Dance" by Lee Ann Womack
"I Hope You Dance" is one of those songs that plays again and again on radio stations called, like, 97.3: The Breeze! It's always accompanied by "The Game of Love" by Santana and Michelle Branch or "Picture" by Kid Rock and Sheryl Crow. Go to any Barnes & Noble and it's playing there, I promise you. Gabby's take on the Womackian treacle was gossamer-light, which was fine until it wasn't. It's Gabby's booming moments that burst through the muck on Idol, and I came away from Gabby's "I Hope You Dance" respecting the vocal but forgetting the performance. Fortunately, she mustered up some ingenuity for her Prince pick, "How Come U Don't Call Me Anymore," which millennials probably know best through Alicia Keys's cover. Whoa. Gabby went slowly, surely, and elegantly through the churning heartache of this ballad, summoning up a grown-ass-woman sense of self. It was serious. Maybe she trilled too hard a couple of times, but I found this a novel cover that went beyond imitation. Somewhat surprised she didn't belt "7" and smoke them all with its camp glory, though.
3. Michael J. Woodard
Prince pick: "I Would Die 4 U"
YYWB pick: "My Heart Will Go On" by Céline Dion
"I Would Die 4 U" has one key component: snazz. And Michael J. Woodard, the smiley doll who probably jumps into the splits when excited, is pure snazz. He bonded with Sheila E. mid-song, he cavorted and spun the way God intended and made sure every jaded Calabasas preteen in that audience was thumping her face off. You really sense that Michael loves music as much as he loves the sound of his own voice, and that's a rare quality in an Idol contestant. "My Heart Will Go On," meanwhile, was both an obvious pick and a slightly disappointing one. Here's the T: No one else on Earth is Céline. She has been 42 years old since she burst onto the scene in 1988, and she will remain 42 for the next 35 years. She is pure joy and insanity and sheath dresses and talent. You cannot replicate her unknowable combination of camp intensity and godlike sincerity. So initially Michael's performance felt pale and small compared to the second-most iconic soundtrack vocal of all time (after The Bodyguard, natch), but he snuck in one massive note that almost made up the difference.
2. Jurnee
Prince pick: "Kiss"
YYWB pick: "Back at One" by Brian McKnight
The night peaked early with Jurnee's cover of "Kiss." The instrumentation was rambunctious and alive, and Jurnee ratcheted up her sauciness with fluttery vocals, rad dancing, and earrings worthy of Vanity 6's attention. Did I want her to perform "Nasty Girl" instead? I did. I think she would've owned lines like "Don't you believe in mystery / Don't you want to play my game?" But this was a perfect fit for Jurnee, too, with its falsetto-heavy good times. How sweet would it have been if she had gotten to the "You don't have to watch Dynasty" part and replaced "Dynasty" with "The L Word" or "the season of Sex and the City where Samantha dates Sonia Braga" or something? Later, Jurnee slowed everything down with a cover of "Back at One," a ballad that might hold the world record for Most Counting. I appreciated her slick gender pronoun switch in the middle, but slow jams of the late '90s are tough to sell on the Idol stage. It was a romantic performance that needed more of an edge, or a creepy music video that sexes up the concept of plane wreckage.
1. Maddie Poppe
Prince pick: "Nothing Compares 2 U"
YYWB pick: "If It Makes You Happy" by Sheryl Crow
I'm in awe of Maddie's staying power in this competition. She is sticking to a lane that is not cool — solemn songwriterliness — and making it pop. Tonight, with two amazing covers, she proved she's basically Idol's Natalie Maines: a righteous dame who can always rely on the inherent hurt in her voice to give an overplayed radio song extra layers. Take her "Nothing Compares 2 U" performance (and, actually, give a listen to Natalie Maines's amazing version when you get a chance): It didn't attempt to copy Sinead O'Connor or Prince; it kept the focus squarely on the lyrics, which is the right angle on this song. Better yet, Maddie's version of Sheryl Crow's "If It Makes You Happy" matched the original's electric angst note for note. Though "Leaving Las Vegas" will always be my preferred Sheryl anthem, "If It Makes You Happy" has that searing, snarling late '90s power that makes me miss the VH1 Top 20 countdown. I find it hard to believe America digs this mature, unassuming singer as much as I do, but I'm choosing to follow this pipe dream as far as Simon Fuller will allow.
And the eliminated contestants are …
Jurnee and Catie Turner.
Okay, okay, much as I love Jurnee, we knew she was going home sooner or later. But Catie Turner? Damn. I'd hate to say it, but I imagine her fans couldn't bring themselves to vote for her after that zeppelin accident of a "Manic Monday" performance tonight. It's also possible that she was never as popular as Idol would have us believe. Caleb Lee Hutchinson, Cade Foehner, and Gabby Barrett are pulling in top numbers; it's likely that Dixie is running this show. Pray for a devastating performance of "Fast Car" from Maddie and the hottest Bruno Mars medley of all time from Michael J. Woodard, because it looks like our top three is shaping up to be a long-ass night at the Opry.