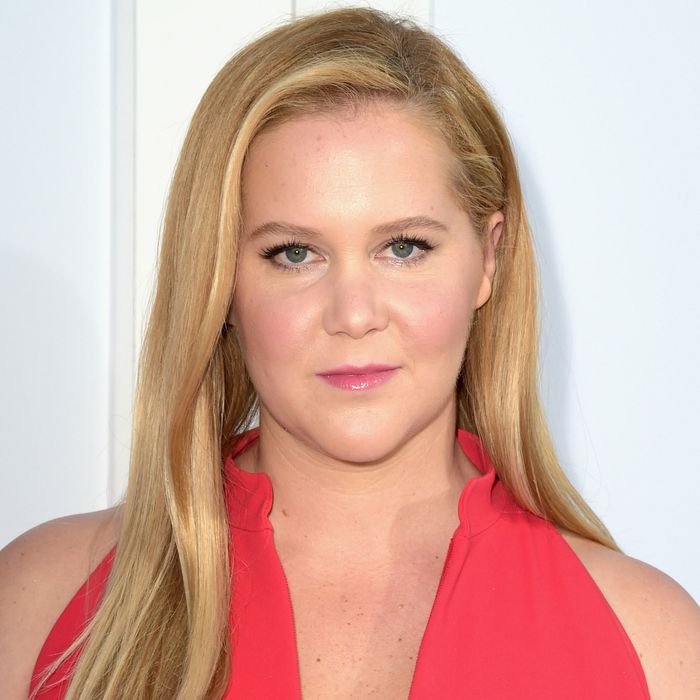 Photo: Kevin Winter/Getty Images
Amy Schumer is the latest Hollywood celebrity to jump on the podcasting train. Bloomberg reports that Spotify is paying the comedian more than $1 million for exclusive rights to a comedy podcast, citing "two people familiar with the matter who asked not to be identified because the terms are private." Details about the project are scant at the moment, but it's being described as focusing on "pop culture, politics and the world of stand-up comedy." Schumer is slated to host and produce.
A million dollars certainly sounds like a lot of money to invest in a podcast upfront, let alone in a single talent within an enterprise that requires all kinds of other production costs. Then again, it's a fraction of what Schumer has been able to secure for her work in the past: She was reportedly paid $11 million by Netflix for The Leather Special, following a retroactive negotiation.
Nevertheless, this Amy Schumer deal can be read as an expression of changing times in podcast-land. The industry's identity has historically revolved around its capacity to create a great deal with much less: a lone narrator conjuring expansive worlds, quiet interviews discovering tremendous depths, loose roundtable performances that lead to endless complexity. For a long time, this has been reflected in podcasting's modest production costs relative to more established media peers. As more players flow into podcast publishing, the space has become considerably more competitive — which raises pressure to spend more money on individual productions that will stand out from a crowded pack. In some ways, a broad upward shift in podcast budgetary expectations was bound to happen. This Amy Schumer deal appears to be just a single case of it.
The question I have is: Will these new budgets leads to different, more adventurous sounds? How will a million-dollar Amy Schumer podcast sound different from its celebrity-led podcast peers like Armchair Expert with Dax Shepard, or comedy-podcast peers like, well, everything that Paul Scheer has ever recorded with a microphone?
Meanwhile, Spotify's move to secure an exclusive built around a buzzy talent like Schumer comes as the platform looks to further expand the value of its nonmusic programming portfolio as part of its ongoing effort to strategically differentiate itself from music-streaming competitors like Pandora. (That said, Pandora recently announced that it's working on a "podcast genome project," so maybe the right way to read this entire situation is a kind of arms race.) The effort includes the company's acquisition of the serialized music podcast Dissect, which we previewed last week.