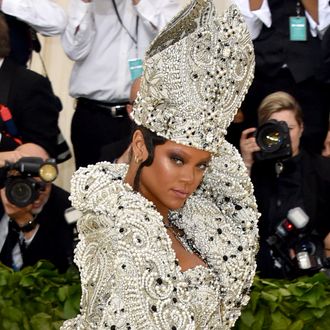 Pope Rihanna.
Photo: John Shearer/Getty Images for The Hollywood Reporter
The theme of this year's Met Gala is Heavenly Bodies: Fashion and the Catholic Imagination. For the less enterprising attendees, that means sheath dresses with spiky crowns, but for the truly fashion elite, it was a feast of chic pope looks. As expected, Rihanna did her summer reading and got the top score on this year's Met Gala exam, but a handful of those in her fabulous and famous cohort truly showed up for the event and honored the efforts of its praise-worthy co-host. Here are the best young popes from tonight at the Met.
Diddy went for a sleek Mogul Pope look alongside his girlfriend, Cassie. Let's hope he has an assistant off camera carrying at least 30 Tide pens.
Theater owner Jordan Roth went for a cardinal-red ensemble that would be right at home in Pope Lenny's closet.
Holy See? More like Holy did you see how regal Chadwick Boseman looked at the Met Gala?!
And truly, let's take a look at the detailing on those pope-fresh slacks.
Let it be known: Lena Waithe will be spearheading the reforms of Vatican III, with new edicts to be released by 2019.
We think this is an homage to pope fashions with that opulent mitre topping off Sarah Jessica Parker's grand Met Gala outfit. Given the actresses's affection for tall hats at the annual event, pope inspo was likely on her vision board from early planning stages.
If you made a Met Gala fantasy team, Janelle Monaé would have to be on it, and this black-and-white papal dress with a gold cappello romano (that doubles as a glowing Byzantine Christ halo!) is exactly why. She may be a dirty computer, but Janelle Monaé is one clean pope.
Pardon — is that white smoke in the distance? Has an emergency conclave been called, and has the assembly of cardinals gathered to thank Pope Francis for his service and name a new sovereign of the Vatican City State? Yes. Yes they have, and she, Robyn Fenty, will henceforth be known as Her Holiness Rihanna I. Long live the new Young Pope.
Now let's see the look in motion.