Hey, did you forget about the Marvel Cinematic Universe? I mean, it's been a whole four days since Avengers: Infinity War came out, so we wouldn't blame you if it slipped your mind. However, Marvel wants you to remember them in all of your waking hours, so they've seeded the internet with a new trailer for July's MCU outing Ant-Man and the Wasp (the third Marvel Studios picture of the year!). But what does it have to offer, other than a hearty helping of gags and goofs? Here's what we learned from the clip — and what we didn't.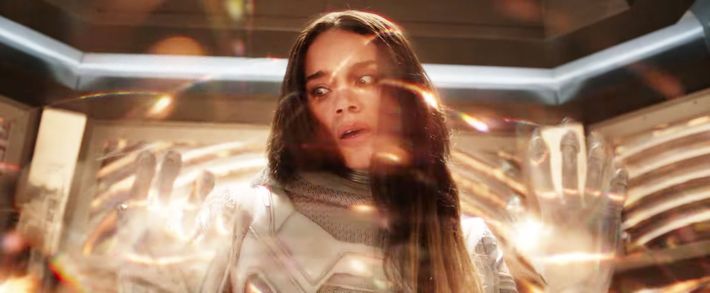 The villain has a Pym connection.
We already knew that the baddie was going to be C-tier comics character Ghost, and that she'd be played by Black Mirror and Game of Thrones alumna Hannah John-Kamen. What we didn't know was her deal, and we get a little bit of potential insight here. It seems she's stolen technology developed by Hank Pym (Michael Douglas) and wants to, in the words of Luis (Michael Peña), "take over the world or whatever." In the comics, Ghost is motivated by an anti-capitalist ethos of taking down the rich and powerful, so perhaps "or whatever" is doing a lot of work in that sentence and there's more to her plans? And what was the Pym project? Her powers don't involve size-shifting, but rather with phasing through solid objects. What other wonders was ol' Hank working on?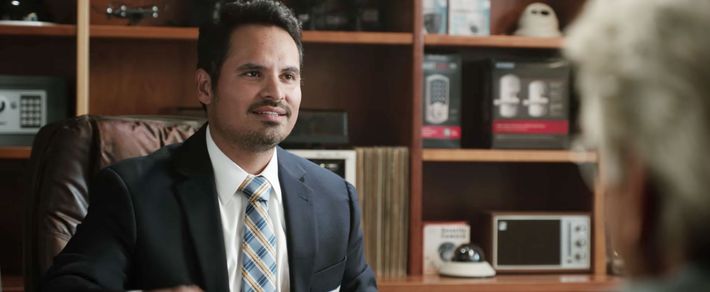 Luis and the crew are moving on up.
Speaking of Luis: good for him! When we see the jovial fella in the trailer, he's besuited and presiding over a staff of compatriots (T.I., David Dastmalchian) at a company called "X-Con Security Solutions." It appears that these gents, all of them thieves in the first Ant-Man, have gone corporate. What's more, Pym is hiring them to help him out with his mission to … get the stolen tech back, presumably?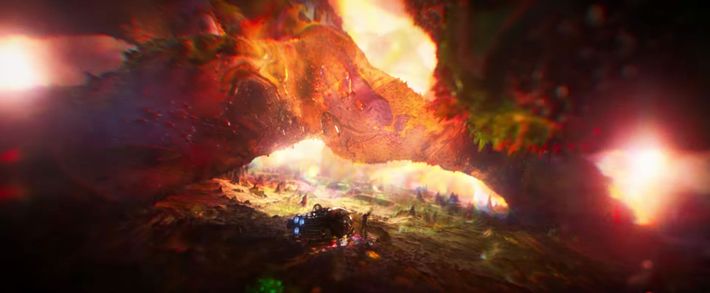 The Quantum Realm is a key location.
We first learned about the subatomic Quantum Realm in Ant-Man — it's a part of the multiverse that one enters after shrinking to an impossibly small size. It's also where Pym's wife, Janet Van Dyne (Michelle Pfeiffer), has been trapped since an incident decades ago. We get a glimpse of what it looks like (it resembles one of those cosmic photos of distant nebulae) and see some characters landing on it in a teeny-tiny spaceship. Its presence isn't exactly a surprise — would you introduce something called the Quantum Realm and not set part of your movie in it? — but it appears we'll get some extended sequences in this little corner of the world.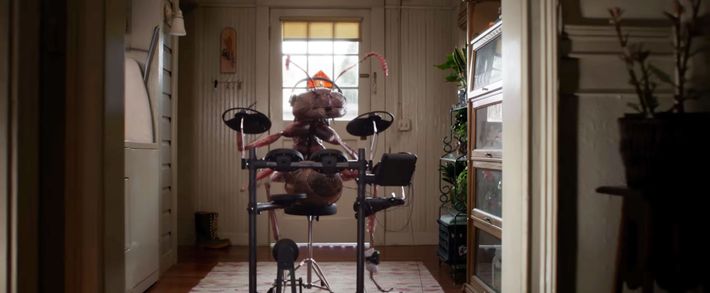 Ants can apparently play the drums.
In what is perhaps the biggest surprise of the trailer, we see a giant ant awkwardly but joyfully playing an electronic drum kit. Ant-Man was goofy, but it didn't get quite that weird with its insect supporting players. Are we gonna go full Kangaroo Jack here?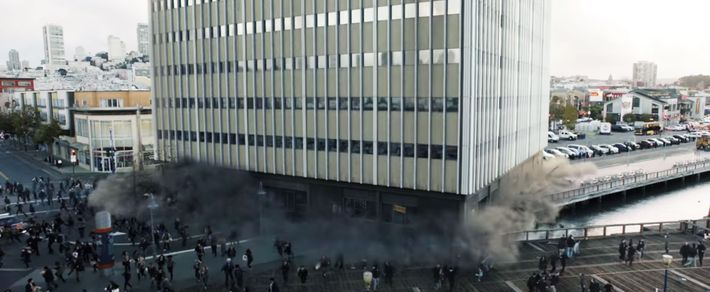 The shrinking/growing building seems pretty important.
We saw Pym shrinking an office building to suitcase size in the previous trailer, but it plays a significantly bigger (har har) role here. First we see it grow back to full size in a crowded area, then we see Luis holding onto it for dear life during a car chase with Hope Van Dyne (Evangeline Lilly) in the driver's seat. Is this Team Ant's headquarters? Is there secret technology stored there? Is it just a very potent good-luck charm?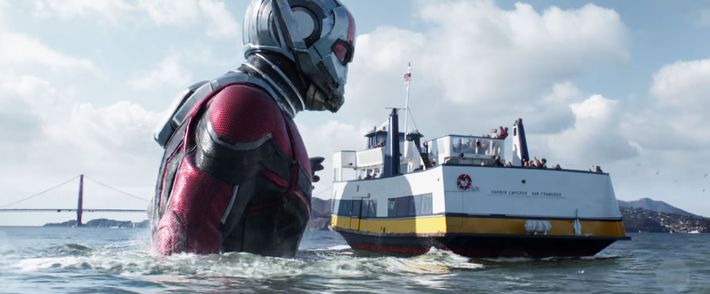 The embiggening technology is getting pretty public.
The aforementioned building situation demonstrates that the hoi polloi are getting to see Pym tech on full display in public, but we also get shots of Scott Lang/Ant-Man (Paul Rudd) growing to the size of a small skyscraper in what is presumably the San Francisco Bay, in full view of a passenger-filled ferry. People around the world already saw Scott's growth in clips from the fight between the Avengers factions in Captain America: Civil War, but it looks like folks will be seeing Scott's superheroics and their attendant sci-fi mishegoss up close and personal. Could this be a hint that he and Janet are going to become big-ticket superheroes?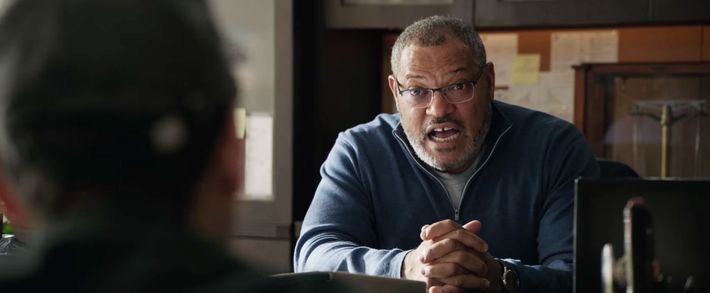 And said technology has been around for a while.
We meet Bill Foster (Laurence Fishburne), one of Pym's old colleagues, and though we don't learn much about the man, we do hear him say he and Hank once worked on a project called "Goliath" (appropriate, given that that's Foster's superhero code name in the comics), which allowed him to grow to a height of 21 feet. (Scott boasts that he's gotten to 65.) So although we didn't see the growth capabilities until after Ant-Man, in the reels of Civil War, it seems that it was always in Pym's bag of tricks.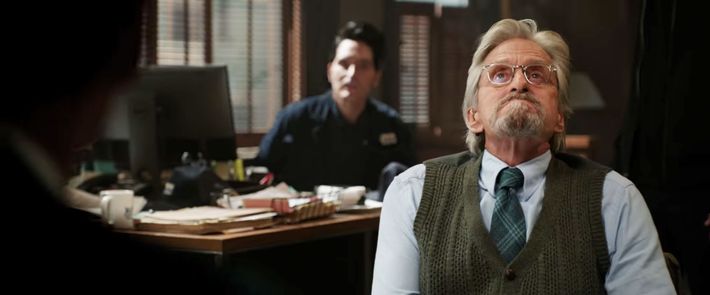 But when the hell is this thing taking place? And what's up with Michelle Pfeiffer?
As you'll recall if you've seen Infinity War (spoiler alert!), it concludes with half the life in the universe disappearing from existence. This presumably causes quite the worldwide panic, but everything seems to be ticking along as usual in this trailer. Does that mean the film takes place before Infinity War? We didn't see Scott or any of his supporting cast in the Avengers flick, so we have no hard clues there, other than a line from Black Widow about how Scott was on house arrest. But wait, we know that he gets out of house arrest in Ant-Man and the Wasp, so wouldn't the super-folks have known about his escape and mentioned it? Could it be that this takes place after society has returned to normal in the wake of Thanos's machinations in Infinity War and the untitled Avengers fourquel? No answers are to be found here. Nor do we get a glimpse of Pfeiffer as Janet, which is a goddamn shame. Here's hoping that, when she does show up, she gets a song. Or at least a lemonade.