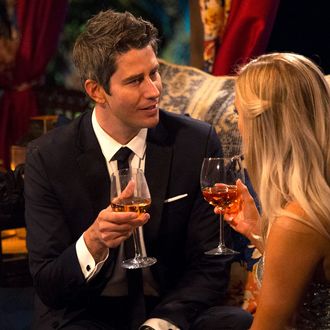 In the days following the shocking, divisive finale of Arie Luyendyk Jr.'s season of The Bachelor — which concluded with the Arizona real-estate agent dumping the winner, Becca Kufrin, to propose to the runner-up, Lauren Burnham — Luyendyk Jr. offered an array of excuses during his required day-long media tour for why he chose to film his breakup with Kufrin, even though the show didn't require him to. It would allow her to easily become the next Bachelorette!, he posited. (True, we guess.) I wanted our entire journey to be on camera!, he reckoned. Essentially, he was taking on a classic #noregrets stance and eager to move forward and marry the notoriously quiet Burnham, but in a fantastic new GQ profile, Luyendyk Jr. is now admitting how he feels "100 percent" betrayed by his supposed producer "friends" who pressured him into filming the breakup.
"It was completely edited," he explained, vehemently disagreeing with the show coining the 40-minute breakup as the first-ever "unedited" scene in the franchise's history. "I was told to stay on that couch. I tried to leave, and then production was like, 'You need to go back inside. She's finally calming down. I feel like you owe it to her to have this conversation.' So then I went back in the house." When pressed by GQ if Bachelor producers prevented him from leaving the house at his request, Luyendyk Jr. confirmed that was true:
"Yeah. I left, came back. I stepped away from the couch, I went back to the couch." But they kept talking him into staying. "They cut out, obviously, production talking to me from 10 feet away," he says, and calling it unedited "was super unfair to me." (A spokesman for Warner Bros., which handles production for The Bachelor, declined to comment.)
Despite his feelings of betrayal, Luyendyk Jr. admits "there's still a lot of love" for that Bachelor team, even though it lead to him being one of the most hated people in America for awhile. But things are looking up — he and Burnham will be marrying this coming January in Hawaii, although, sadly, their nuptials won't be filmed.