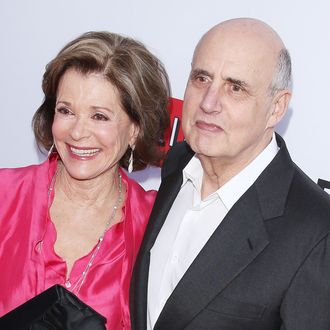 Walter and Tambor.
Photo: Michael Tran/FilmMagic
In Jeffrey Tambor's first lengthy interview earlier this month about the sexual-harassment allegations that got him fired from Transparent, he mentioned a "blowout" with his Arrested Development co-star Jessica Walter that got ugly. He noted that he apologized to her, but Walter declined to comment. Now, in a new New York Times roundtable with the entire AD cast, Walter addresses what really happened, breaking down in front of Tambor.
As the discussion turns to whether or not they would hire a person with Tambor's admitted anger issues, Jason Bateman defends Tambor, saying his on-set outbursts are par for the course in Hollywood and that many an actor has been labeled "difficult." Alia Shawkat responds, "But that doesn't mean it's acceptable." Walter then tearfully interjects and, for the first time, addresses what he did to her, telling him she's ready to move on (audio of the emotional exchange is available at the NYT):
Let me just say one thing that I just realized in this conversation. I have to let go of being angry at him. He never crossed the line on our show, with any, you know, sexual whatever. Verbally, yes, he harassed me, but he did apologize. I have to let it go. [Turns to Tambor.] And I have to give you a chance to, you know, for us to be friends again.
Though other cast members also defend Tambor, saying they're all guilty of having exhibited anger on the set, Walter makes it clear that Tambor crossed a line, telling Bateman directly that he's "never yelled at her at like that." "But it's hard because honestly — Jason says this happens all the time. In like almost 60 years of working, I've never had anybody yell at me like that on a set," she says. "And it's hard to deal with, but I'm over it now. I just let it go right here, for the New York Times." She also adds that she would not have brought up the incident had Tambor not spoken about it first, and would work with him again "in a heartbeat."
Update, May 24, 2018, at 9:05 a.m.: Jason Bateman apologized for his behavior in a series of tweets.
Update, May 24, at 12:14 p.m.: Tony Hale has also apologized for his comments in the interview.
Update, May 24, at 10:07 p.m.: Netflix has cancelled the cast's UK media tour in light of the controversy.