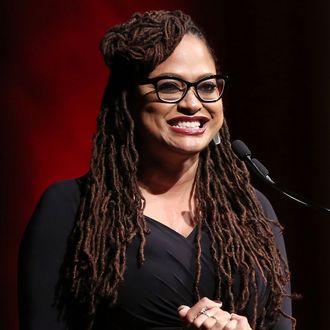 Ava DuVernay in May 2018.
Photo: Monica Schipper/Getty Images for The Foundation
Reigning over this year's Gloria Awards with her rousing acceptance speech, Ava DuVernay recounted a story that occurred during the early stages of her Queen Sugar series. As it goes, a director "friend" called DuVernay out of the blue one day, warning her that some pesky men in the Directors Guild of America had "complaints" that Queen Sugar was only hiring female directors. Her fiery response wasn't exactly what this pal expected. "Thank you, friend, thank you for that call," she responded. "I invite you to tell whoever is feeling discriminated against to sue me so that I can sue every studio that has left women out," she said, per Vanity Fair. "Because we can do this, if that's what you want to do." She added, emphasizing the importance of a testosterone-free space: "Why did we do this? Because we can. Because we can create spaces that nourish in our own image, in the same way that our male counterparts have created in their own image for over a century." Two seasons and zero male directors later, we think she's doing alright, no?