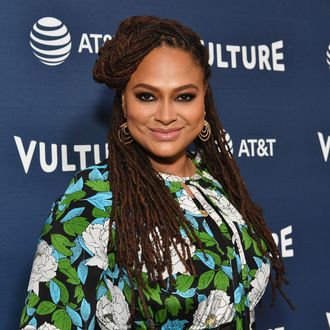 Ava DuVernay at Vulture Festival.
Photo: Dia Dipasupil/Getty Images for Vulture Festival
Queen Sugar's second season ended with a surprising, devastating twist: Blue Bordelon (Ethan Hutchison) might not be the biological son of Ralph Angel (Kofi Siriboe). During a Vulture Festival panel with Ava DuVernay and stars Rutina Wesley, Dawn-Lyen Gardner, and Kofi Siriboe, DuVernay revealed how this twist was baked into Queen Sugar from the very beginning. "I'd seen Ethan, and there was another boy that was of Kofi's complexion. I started to think about what it would mean, and how I would be able to put Ethan and Kofi together as father and son. Could you pull it off with no one thinking 'How could Darla and Ralph Angel make that boy?'" DuVernay said. "What would be the thing that would make everyone believe it? Love. How much they love each other bounded together and make everyone believe, as they should, that that was father and son."
DuVernay said she wanted to challenge Queen Sugar fans to accept Siriboe and Hutchison as father and son, and then make the big reveal. "That's exactly how the story was prepped the whole time. If you go back and you watch seasons one and two, there are hints all the way through. There was a reverse thing that we were doing from the very beginning," she said. "Kofi and Ethan did not know it was going to go there. I think I told them at the top of season two that it was going to happen." Queen Sugar returns for season three with a two-night premiere May 29 and 30.