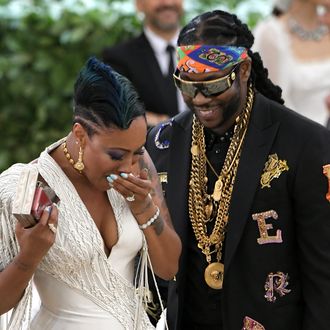 2 Chainz and Kesha Ward at the Met Gala.
Photo: Mike Coppola/MG18/Getty Images for The Met Museum/Vogue
You're both dressed to the nines, you know you'll have approximately 5,000 professional photos of the moment, and, if you time it just right, Frances McDormand will be in the background. Honestly, the question is: Why don't more people propose on the Met Gala red carpet? Earlier this evening, rapper 2 Chainz was so moved by the beautiful setting, he proposed to his girlfriend as they walked into tonight's event. When asked by Complex when, exactly, he decided to pop the question on the red carpet, 2 Chainz admitted, "about a minute ago." Hey, if you saw Pope Rihanna in the flesh, you'd be moved to take a knee too.