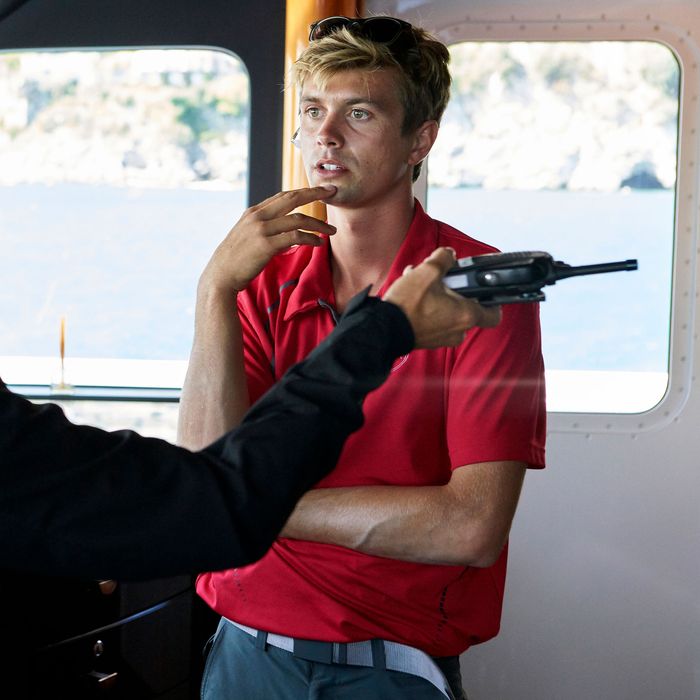 Below Deck Mediterranean
.
Photo: Bravo/Zev Schmitz/Bravo
Get out your tackiest jewel-toned caftan and uncork the limoncello, because Below Deck is back — in Italy! — and we're about to find out what happens when you stick a retired pageant queen who's never done laundry on a super-yacht where she'll have to spend all day doing just that.
This season's returning characters include Hannah, who's feeling reflective. As a childless 30-year-old, she says, ordering baby shampoo with no baby makes her feel "dead inside." She never explains why she orders baby shampoo. To bathe the charter guests, who are babies? To bathe her similarly infantile co-workers? But, she reasons, at least she's on the Amalfi Coast, "earning shitloads of money" by serving shrimp to the world's least self-aware people.
Also back is Adam, the chef who showed Malia he loved her last season by telling her he doesn't respect her. You know he's recently returned from a journey of self-discovery because his floppy hair has been evenly shorn into a five o'clock shadow for his head. Between seasons, he got a van and drove it from San Diego to Canada. He cooked things along the way, like a rock with a garnish of citrus fruit and what I think was raw fish, which is exactly the kind of thing you want to eat straight from a van.
Captain Sandy, who is the best, is also back, and she's not putting up with any shit this season. She's one of the few women to captain yachts over 50 feet, and the eyesore she has the pleasure of driving this time is the Talisman Maiton, which resembles a Dallas office building with a garnish of bed-in-a-bag displays from Bed Bath & Beyond.
New to the boat is Kasey, the stewardess who neatly comports into Bravo's requisite "dumb blonde stewardess" casting slot. She's from Long Island and lives with her parents, who don't let her do laundry. She has a degree in psychology from Stony Brook, but even that won't help her figure out how to press sheets using an industrial-sized yacht iron. But the most important thing to know about Kasey is that she used to compete in beauty pageants, which made her "invincible."
Conrad is the 23-year-old bosun/long-lost member of PRETTYMUCH. He admits to having a baby face and knows that he's young for his role, but he started at 19 and he just can't help how dedicated he is to crewing boats. Adam may have become a new person while living in a van down by the river, but not a new enough person to be able to resist telling Conrad, "I'm so jealous of your name … because it has RAD in it!"
Conrad's deckhand crew consists of Joao, whom Hannah thinks is "hot as fuck" and, like Hannah's parents, hails from Zimbabwe. He's accepted that no one can pronounce his name, and has a sweet story about how yachting was his only way out of Zimbabwe — but the sweetness quickly evaporates when he is shocked to learn his boss is a tween.
Brooke will play the role of the competent stew, reporting to Hannah, and arrives wearing a billowing pastel-blue shirt with scrunchies sewn on the sleeves and jeans with about 80 giant holes in them. The outfit says both "espresso martinis served with a smile" and "if we go down, the life raft is mine, bitch." Hannah says she's looking forward to sleeping at night without worrying about waking up with daggers in her back, but I predict this Brooke character is a brunette version of last season's Bugsy, and Hannah should be on guard.
Rounding out the crew are Jamie, a deckhand who wants women to know they don't have to be stewardesses; they can mop floors outside, too! She's going to be the hot drunk mess this season, and the Bravo editors are already subtitling her, I guess to practice for the moment she has one too many Aperol spritzes to walk or speak words. She describes her ethnic background as "beef stew."
Finally, my favorite newbie of the season is Colin, a deckhand who wears white '80s headbands and neon reflective shades, like he's on a matching-outfits bachelorette trip, only without the irony. His previous boating experience consists of driving the Fire Island ferry. He seems like someone a producer met last summer and cast on a whim, and I'm all about it.
Sandy assembles the crew for their first team meeting in what may as well be the lobby of a dentist's office, and she tells everyone the last thing they want is for her to be thinking about them first thing in the morning, because that means she'll have to fire them. Hannah breaks off with her team to find out if they can tend bar. Kasey says she has loads of experience making Jack and Cokes, and Hannah acts horrified, as though the typical guests on these things actually drink anything classier or more complex. You could serve most of these people a box of wine in a crystal glass and they'd think they were regulars at Per Se. Over at the first deckhand meeting, both Conrad and Joao mansplain how anchors work to Colin. This threatens Conrad's fragile ego, forcing him to tell Joao that he'd like to mansplain things on his own moving forward.
Downstairs in the crew mess, Adam, Sandy, Hannah, and Conrad assemble to discuss the first charter guests, a group of women accompanying primary Nichelle, president of "business management firm" SilverStone International. They have the kind of preference sheet — no red meat, no pork, no chicken, no white rice — that suggests if Adam serves them anything more than a sardine and a green bean, they'll throw the next morning's hollandaise in his face. But Adam, who served an anti-onion guest onions "out of spite" last season, is a new person and a new chef, and says he's not going to do that this time.
The next day, the guests arrive shortly after a hilarious near-crisis where Jamie and Kasey confuse one another's apparently super-different-looking epaulets. LOL! As soon as the primary meets Sandy, she invites her to join them for dinner on their last night. But any illusion we had that these people might be friendly is quickly vanquished when the women set foot on the boat and start demanding nuts.
Hannah tells Adam to assemble platters, including nuts but also fruit and cheese because, I guess, how cheap would it look to just throw them a can of Planter's and call it a day? Even though that's obviously exactly what they want. As the guests wait for Adam's slapdash cornucopia, they get really hangry. "We need some protein immediately!" and "I have some stale pistachios with my edibles!" they cry in desperation. After an alleged 20 minutes have passed, during which time Hannah had to give now-seasick Kasey a plastic bin to vomit in, fruit and cheese materialize on the deck, shortly followed by bowls of walnuts and pistachios. "Do you have honey-roasted anything?" one of the squad members wants to know. Which goes to show Hannah, Captain Sandy, and everyone else there's no point in trying to provide five-star service — these people don't have the palate to appreciate anything more sophisticated than the Chex Mix from an airport kiosk.
After they suffer through the walnut bowl and enjoy a lunch of prawns in broth, they ask to be taken to visit the other yachts to look for husbands. Sandy says she doesn't give a shit if the crew takes them out, and if they want to get laid, let 'em! The humiliated deck crew are unsurprisingly unable to talk the crew members of the bigger yachts into letting these women onboard, so they come back to dress for dinner in a terrible mood that even Neiman Marcus's best maxi dress won't fix.
A few caftans later, the ladies are sitting around the dinner table with caprese salads, which they enjoy. Then Hannah offers to bring them bread, and the redhead barks, "I do not eat bread!" as though she were just offered an aperitif of arsenic. When Hannah returns with Adam's branzino, served over pasta, the guests are aghast that it's in a bowl ("it looks like slop") and that they were served noodles at all ("I don't eat starch!"). Adam explains that the saucy pasta is in the bowl for the same reason you don't serve soup on a plate (liquid!) but makes them a second dinner anyway.
The redhead who doesn't eat bread demands a grilled cheese with truffles, lest you mistake her for someone without class. Another of the women asks for spaghetti. And the rest of the squad, true to their preference sheets, enjoy nice dry steaks of rare tuna.
The next morning, the guests assemble around the indoor breakfast table, which looks like a tiny version of TGI Fridays, and Nichelle, now rocking a cold-shoulder pirate sleeve, turns the meal into a business meeting. They are used to luxury vacations, she declares, and yesterday was "a day of concerns."
Next week, we'll see her tell Sandy the nut selection is trash and bread is for peasants she knows not of!