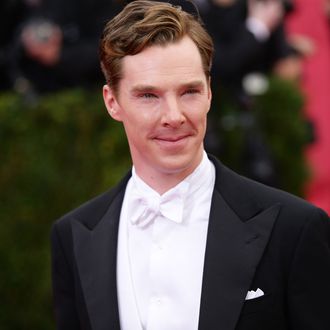 Cumberbatch.
Photo: Neilson Barnard/2014 Getty Images
Though it can often seem like the world is just one big hostile work environment, it turns out there is still some good to be found. Benedict Cumberbatch, everyone's No. 1 Serious Actor crush, has declared he won't do films where his female co-stars aren't paid equally. The actor made the remarks in an interview with Radio Times, telling the magazine, "Equal pay and a place at the table are the central tenets of feminism."
The actor also expressed pride in being one of only two men in his production company, SunnyMarch, and that he hopes to use his own fame to boost the careers of women. "If it's centered around my name, to get investors, then we can use that attention for a raft of female projects." Cumberbatch also announced the company's next project was a story about motherhood told through a female lens. It's almost enough to get us all to start trusting famous and powerful men again, eventually.