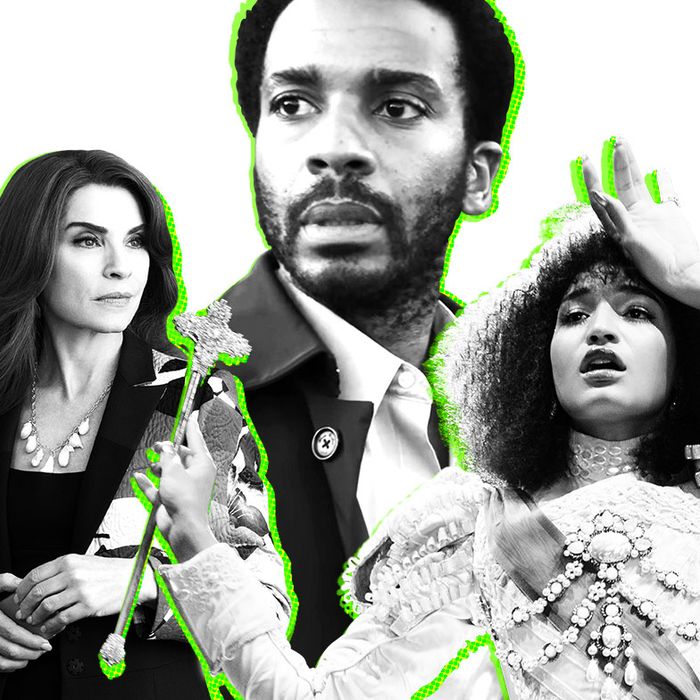 School's (almost) out for the summer, and you know what that means — it's time to park ourselves on the couch for summer TV season! The summer slate of 2018 is pretty damn impressive, giving us a mix of everything from delightful comedies to cover-your-eyes-in-shock dramas. If you're looking for recommendations on what to watch, take a look at Vulture's top picks for the hot, hot, hot season ahead, as well as the complete list of when all of these new and returning shows will premiere. As always: Binge responsibly!
The Bachelorette (May 28, ABC)
After the flaming hot dumpster fire that was Arie Luyendyk Jr.'s Bachelor season, the ultimately dumped winner, Becca Kufrin, will be leading the next Bachelorette season in the easiest choice ABC has ever made. To quote Kufrin, an amiable publicist from Minnesota: She's ready to do the damn thing, and will likely be joined by her girl squad as she makes her way through all of these male suitors.
Unbreakable Kimmy Schmidt (May 30, Netflix)
Say hello to workplace comedy Kimmy! In what will be the last season of the kooky comedy, Unbreakable Kimmy Schmidt has taken a page from The Mary Tyler Moore Show playbook with our bright-eyed heroine starting a job at a hip tech company — if only she was able to do fun things instead of, gulp, firing people on her first day. We're sure Jacqueline and Titus will be up to their old tricks, too.
Pose (June 3, FX)
As the first scripted series in TV history to feature a predominantly transgender cast, Ryan Murphy's latest outing follows the famed ballroom scene of 1980s New York — "balls are a gathering of people who are not welcome to gather anywhere else," one character helpfully defines — from the glamour of the costumes to the nitty-gritty of actually being able to afford the craft. When a tony couple from the suburbs becomes intertwined with the community, bigger questions of identity and purpose ensue.
Dietland (June 4, AMC)
Julianna Margulies and her penchant for fabulous wigs returns to television with Dietland, a bitingly satirical take on modern beauty and fashion standards. To give a taste of the bonkers plot: Margulies plays a glamorous magazine editor who tasks an overweight ghostwriter (played by Joy Nash) with writing her monthly letters to the editor column, only for this writer to rebel against the system by joining an underground anarchist group that … kills bad men. We told you, it's bonkers!
Younger (June 5, TV Land)
As Younger continues to get older, TV Land's deliciously fun sitcom will continue to focus on Liza and Kelsey's flourishing Millennial imprint and all of the quirky literati folk who cross their path — and, of course, those pesky love triangles that inevitably crop up in the process. Will someone else be privy to Liza's secret by the time the season ends? Only time will tell.
The Bold Type (June 12, Freeform)
If you've ever wanted a glimpse into the fashionable world of women's magazines, The Bold Type picks up season two with as much aplomb as ever. Plus, more scenes in those glorious closets! Our three Scarlet girls — well, technically two, now that Jane jumped ship to another publication — will continue to live their best lives in pursuit of self-discovery and love, as well as do a kick-ass job at Scarlet.
Castle Rock (July 25, Hulu)
Allow us to take a spooky trip north to the town of Castle Rock, Maine, which has become a mainstay in the Stephen King literary universe for all of the dreadful things that occur in its proximity. (Seriously, the list is huge. Don't live in Castle Rock!) Hulu will take on the interesting challenge of weaving together the narratives and characters that King created into one cohesive story, and they've yet to reveal much about the show itself. A very King move, truly.
Making It (July 31, NBC)
No, this isn't a Parks and Recreation fever dream. Amy Poehler and Nick Offerman — okay, fine, we'll bite, Leslie and Ron — are co-hosting a new competition series that "celebrates the creativity" in all of us. This entails a friendly showdown every week among some crafty people who are more than excited to paint, bead, draw, anything, to be in the presence of these two greats and have a blast. Think of it as The Great British Bake Off of crafts!
Jack Ryan (August 31, Amazon)
John Krasinski will continue his fabulous year by headlining this adaptation of Tom Clancy's popular novels, which finds our titular hero on an odyssey throughout Europe and the Middle East to capture a terrorist with catastrophic plans for the Western world. Since he's only used to being a CIA desk jockey, though, his very first mission will be anything but smooth — even with all of his analyst training (and bulging muscles) in tow.
The full summer 2018 lineup
Friday, May 18
12 a.m. 13 Reasons Why, Netflix
Saturday, May 19
8 p.m. Fahrenheit 451, HBO
Sunday, May 20
8 p.m. The 2018 Billboard Music Awards, NBC
Tuesday, May 22
12:00 a.m. Tig Notaro: Happy to Be Here, Netflix
12 a.m. Terrace House: Opening New Doors, Netflix
Wednesday, May 23
12:00 a.m. Explained, Netflix
Thursday, May 24
12 a.m. Fauda, Netflix
Friday, May 25
12 a.m. Picnic at Hanging Rock, Amazon
12 a.m. Trollhunters, Netflix
8 p.m. My Last Days, the CW
Sunday, May 27
12 a.m. The Break With Michelle Wolf, Netflix
7:30 p.m. The Fourth Estate, Showtime
Monday, May 28
8 p.m. The Bachelorette, ABC
10 p.m. Six, History
10 p.m. American Chopper, Discovery
Tuesday, May 29
8 p.m. Beat Shazam, Fox
8 p.m. America's Got Talent, NBC
9 p.m. Love Connection, Fox
9 p.m. Animal Kingdom, TNT
10 p.m. Queen Sugar, OWN
10 p.m. World of Dance, NBC
10 p.m. 100 Code, WGN
Wednesday, May 30
12:00 a.m. Unbreakable Kimmy Schmidt, Netflix
8 p.m. MasterChef, Fox
8 p.m. American Ninja Warrior, NBC
10 p.m. Running Wild With Bear Grylls, NBC
Thursday, May 31
9 p.m. Flip or Flop, HGTV
Friday, June 1
10 p.m. C.B. Strike, Cinemax
11:30 p.m. Rachel Dratch's Late Night Snack, truTV
Sunday, June 3
9 p.m. Pose, FX
10 p.m. Succession, HBO
Monday, June 4
8 p.m. So You Think You Can Dance, Fox
8 p.m. The Fosters, Freeform
9 p.m. Whose Line Is It Anyway?, The CW
9 p.m. Dietland, AMC
Tuesday, June 5
10 p.m. Younger, TV Land
10 p.m. Humans, AMC
10:30 p.m. Teachers, TV Land
Wednesday, June 6
10 p.m. Condor, DirecTV
Thursday, June 7
8 p.m. Marvel's Cloak & Dagger, Freeform
8 p.m. The Four: Battle for Stardom, Fox
9 p.m. Nashville, CMT
10 p.m. American Woman, Paramount Network
Friday, June 8
12 a.m. Sense8, Netflix
Sunday, June 10
8 p.m. 72nd Annual Tony Awards, CBS
8 p.m. Celebrity Family Feud, ABC
9 p.m. The $100,000 Pyramid, ABC
9 p.m. Claws, TNT
10 p.m. To Tell the Truth, ABC
Tuesday, June 12
8 p.m. The Bold Type, Freeform
Wednesday, June 13
9 p.m. Gordon Ramsay's 24 Hours to Hell and Back, Fox
Thursday, June 14
9 p.m. Strange Angel, CBS
Friday, June 15
12 a.m. Goliath, Amazon
Sunday, June 17
9 p.m. The Affair, Showtime
9 p.m. Deep State, Epix
10 p.m. Shades of Blue, NBC
Tuesday, June 19
10 p.m. Drunk History, Comedy Central
Wednesday, June 20
8 p.m. Young & Hungry, Freeform
9 p.m. Yellowstone, Paramount Network
Thursday, June 21
8 p.m. The Gong Show, ABC
9 p.m. Queen of the South, USA
10 p.m. Shooter, USA
10 p.m. Detroiters, Comedy Central
Friday, June 22
12 a.m. Luke Cage, Netflix
Sunday, June 24
10 p.m. Preacher, AMC
Friday, June 29
12 a.m. GLOW, Netflix
8 p.m. Masters of Illusion, the CW
Sunday, July 1
9 p.m. Power, Starz
Tuesday, July 10
8 p.m. The Outpost, the CW
10 p.m. Heathers, Paramount
Wednesday, July 11
12 a.m. Harlots, Hulu
8 p.m. The Burden of Truth, the CW
Thursday, July 19
9 p.m. Trial and Error: Lady Killer, NBC
10 p.m. Snowfall, FX
10 p.m. The Grand Hustle, BET
Wednesday, July 25
12 a.m. Castle Rock, Hulu
Thursday, July 26
9 p.m. Swedish Dicks, Pop
Tuesday, July 31
12 a.m. Casual, Hulu
10 p.m. Making It, NBC
Sunday, August 12
9 p.m. Insecure, HBO
10 p.m. Ballers, HBO
Wednesday, August 22
10 p.m. Mr. Mercedes, DirecTV
Friday, August 24
12 a.m. The Innocents, Netflix
Friday, August 31
12 a.m. Jack Ryan, Amazon