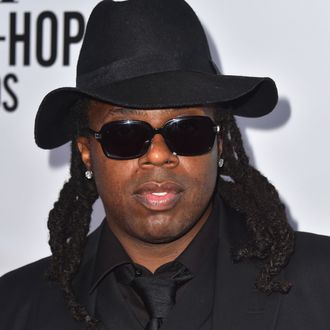 Detail.
Photo: Alberto E. Rodriguez/Getty Images
Detail, the producer behind Beyoncé's "Drunk in Love" and several Drake and Nicki Minaj songs, has been accused of raping two singers. TMZ reports that the two women, Kristina Buch and Peyton Ackley, have filed legal documents claiming that Detail (née Noel Fisher) subjected them to physical and mental abuse under the pretenses of furthering their music careers. Buch alleges that Detail forced her "to have vaginal/anal sex with him after recording songs on multiple occasions," including as recently as February. She claims he also "forcibly grabbed her by the hair, hit, and choked her" during a violent attack at a Malibu hotel last week.
Ackley claims that Detail walked in on her taking a bath and forced her to have sex with him in front of another producer, as well as take nude photos while he masturbated and record him sexually abusing Buch. Ackley alleges that Detail "slammed her head into a wall and dragged her up a flight of stairs" in March. She claims the two women were treated as "sex slaves." Singer Bebe Rexha has also revealed that Detail attempted to assault her when she was a new artist, tweeting that "he tried to with me, but I literally ran out of that studio." A judge has reportedly granted both Buch and Ackley, as well as Buch's sister, restraining orders.
Update, 6:15 p.m. E.T.: Singer Jessie Reyez has also accused Detail of attempting to assault her over six years ago, noting that her song "Gatekeeper," about an industry predator, is about him.