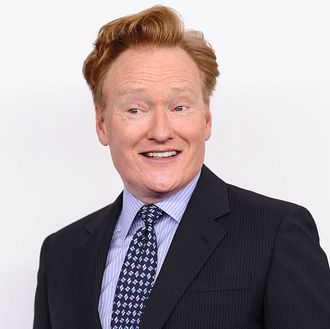 Photo: Daniel Zuchnik/WireImage
It's been rumored since last year that TBS had plans to switch Conan O'Brien's late night show to a half-hour format instead of an hour, and now the rumors are confirmed. Today, TBS announced that Conan will shift to a nightly and "less structured" 30-minute format in 2019. Here's what O'Brien said about the big change:
Since I inherited my Late Night show in 1993, TV has changed exponentially. I'd like to think I have evolved with many of these changes, but now it's time to take the next leap. A half-hour show will give me the time to do a higher percentage of the comedy in, and out, of the studio that I love and that seems to resonate in this new digital world. It's still going to be me hosting a very silly show, but I want segments on my half-hour program to link to digital content, deepening the experience for my younger fans, and confusing my older ones.
In addition to the format shift, TBS announced that Team Coco will sign "an array of talent deals with standup comedians driven by live touring and original digital material," which includes a multi-city standup tour hosted by O'Brien set to kick off later this year. TBS also plans on continuing to produce international Conan specials, and to celebrate O'Brien's 25-year anniversary in late night, some huge news for comedy nerds: the entire Late Night with Conan O'Brien NBC catalogue will be available digitally on Team Coco, which means we can finally watch all the old Masturbating Bear clips in one easy, official location.