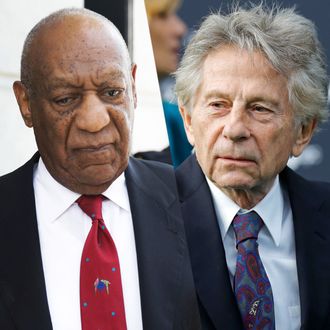 Bill Cosby (left), and Roman Polanski.
Photo: Getty Images
Bill Cosby and Roman Polanski have been expelled from the Academy of Motion Picture Arts and Sciences, according to the Hollywood Reporter. During a meeting on Tuesday, the board of governors voted that both men have violated the newly implemented rules governing Academy members' conduct. The rules were implemented after exposés in the New York Times and New Yorker outlined decades of sexual harassment and assault accusations against Harvey Weinstein. The Academy expelled Weinstein in October.
"The Board continues to encourage ethical standards that require members to uphold the Academy's values of respect for human dignity," the Academy said in a statement announcing the expulsions. Cosby was found guilty of drugging and raping Andrea Constand. Polanski was accused of raping then-13-year-old Samantha Geimer in 1977, and fled the United States. Last year, Los Angeles police opened an investigation into Polanski for another alleged sexual assault, but declined to press charges.