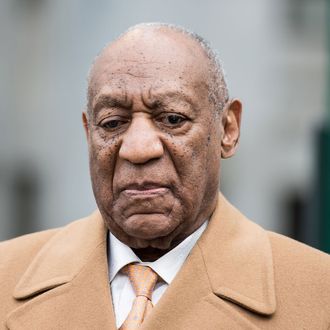 Bill Cosby on the fourth day of his retrial for sexual assault charges on April 12, 2018.
Photo: Gilbert Carrasquillo/Getty Images
Since Bill Cosby was found guilty of multiple counts of sexual assault, he has been removed from the Television Academy Hall of Fame and expelled from the Academy of Motion Picture Arts and Sciences, while The Cosby Show has been pulled from syndication. Now, the John F. Kennedy Center for the Performing Arts will rescind multiple honors the organization had previously bestowed on him. The Board of Trustees issued the following comment about the decision.
"Today the Board of Trustees of the John F. Kennedy Center for the Performing Arts voted to rescind two artistic achievement awards the institution had previously bestowed upon Bill Cosby: the Kennedy Center Honors (1998) and the Mark Twain Prize for American Humor (2009).  

 

The Honors and Mark Twain Prize are given to artists who, through their lifetime of work, have left an indelible impact on American culture. As a result of Mr. Cosby's recent criminal conviction, the Board concluded that his actions have overshadowed the very career accomplishments these distinctions from the Kennedy Center intend to recognize."
On April 26, Cosby was found guilty of three counts of sexual assault, and now faces up to ten years for each of the three counts of drugging and raping Andrea Constand in his home in 2004.