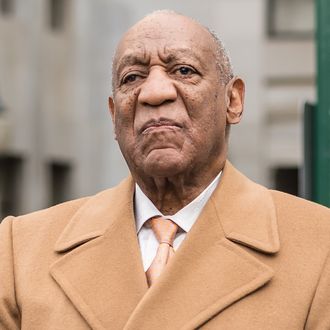 Bill Cosby leaving court on April 12, 2018.
Photo: Gilbert Carrasquillo/Getty Images
After being found guilty last month of three felony counts for drugging and sexually assaulting a woman in his home in 2004, Bill Cosby will be sentenced on September 24 and 25, according to a new court order issued today by Judge Steven O'Neill at the Montgomery County Courthouse outside of Philadelphia. Typically, sentencing occurs within a 90-day window from the date the verdict is announced.
Cosby, who turns 81 in July, faces up to ten years on each of the three counts he's been charged with for a maximum of 30 years in prison. While many legal experts predict it's unlikely the elderly comedian will be sentenced to the maximum of three decades behind bars, Cosby will need to serve at least some mandatory time, even if it ends up being house arrest due to his legal blindness.
Depending on what the judge decides, Cosby is likely to be sent directly to jail following the September hearings, probably the Montgomery County Correctional Facility in Eagleville, PA, or a state prison within the commonwealth.
The comedian is presently being evaluated by the court to determine his state of physical and mental health, and if he poses a risk to society. His lifetime of social work and philanthropic efforts will also be taken into consideration by the court upon sentencing. During the last few weeks, Cosby has been stripped of many honorary degrees, and his famous sitcom The Cosby Show has been pulled from syndication.
Cosby is currently under house arrest on a $1 million bond, during which time he must wear a GPS tracking device. Cosby is not allowed to leave his home except for medical appointments and to meet with his lawyers. If he would need to leave the state, his travel must be arranged in advance and approved by the court. Cosby's passport was revoked when he was found guilty after prosecutors cited concerns that he may be a flight risk.
Initially, the DA in this controversial case asked that Cosby be remanded to prison immediately following the guilty verdict. Judge O'Neill decided against it, opting instead to allow the comedian to await sentencing at his mansion due to his age and poor health.
During the two-day sentencing, it's expected that witnesses will be permitted to give statements either for or against Cosby. There is no word on how many potential victims and accusers will be able to give their statements, or whether members of Cosby's family will also appear at the hearing. Pennsylvania law allows Cosby to make a statement on his own behalf even though he did not testify in either of his two criminal trials.
It's expected that his legal team will appeal the guilty verdict, and they have 10 days from sentencing in Pennsylvania to do so. Cosby also faces several civil trials in California starting this summer.