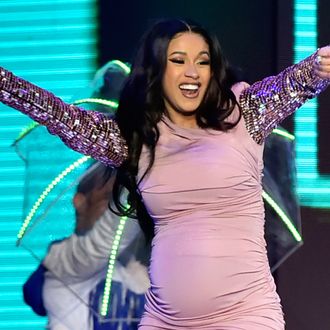 Cardi B.
Photo: David Becker/Getty Images
Starting this summer, not all on-demand music streams will weigh the same in the Billboard Hot 100 and Billboard 200 charts. Billboard announced the changes to its calculation method on Tuesday, after going through several months of internal analysis and industry discussions.
Under the current system the Billboard Hot 100 chart — and other genre-specific song charts — counts plays on on-demand streaming services like Spotify, Apple Music, and YouTube to weigh more than streams from programmed streaming services like Pandora and Slacker Radio. When the chart changes its tallying process this summer, another tier will be added, with paid subscription streams (like Apple Music, Amazon Music) given one full value point per play, while ad-supported streams (like Spotify and Soundcloud) will get a 2/3-point value per play. The programmed streams will receive a half-point value per play. These numbers will be added to the formula with radio airplay and digital buys.
Meanwhile, the Billboard 200 chart currently has one tier for all on-demand streaming services. Right now 1,500 streams counts as one album unit. Under the new system paid-subscription streams will equate 1,250 plays as one unit, and ad-supported audio streams will equate 3,750 streams to one album unit. Programed streams and radio airplay do not count toward the Billboard 200 chart.
As Pitchfork points out, Apple Music executives called for this change last September, arguing that listeners' willingness to pay for the music should count for more in the charts. Presumably the unpaid services, and the artists who rise to fame through those platforms, might argue differently.
The changes will take effect starting in the week of June 29 to July 5.