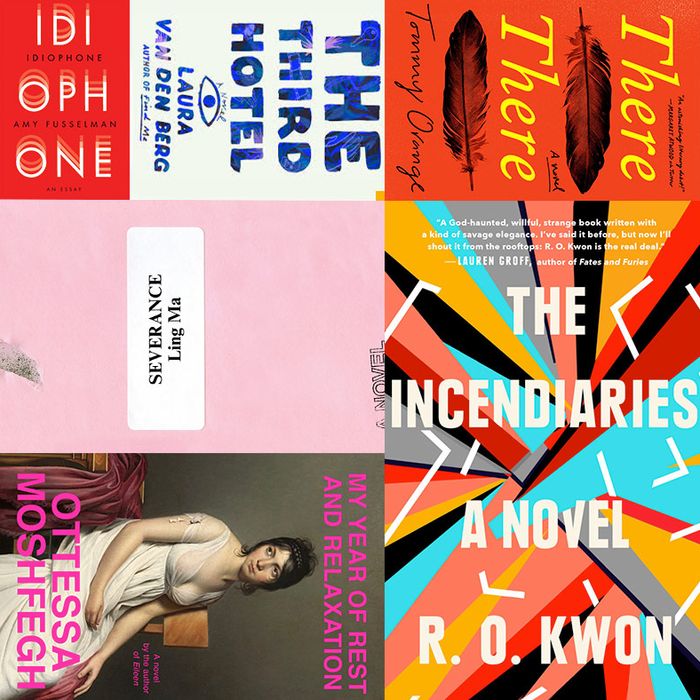 These summer reads run the gamut from historical adventures to hilarious memoirs to dark and dazzling debut novels. Whether you read them poolside or inside in air-conditioning, these books are sure to make your summer just a little bit hotter. Here are the best new books to read this summer.
Photo: Farrar Straus Giroux/Handout
Kudos by Rachel Cusk (Farrar, Straus and Giroux, June 5)
Cusk's masterful trilogy puts her in the running for queen of autofiction (novels with self-consciously autobiographical narrators). Her triptych began with Outline's unnamed writer, teaching a summer seminar in Greece. Transit gave her a name (Faye) along with two kids and a half-built London house. Kudos sends her across Europe to survey a continent whose center isn't holding. Cusk's Faye is both a compelling voice and (in contrast to most male autofiction) an attentive listener to the stories of others. —B.K.
Florida by Lauren Groff (Riverhead, June 5)
Groff is a great phrasemaker, and while her breakout novel Fates and Furies (one of Obama's book shout-outs) was celebrated for its structurally inventive dissection of a too perfect marriage, her language stands out even better in short forms. Groff's first story collection since 2009's Delicate Edible Birds largely features travelers trapped by storms both natural and emotional, often intent on dream vacations (to Groff's home state and beyond) that morph into feverish nightmares. —B.K.
The Good Son by You-jeong Jeong (Penguin, June 5)
Jeong's thrillers are wildly popular in South Korea, and we'll soon learn why. Her first book published in English enters the mind of Han Yu-Jin, a seizure-prone youth who wakes to discover that he might have just murdered his mother with a straight razor — or not? In Han's highly unreliable narration, the discovery of the culprit is only a stop on the way to the real revelation, the unfolding of his family's warped dynamic. —B.K.
Social Creature by Tara Isabella Burton (Doubleday, June 5)
What would Patricia Highsmith have made of today's socialites, with their squad goals and weaponized Instagrams? Probably a fictional stew of envy, tension, and mystery like the one Burton stirs together, crafting a story at once familiar and fresh, summery and shadowy. This novel's Talented Mr. Ripley–like relationship develops between a floundering striver pushing 30 and a wealthy young sprite on "sabbatical" from Yale. When the socialite starts to move on from their temporary alliance, things go very, very badly. —B.K.
There There by Tommy Orange (Knopf, June 5)
A powwow in Oakland, California, is the destination for an array of Indigenous Americans in Tommy Orange's extraordinary debut novel. His characters live in urban areas full of the kind of miseries that plague the rest of America — gun violence, alcoholism, opioid addiction — but even more so given the legacy of colonialism. The anticipation of how his various narrators will interact at the Oakland meetup feels like a dangerous chemistry experiment, and the explosions that come out of it are shattering. —M.K.
The Great Believers by Rebecca Makkai (Viking, June 19)
Makkai was already a rising star, but this novel, her third, has been talked about for months. She takes up a theme seen in other recent novels, the trauma inflicted by AIDS on the loved ones who survived the epidemic. Two distinct narratives intertwine ingeniously: First, a Chicago art dealer's life derails in the '80s as the disease takes everyone around him; second, 30 years later, the sister of his first friend to die searches for her grown daughter in Paris. The stories meet up to heartbreaking effect. —B.K.
Confessions of the Fox by Jordy Rosenberg (One World, June 26)
Looking to get lost in a big, juicy historical novel? Look no further. Jordy Rosenberg's debut tracks the Bonnie and Clyde of 18th-century London and the academic who's obsessed with reading and heavily annotating an account of their lives. Featuring a transgender protagonist who finds danger and adventure with every step, expect descriptions of dastardly doings and a zillion old-timey synonyms for genitals explained in the footnotes. A delight. —M.K.
Idiophone by Amy Fusselman (Coffee House, July 3)
"Your writing is not short stories / it is not a novel, / it is nonfiction but not the kind of nonfiction we are used to, / it doesn't sound like poetry /Just put it in a box, would you?" This is how McSweeney's alum Amy Fusselman characterizes the criticism that her work is not easily categorizable, but truly, who cares? This small and beautiful book about feminism and motherhood and art is perfect for those of us who like thinking outside of the box when we're looking for something lovely to read. —M.K.
My Year of Rest and Relaxation by Ottessa Moshfegh (Penguin Press, July 10)
If you're looking for a fun summer romp, move on. Reading Ottessa Moshfegh means embracing the darkest of humor, And yet, her writing is always propulsive even when — especially when — her characters are making terrible decisions. In Moshfegh's latest novel, she locates the humanity in the most narcissistic of heroines: a young woman who attempts to take a year off from life for "R&R" by medicating herself to zombielike levels à la the sleeping cures that were fashionable and equally destructive back in the days of Valley of the Dolls. —M.K.
Give Me Your Hand by Megan Abbott (Little, Brown, July 17)
Thriller writer Megan Abbott has an incredible body of work about female ambition — the ways in which women have to fight to get what they want. Her latest page-turner is set in the male-dominated world of STEM, in which two former friends who know way too much about each other (they met as girls in a town called Lanister, so we know it's gotta be sinister) reunite in a research lab where they vie to get ahead while trying to keep their secrets from being revealed. —M.K.
I Can't Date Jesus by Michael Arceneaux (Atria, July 24)
Thank Beyoncé that Michael Arceneaux finally found someone to believe in after growing up feeling like an outsider as a gay black kid in a religious community. Arceneaux's powerful essays about the alienation he's felt for so much of his life are mitigated with humor and the wit of a pop-culture fiend. Expect plenty of song lyrics and cultural references sprinkled throughout. —M.K.
Brother by David Chariandy (Bloomsbury, July 31)
In this time of gross American injustice, summer's breakout immigrant tearjerker comes from an unexpected place. Chariandy locates his novel in a darker corner of our supposedly enlightened neighbor to the north — the Toronto neighborhood of Scarborough. Wide-eyed Michael and his cynical brother Francis are taught by their Trinidadian mother to strive against the odds, even as her own broken state belies her cherished ideals. —B.K.
The Incendiaries by R.O. Kwon (Riverhead, July 31)
One of those slim novels that contains multitudes, R.O. Kwon's debut novel shows how unreliable we are as narrators when we're trying to invent — and reinvent — ourselves. The Incendiaries follows Phoebe and Will, two college students who try to evolve together, even as they try to leave their hometown baggage behind. When a charismatic (aren't they all?) cult leader seduces Phoebe with violent ideas and ties to her dead father, her life path takes a turn so dramatic that Will can only struggle to keep up. —M.K.
The Third Hotel by Laura van den Berg (Farrar, Straus and Giroux, August 7)
A woman goes to a Cuban horror-film festival and lives out her own ghost story in this haunting novel. Recently widowed, Claire believes she sees her husband standing right there in the middle of Havana. The dreamlike state in which she pursues him and the past memories she recalls and relives are a stunning portrait of a marriage and what remains furiously alive even after death. —M.K.
Severance by Ling Ma (Farrar, Straus and Giroux, August 14)
Part workplace novel, part young-woman-comes-of-age-in–New York City, part postapocalyptic nightmare, Severance contains insights about the daily drudgeries of life that are so real, they make the more fantastical elements of the book seem plausible. Told from the point of view of a woman who is one of the few last survivors of a plague that originates in China and decimates America, this phenomenal debut explores what happens when we make any number of decisions by rote and fail to see or question the bigger picture. —M.K.
Ohio by Stephen Markley (Simon & Schuster, August 21)
Reporters have fanned out in search of answers to Middle America's decline and Trumpist desperation, but Markley is one of the first novelists to fully reflect the social forces at work without sacrificing an iota of character work or narrative tension. Drawing on the reunion-novel tradition, he brings together four alumni of the same (fictional) Ohio high school on one momentous evening a decade after graduation, each with their own pattern of escape and return — and their own mission of repentance or retribution. —B.K.
French Exit by Patrick deWitt (Ecco, August 28)
One of our funniest fiction writers around is back with a present-day "tragedy of manners" that follows a singularly terrible-in-the-best-way mother-and-son team as they ditch the Upper East Side to travel to Paris after their financial world implodes. With its biting one-liners and alcohol-fueled reveries, French Exit will scratch the same itch as the very best seasons of Arrested Development. —M.K.