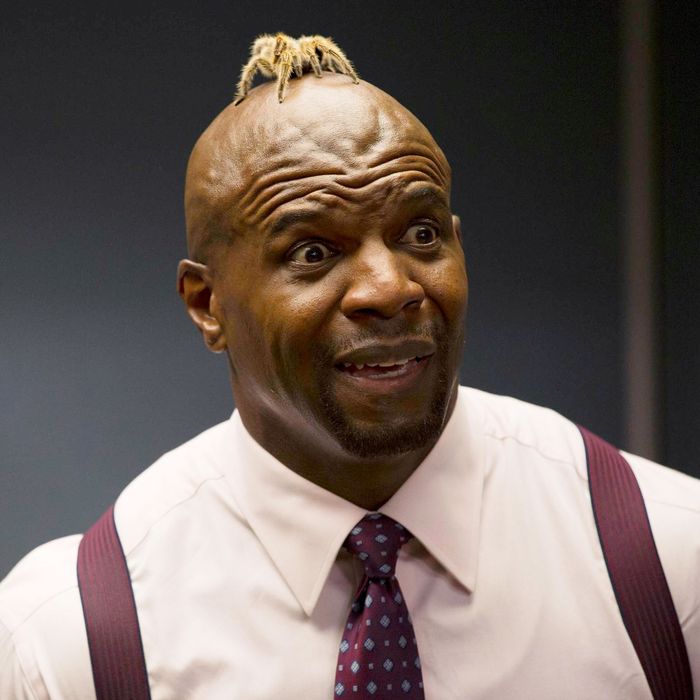 A scene from
Brooklyn Nine-Nine
.
Photo: John P Fleenor/FOX./Fox Broadcasting Co.
Ask any fan to explain the comedic delights of Fox's Brooklyn Nine-Nine, and they'd all tell you that one of the fundamental tenets of the NYPD's silliest precinct has always been its use of cold opens. In nearly every episode throughout its five-season run, a cold open, often totally unrelated to the narrative to come, immediately turns on the laughing gas for viewers, whether through a detective making a group of criminals sing the Backstreet Boys or anything related to national treasure Captain Raymond Holt.
Ahead of the show's season — and potentially series — finale on May 20, we asked the cast to reflect on their favorite cold opens. The answers are, as expected, varied and very funny in their own right.
Andy Samberg (Jake Peralta)
"It's really hard to choose one, but one of my favorites is when Charles watched Bullets Over Broadway over the weekend. It's so dumb and so simple and Joe Lo Truglio is so funny in it. The slow burn of how it played made me laugh every time we shot it, and seeing it cut together with the cameras popping in more and more as Jake is bummed and Boyle is psyched, it just makes me giggle. Also I will always love how much Boyle loves Dianne Wiest. As should we all."
Terry Crews (Terence "Terry" Jeffords)
"Jake has just returned from his undercover operation in Florida and has 'frosted tips' on his hair and we all hate it, so we stage an intervention at Shaw's bar so we can cut them off. Charles enters the bar and his tips are also frosted, as he announces he and Jake are 'Tip Buds.' They scream, 'Nooooooo!' together when they realize once Jake gets his tips cut, they'll be 'Tip Buds' no longer. Then Jake sees how bad it really is on Charles and is suddenly okay with getting rid of them. Charles's undying and disturbing affection for Jake is one of the funniest running gags I've ever seen. This cold open never ceases to make me laugh, no matter how many times I see it."
Melissa Fumero (Amy Santiago)
"This made laugh so hard when we first read it at the table read. And then Joe was so hilarious when we shot it. He just totally nailed it. I love watching it because Andy laughed for real — but stayed in character — while we were shooting it and they kept it in. We all broke a few times during that one."
Joe Lo Truglio (Charles Boyle)
"My favorite one is Jake and Boyle's Dianne Wiest cold open. Boyle says he was sick all weekend after watching Bullets Over Broadway. The show is so wickedly fast in its pace and jokes, and I love that tone. Consequently, when there are scenes that breathe, that let the silence of the reactions build the punchline — it's very, very satisfying."
Stephanie Beatriz (Rosa Diaz)
"Forever in love with the one where Amy is late and we are all guessing why, because when Andre Braugher — as Captain Holt — guesses correctly and then yells, 'Hot damn!' at the top of his lungs. That was so unexpected and out of the blue that I erupted laughing. You can see it in footage they used. The cut is quick but I am very clearly about to break."
Dan Goor (Co-creator and executive producer)
"This is incredibly difficult. Jake is excited because he busted a drug dealer and, because it wasn't going to be used as evidence, he was able to take the dealer's tarantula home as his new pet. Everyone makes fun of Jake for wanting to take home such a gross, creepy animal, except for Terry, who is just so freaked out about spiders, he up and leaves. Then Jake realizes the tarantula has escaped. Everyone scrambles to find it, and they do … perched on Terry's bald head. The last shot is Terry in the elevator with a real, live, actual, tarantula crawling on his head. All the jokes about the tarantula and the name Jake wants to give it — Mrs. Doubtspider, Spidey Klum, etc. — crack me up, but that last shot is one of the funniest things we've ever done. Again, it was a real tarantula!"
Mike Schur (Co-creator and executive producer)
"Dianne Wiest. It's just a great comedy idea, perfectly executed by the writers, actors, and editors. It's also the kind of idea you can only do several seasons in, when the audience knows the characters so well."