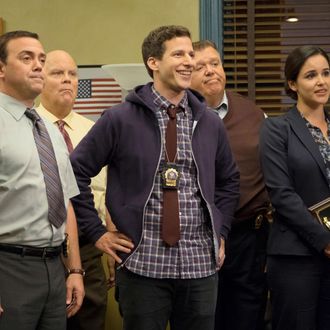 B99
.
Photo: John P. Fleenor/FOX
Sometimes, genuinely good things happen that make you want to give humanity a big ol' bear hug. It happened early this morning: Seeing the overwhelming amount of social media users going through the five stages of grief following Brooklyn Nine-Nine's cancellation by Fox (this writer was at the "bargaining" stage) rival network NBC decided to pick it up for season six instead. The cast, unsurprisingly, are going nuts on Twitter with the good news. We present you their reactions without comment.
The show's co-creator, Mike Schur, was the one to announce the un-cancellation on Twitter. "This happened because the fans of the show went berzerk," he wrote. "We can't thank you or NBC enough."
NINE-NINE!