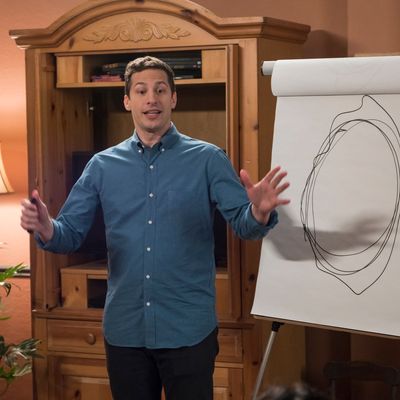 NBC's decision to rescue Brooklyn Nine-Nine, just hours after Fox canceled the five-year old comedy, wasn't exactly a no-brainer — but it's also one of the least risky calls Peacock execs will make this week. That's not to suggest NBC isn't taking a chance here: Brooklyn is a decidedly modest ratings performer (even in this era of diminished Nielsen expectations), and as with most series going into their sixth season, it's not particularly cheap to make. But the Andy Samberg–led ensemble has three big things going for it, all of which likely helped make it easier for execs to quickly get to yes on season six. Let's break down the rationale behind NBC's big save.
It's already part of the Peacock family
Brooklyn airs on Fox, but the show is actually made by Universal Television, the sister studio of NBC. While in-house studios like Universal are now mostly focused on making shows for their own networks, back in 2012, when Brooklyn was first being pitched, Universal decided to shop the idea to all the broadcast networks — and Fox stepped up with the best offer, beating out NBC. "Ever since we sold this show to Fox I've regretted letting it get away," NBC Entertainment Chairman Bob Greenblatt said Friday in his statement, tacitly admitting he made a mistake by not locking the show up early in the development process. But NBC's ownership of Brooklyn (via Universal) didn't just make it contractually simple for the network to pick up the series. It also made the idea much more financially viable than another network or streaming service saving the show.
While Brooklyn's so-so Nielsen ratings mean NBC likely won't make much (or any) profit selling ad time on the show next season, these new episodes will likely pay for themselves due to the extra money Universal TV will make via its syndication deal with TBS and its streaming agreement with Hulu. Ownership doesn't always guarantee a bubble show's survival: Fox just pulled the plug on Last Man on Earth, even though its sister studio, 20th Century Fox TV, produces it. But more and more, broadcast networks are making decisions about which shows live or die based on whether or not they have an ownership stake in the program and are thus able to monetize the program through revenue streams other than advertising.
It's worth noting that shows jumping from one broadcast network to another is not a new phenomenon. Back in 2009, NBC canceled its paranormal crime procedural drama Medium after five seasons because ratings (particularly among the younger viewers the network targeted) had grown soft. But the show continued on for two more seasons over at CBS, in no small part due to the fact Medium was produced by the Eye network's in-house studio at the time, CBS TV Studios. And over the years, there have been numerous cases of one Big Four network snapping up a rival's cancellations for reasons not related to ownership. Perhaps most famously, in 1996 CBS picked up the NBC drama JAG after the Peacock killed the show after its freshman season. Not only did JAG run another nine years, but the show gave birth to an even more successful spinoff: NCIS.
It's already got a core audience (and a passionate one at that)
Based on Twitter's instantaneous Thursday freak-out, you'd think Brooklyn was one of TV's biggest hits. Alas, according to Nielsen, its audience is far from massive: The show averaged just under 3 million viewers for the season, including folks who watched within a week via DVR. (For comparison's sake, The Big Bang Theory pulls in just shy of 19 million viewers every week.) But even if Brooklyn isn't burning up the Nielsen charts, its fan base is bigger than those Nielsen numbers suggest. For example, Fox estimated last fall's season-five premiere drew 5.2 million viewers once audiences who streamed the show or watched on VOD were counted. And among adults under 50 — the demo NBC and its advertisers target — Brooklyn is averaging a 1.3 rating this season. That's not a big number, but it's a tad ahead of another comedy (A.P. Bio) and drama (Blindspot) NBC just renewed, and in line with a couple of CBS dramas coming back next season (Instinct, MacGyver).
Five or ten years ago, most network execs wouldn't think twice about killing shows with these kinds of ratings — if only because, the thinking went, doing so would free up room to find a bigger hit with a new series. Unfortunately, one of the byproducts of Peak TV is that it's very, very difficult for newcomers to break through and find an audience — particularly comedies. Canceling a so-so rated show to make room for something else often leads to even lower ratings the following season. So while NBC is unlikely to turn Brooklyn into a big hit, having 13 episodes of a show audiences already know means one less time slot where it has to build an audience from scratch. That's also the appeal of resurrecting classic sitcoms such as Will & Grace and Roseanne. Ratings for both revivals have fallen sharply since their respective returns, but both continue to do far better numbers than any other comedies on NBC and ABC, respectively.
What's more, even if a passionate audience doesn't directly translate into profits for a network like NBC, at a time when Netflix and premium cable are dominating the pop-culture attention span, there's something to be said for having shows people talk about and truly love. Yes, it would've been silly for NBC to save Brooklyn just for a few days of good PR and the tiny halo effect having the show next season will produce. But given its ownership stake in the show, and its heavy concentration of younger viewers, having another show audiences care deeply about is a nice fringe benefit.
It's not like NBC has an abundance of comedy hits
The final factor that likely drove NBC's decision to order Brooklyn is that the network has been hard-pressed to produce big new comedy hits in recent years, despite making strides to rebuild its sitcom brand. Will & Grace, of course, counts as a very big win for the Peacock, even considering its post-Olympics ratings declines. And season two of The Good Place notched demo ratings on par with long-running comedies such as Mom and The Middle, while holding on to all of its season one young-adult audience. But beyond that, NBC's comedy bench remains thin.
Superstore is doing fine, but is hardly a hit. Great News got all the chances in the world to succeed, but it's now been canceled after two seasons of tiny ratings (even by 2018 standards). Champions came and went over a few months this spring, and A.P. Bio is coming back … well, because NBC execs figure they should at least bring back one new comedy from this season. NBC is making better sitcoms than it did a few years ago, but it's still the only network that programs comedy just one night per week. Adding Brooklyn to the roster won't transform NBC into a powerhouse, but it's also not going to prevent the network from finding the big new comedy hits it needs.