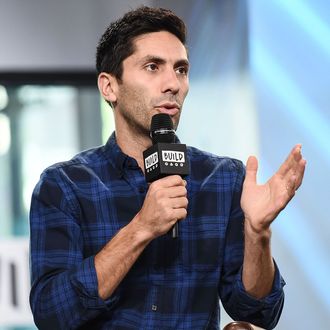 Nev Schulman
Photo: Daniel Zuchnik/WireImage
MTV has temporarily suspended production on Catfish: The TV Show while it investigates sexual-misconduct claims against the show's host, Nev Schulman, the Daily Beast reports.
In a statement, an MTV spokesperson said, "We take these allegations very seriously. We're working with Critical Content, our third party production company, to conduct a thorough investigation."
This is not the first time the filmmaker has faced allegations of misconduct. In 2006, he was kicked out of Sarah Lawrence College for punching a woman in the face at the school's annual Sleaze Ball dance. In his 2014 book In Real Life: Love, Lies & Identity in the Digital Age, Schulman says he acted in self-defense, and that he wasn't aware the "short, stocky, crew-cut-styled" individual he punched was a woman. But that year, the woman he assaulted told Vulture that she approached him after she noticed him taking pictures of people without their consent. According to her:
 I tapped his shoulder and he turned and hit me out of nowhere, I went down and he held me in a head lock and repeatedly punched me while I tried to get free. The impact broke my glasses and the rest of the night was a blur. I got off the floor, talked to police, then went home to sleep. When I woke up the next day, my face was bruised, I was hurt, and a friend urged me to go to the hospital, which I did.
As of now, the specific nature of the claims against Schulman is unclear.