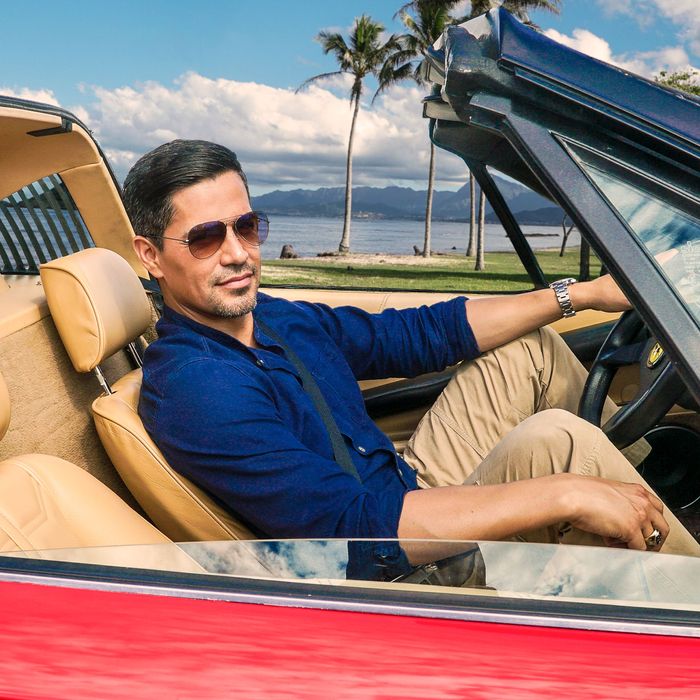 Magnum, sans mustache.
Photo: Karen Neal/CBS
Two of CBS's big new bets this year are shows you already know. On Monday nights this fall, the network will premiere its reboot of Magnum P.I. starring Jay Hernandez, who is disconcertingly not sporting a mustache in the show's press photo. On Thursdays, the network will air its revival of Murphy Brown with Candice Bergen. CBS has decided that its viewers want comfort food, and it's here to give it to them.
While Murphy Brown will slot into the network's comedy block on Thursdays after Mom and the pairing of The Big Bang Theory and Young Sheldon, it's rewriting its Monday nights with Magnum P.I. Before that show premieres, CBS will run two of its new comedies, The Neighborhood with Max Greenfield and Cedric the Entertainer, and Happy Together, about a pop star who moves in with an ordinary suburban couple (Harry Styles is one of their producers!). CBS is also slipping its new Dick Wolf drama, FBI, set in the bureau's New York office, between fellow acronyms NCIS and NCIS: New Orleans on Tuesdays. God Friended Me, a "humorous, uplifting drama" about a man who gets a friend request on social media from God, will air after 60 Minutes on Sundays. CBS is holding its military drama The Code, its Nina Dobrev comedy Fam, and the Ava DuVernay-Greg Berlanti Chicago shooting drama The Red Line until mid-season.
Read the network's fall schedule below, with new shows in bold.
MONDAY
8:00-8:30 PM — The Neighborhood
8:30-9:00 PM — Happy Together
9:00-10:00 PM — Magnum P.I.
10:00-11:00 PM — Bull
TUESDAY
8:00-9:00 PM — NCIS
9:00-10:00 PM — FBI
10:00-11:00 PM — NCIS: New Orleans
WEDNESDAY
8:00-9:00 PM — Survivor
9:00-10:00 PM — Seal Team
10:00-11:00 PM – Criminal Minds
THURSDAY
8:00-8:30 PM — The Big Bang Theory
8:30-9:00 – Young Sheldon
9:00-9:30 PM — Mom
9:30-10:00 PM — Murphy Brown
10:00-11:00 PM — S.W.A.T.
FRIDAY
8:00-9:00 PM — MacGyver
9:00-10:00 PM — Hawaii Five-0
10:00-11:00 PM — Blue Bloods
SATURDAY
8:00-9:00 PM – Crimetime Saturday
9:00-10:00 PM — Crimetime Saturday
10:00-11:00 PM — 48 Hours
SUNDAY
7:00-8:00 PM — 60 Minutes
8:00-9:00 PM — God Friended Me
9:00-10:00 PM — NCIS: Los Angeles
10:00-11:00 PM — Madam Secretary