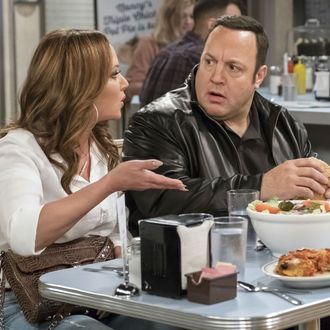 CBS has cancelled Kevin Can Wait after two seasons, according to industry sources and confirmed by Variety. CBS does not comment on cancelled shows, so don't @ them. The move comes as a surprise, but some have speculated the cost of the series may have been a factor.
The show debuted in 2016 to high ratings and was one of the most watched new shows of last season, but ratings declined amidst a creative change up. During season one, showrunner and co-creator Bruce Helford left to work on ABC's Roseanne. After that, the show decided to kill off its female lead, Erinn Hayes, at the end of the first season. The move was meant so that they could replace her with Kevin James's former King of Queens co-star Leah Remini, but fans did not take it well and ratings never recovered.
CBS has been cleaning house today, cancelling several other series, including Superior Donuts, Scorpion, 9JKL, Me, Myself & I, Living Biblically, and Wisdom of A Crowd. So if you didn't get cancelled by CBS today, congratulations.