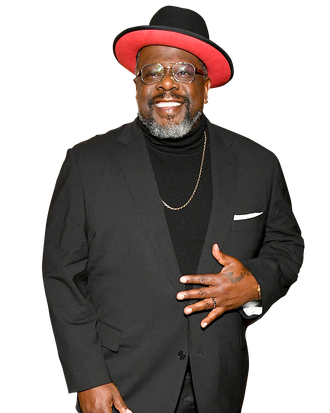 Cedric the Entertainer never stops working. He's currently starring in The Last O.G. with Tracy Morgan, his sitcom Welcome to the Neighborhood just got picked up by CBS for the fall, and he's currently on The Comedy Get Down stand-up tour with Eddie Griffin, D.L. Hughley, and George Lopez. In the middle of all this, he made time to star in Paul Schrader's latest film, First Reformed, opposite Ethan Hawke. In the film, he plays Reverend Jeffers, the leader of the suburban megachurch Abundant Life, who tries to counsel Hawke's Reverend Toller with his new feelings of alienation and purposelessness.
Cedric sat down with Vulture to talk about First Reformed, working with Paul Schrader, why he plays so many reverends, and the time Tracy Morgan bought The Last O.G. crew a whole bunch of White Castle out of the goodness of his own heart.
How did you get involved with First Reformed in the first place? It's just a bit of an atypical choice given your previous film projects.
Yeah, this was one where I believe Paul [Schrader] was looking for somebody different to cast in this role. He had an idea … I guess he wanted to do something that would be a different kind of casting. He didn't want to go to, like, normal actors. When my agency got involved and submitted me, we met and we had a conversation, and he was like, "Yeah, I like you." That's it. It was one of those good Hollywood stories. You sit down and you get discovered having tea somewhere or something. That's what it felt like. After 30 years, I got discovered to do drama in a Starbucks one day. [Laughs.]
I'm curious. Were you a fan of Schrader's work before you met him?
Well, of course. The movies Taxi Driver, American Gigolo … I mean, these are things that you know. You know what he does and how he writes in this really interesting space, and the movies usually have great impact. He's legendary. You knew that the movie was gonna be somehow different than what you'd expect. So that was the experience. And of course, as a comedic actor coming over to the dramatic side, my biggest thing was making sure I was worthy.
Did he cultivate that worthiness on set? Was it a warm space for you to explore your character?
Definitely. He was very clear early on. We did maybe one or two reads of the script to get the feel of it once everyone was cast before shooting. It was in those spaces where he would let you know things that he would want you to do, or things he'd want you to pull back on here, or make sure you don't overact this scene. Those were key words for, "Bring it down." [Laughs.] He did it in a nice way. "Bring it down. Don't do that."
He's a straightforward kind of guy, which was great. I've been directed by a lot of great directors, and I like it when people make sure they're clear about their vision, especially when they're writer-directors. You have another point of view when someone has also written the words and now has to put up the visual of what it is they see. You give that a lot of respect and then you just come in. On set, Ethan [Hawke] was the same way, very accommodating as an actor, just trying to be a part of the whole energy with you as opposed to you having to be with him.
This is far from the first time you've played a reverend. You played one in Big Momma's House, Kingdom Come, and for four years on The Soul Man. Why do you think you're well suited to playing these religious leaders, or why are you attracted to those roles in the first place?
You know, it's interesting, that was one of the reasons why I was a little apprehensive about the role. When asked to do it, I was like, "Man, I just came off Soul Man. I don't wanna do another reverend." But this was a completely dramatic piece, it was one that was gonna be inside a Paul Schrader movie. This was not the "typical reverend."
I think it's the kind of personality I have. I come off trustworthy. Maybe it's the bass of my voice. I have that Everyman quality that feels like, "I could trust this guy." It's often why white people want to cast me as a reverend. The comedic version is usually because some of the extra antics that you can pull out, and how, growing up in the church, I saw so many small nuances that become this unique thing about watching a preacher work. People go, "Oh, that's so perfect. I never would have turned the Bible page like that." These little small things of watching preachers for most of my young life. They all kind of do the same thing.
But this was a different opportunity for me to even be seen in a film that had so much heavy content, and to understand the other job of the pastor. For real, it's to be like a psychologist, or like a doctor, to help people in a spiritual manner. [Paul] was showing it from a unique point of view. How does a person maintain his spiritual guidance and goals and guidelines and, at the same time, be a really big corporate CEO? I think that was what I was trying to find in my character. I had to empathize with what Ethan's character was going through and at the same time I run a really big organization and I have to stay on point with that.
I was actually gonna ask you about that. You tell Ethan Hawke's character he doesn't live in the real world because he doesn't have to make the difficult decisions you have to make. I was thinking you could easily extend this idea to working in Hollywood, like taking jobs that aren't necessarily the best for your career just to pay the rent. It's really easy to be on the outside and say, "Why did you take that role?"
Definitely! Oftentimes people ask you, "What movie did you like the best and which one do you think you wouldn't have taken if you had the chance to now?" Most actors got one right on the tip of their tongue. At the same time, you're always surprised when people walk up to you and love the very movie you hate. Like, "You know what's my favorite movie? The one where you had on the stuffed-animal suit!" I hate the fact that I had to do it! My kids were being born, I had to play Stuffy the Bear. I had to do it. There's no way getting around playing Stuffy the Bear at that time. For some people, taste matters.
Transferring to this, one, as a comedic actor, you watch people like the great Robin Williams, Richard Pryor, Jamie Foxx, that started out comedians and ended up doing really dramatic roles. So you always have this desire. I've had opportunities to kind of play that in other movies, be it Cadillac Records, Talk to Me, or even certain scenes in the first Barbershop, where people can see, "Oh man, you can actually go there!" You don't get that chance a lot. Once Paul considered me for this movie and wanted me in it, even though it was another preacher, I jumped at the opportunity to be seen in a different light, which has been the experiences I've been having since this movie started to screen. People like the energy that I bring to the screen in a movie that has so many dark themes, that this character adds a little bit of brightness for whatever reason.
I hope you don't mind me asking, but do you still go to church?
I don't go as much, mainly because it has come into this kind of mega, modern-world organizations that don't quite feel like the simple thing. The last time I went to church, I remember sitting there and as soon as they yelled, "Benediction!" it literally was a line of people to take pictures with me while I was in the pews. I didn't get a chance to go talk to the preacher yet. I didn't even get to grab my kids who were sitting in another area. It made me think nobody was really paying attention to the sermon, they were just surprised that I was at church and wanted to take pictures. I don't like that energy. Unfortunately, it deterred me from going, but I do need to.
I love the spirituality and the energy there, I love the songs, I love to get a message from a great speaker who can explain the Bible in ways that are applicable and practical to your life. So I have to find somewhere unique to go. But it's usually a travel day for me because I tour on the weekends and I come back home on Sundays, and so I've kind of let it become more a "day of rest" for me. I get home and that's my only decompressing day, so I chill.
You've been friends with Tracy Morgan for a while now. What's it like working on The Last O.G., his passion project?
I mean, the guy shows up in Ferraris and Bugattis and stuff. He calls it his Walmart money. He's always like, "Don't worry about it, y'all. I got hit by a truck!" [Laughs.] The fact that he's been able to live through such a dramatic thing and come out on the other side and still be Tracy Morgan, still be this off character, interestingly funny human being … This story was something that meant a lot to him, and to have Jordan Peele to break it for him and write it out, to get Tiffany Haddish on there when no one knew her life was gonna shine at the time, it's a perfect opportunity for a dude that so many comics have great respect for. His comedy brand is uniquely Tracy Morgan. There's nobody else that's quite like him, kind of weird and funny and lovable and hood. All the things at once that you recognize about him.
He's a great guy on set. He's always so accommodating with everyone, sometimes to a fault. I was telling a story about how one day he thought he was doing the right thing and bought like $400 worth of White Castle for the crew and stuff.
Oh my God.
Yeah! Like, he just went and bought like $400, $500 worth of White Castle for the crew, and we were still working. I was like, "Dude, this is gonna be a funky set. You didn't think that one through, bro! Once people eat this stuff, we got the rest of the day to work, and it's hot. This ain't gonna be pleasant at all. Turn the fans on!" I know it's a grand gesture, but whoa, bro! Just get pizza next time!
This interview has been edited and condensed.