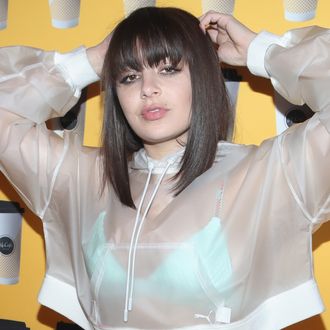 Charli XCX.
Photo: Randy Shropshire/Getty Images for McDonald's
Earlier this month, Rita Ora gathered the girl squad of Cardi B, Bebe Rexha, and Charli XCX to put out an early candidate for Song of the Summer. The resulting electro-pop tune, "Girls," took listeners on a sonic journey about girls sexually experimenting with, well, other girls — and it received a noticeable amount of criticism after being released, so much so that Rita Ora issued a statement of apology to the LGBTQ community. Charli XCX has now responded to the backlash the song received, although she's not exactly offering words of regret. "I could totally relate to the conversation that was being had. Of course, the intention of the song was never to hurt anybody," she explained, noting how she read the critical posts Hayley Kiyoko and Kehlani wrote. "None of the artists on this song would ever want to upset or hurt anyone."
Charli XCX also noted how a personal experience between Ora and a woman fueled the song's inspiration, an experience of which many outlets are trying to crack. "I know from when Rita invited me to be a part of the song, this song was about a specific experience that she had with a woman," she said. "I know that Rita's had extremely meaningful relationships with both men and women. She really does have every right to tell her story because she's not doing it from an exploitative viewpoint. She's been with women and had relationships with women. She's had relationships with men, too. I don't understand why her story is less valid than anybody else's." She added:
I've known Rita for a very long time in this particular journey and in this particular story in her life. I would never want to take anyone's space in pop music, but Rita is somebody I've known for a very long time who has had queer experiences and [I felt] that perhaps this is a safe space for me to be on this record. I apologize to any people I've offended by that.
In addition to Charli XCX and Ora, Cardi B has also apologized for her involvement in the song, saying she "wasn't aware" that the lyrics could be offensive to the LGBTQ community.
As for Rexha, she offered this nugget of wisdom when asked if she regretted her "Girls" participation: "My sexual life is nobody's business. But we're singing a song about kissing girls and that remains true to who I am. It's the life that I live and it's honest to me."