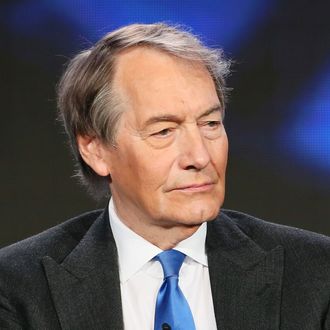 Charlie Rose in 2016.
Photo: JB Lacroix/WireImage
An additional 27 women have come forward to the Washington Post to accuse Charlie Rose of sexual harassment and misconduct. Fourteen CBS News employees and 13 women who worked with Rose elsewhere, say that the former CBS This Morning anchor and 60 Minutes correspondent groped or harassed them. This news follows a Post report from November in which eight women alleged Rose made lewd phone calls, walked around naked, and more. Rose was then fired from CBS and his eponymous PBS show was cancelled. In response to the Post's report with the 27 new allegations, Rose replied: "Your story is unfair and inaccurate."
The new allegations against Rose date back to the 1970s. Former research assistant Joana Matthias, now 63, told the Post that Rose exposed his penis and touched her breasts when they worked together at NBC News's Washington bureau. During Rose's time at CBS, women described much of the same behavior: He allegedly groped woman employees, asked personal questions about their sex lives, walked around naked, "pawed" at them, and more. Brooks Harris, a CBS assistant in her 20s, said Rose often took her to expensive lunches and hired her for his PBS show, where he allegedly once suggested she have sex with another female assistant.
At least three times, according to the Post, Rose's conduct was flagged to CBS higher-ups: in 1986, in 2011 after he was named co-anchor of CBS Morning News, and again in early 2017. Accusers told the Post they felt the news organization prioritized the careers of male stars, a claim which CBS denies. "Since we terminated Charlie Rose, we've worked to strengthen existing systems to ensure a safe environment where everyone can do their best work," a statement from CBS News said, adding that it had no human resources complaints against the ex-anchor on file.
An attorney representing three women named in the Post's newest report — Harris, former Charlie Rose assistant Sydney McNeal, and former Morning News assistant Chelsea Wei — say they plan to file a lawsuit alleging Rose subjected them to "repeated physical and verbal sexual harassment." In the time since his firing, Rose has reportedly been splitting time between his mansions, and working on a comeback show of sorts, highlighting men accused of harassment and abuse in the age of #MeToo.