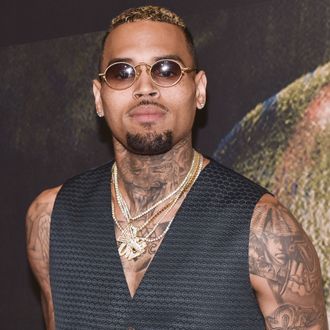 Chris Brown in 2017.
Photo: Rodin Eckenroth/Getty Images
Chris Brown is facing new legal problems today after a young woman alleged that she was sexually assaulted and held against her will at his California home. Both Brown and Young Lo (real name: Lowell Grissom) are named in a lawsuit that was filed this morning in the Los Angeles County Superior Court. According to the unidentified woman's attorney, Gloria Allred, this is "one of the most horrific sexual assault cases that I have ever seen."
During a press conference in Los Angeles this afternoon, Allred recounted what allegedly happened between the night of Feb. 23 and the early morning of Feb. 24 of last year when the plaintiff attended a concert at West Hollywood nightclub 1 Oak.
Allred said her client was invited to attend an after-party at a recording studio with Brown and Young Lo, when her phone was confiscated. When the young woman wanted to leave and asked for her phone back, Young Lo reportedly told her she didn't need it because the party was moving to Brown's L.A. home.
"She was forced to go to Brown's home," Allred said, where the singer provided guests with alcohol and illegal drugs that included cocaine, marijuana, and molly.
"Brown handed each female guest a clear pill filled with white powder and instructed them to take it to have a good time," Allred said. The plaintiff in this lawsuit said she declined to take the pill.
The young woman described an atmosphere of "hardcore partying" that both "scared" and "intimidated" her, especially when Brown and Young Lo started playing with several guns, one of which was carried in the waistband of Brown's pants. At one point, she said Brown waved a gun in the air as guests drank and took drugs.
Allred said that even though her client repeatedly asked for her phone to be returned so that she could leave the residence, Young Lo refused. This prompted the plaintiff's mother, who had been trying to reach her daughter for hours, to call the LAPD after she used an app to track her daughter's phone to Brown's home. When the police arrived to the house, Brown reportedly refused to open the gate and the police left. Brown allegedly instructed Young Lo to hide a large duffel bag filled with guns.
At one point in the evening/early morning, the plaintiff said she was confined to a bedroom where she became the victim of what Allred described as a "horrific sexual assault." Brown is not named as the rapist. Allred said that the singer may have pushed a sofa in front of the bedroom door so that the woman was unable to escape.
Allred, who would not describe the graphic sexual assault in detail today because of its brutality, said her client has been "severely traumatized." The plaintiff has cooperated with investigators.
Allred confirmed that the case is still open and presumably being investigated by the LAPD and the District Attorney's Office, though no charges have been filed against either Brown or Young Lo.
The young woman, who is identified only as "Jane Doe," was not present at the press conference.
Brown, who has yet to respond publicly about this newest lawsuit, has been involved in a slew of other legal jams in recent years.
Just two years ago, Brown was sued for beating up his manager so badly he ended up in the ER. And just last year, rap producer Suge Knight dropped a lawsuit against Brown over a shooting at a West Hollywood nightclub that he blamed on Brown's feeble security. The singer also recently settled a lawsuit brought by a photographer for battery in Las Vegas in 2017.
Brown is getting ready to kick off his summer tour, "Heartbreak on a Full Moon" with Black, H.E.R and Rich the Kid in June. There's no word on whether he could be criminally charged in the case.