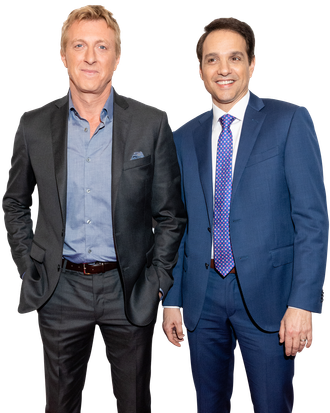 Zabka, left, and Macchio.
Photo: Getty Images
A tip for Karate Kid fans, especially those who papered their walls with posters of Ralph Macchio and Billy Zabka back in the '80s: When Cobra Kai premieres on YouTube Red on May 2, go directly to episode nine and fast forward to the 10:36 mark. No spoilers, but suffice it to say that a fast car, a quintessential power ballad, and the reunion of Karate Kid rivals make for a dream scene you didn't even know you were waiting for.
Not that the rest of YouTube's Karate Kid spinoff should be skipped, of course. Macchio and Zabka teamed up with Hot Tub Time Machine writer Josh Heald and Harold & Kumar writers Jon Hurwitz and Hayden Schlossberg for the series, which finds adult Daniel LaRusso and Johnny Lawrence in very different stations, but both still hanging on to their karate teachings. Naturally, the story has enough '80s callbacks to satisfy fans of the classic movie, but also enough humor, heart, and breakout performances from young cast members like Parenthood's Xolo Maridueña, Nichole Brown, Kirby Buckets star Jacob Bertrand, and Designated Survivor's Tanner Buchanan to draw a new generation of viewers. Vulture talked to Macchio and Zabka, who hadn't been in touch for decades after they beat the hell out of each other during that cruel summer 34 years ago, about what made them hop on TV's revival craze, being the adults in a very teen-friendly drama, and whether or not they see Cobra Kai as a long-term project.
I'm sure you've been approached about many Karate Kid projects for decades. Why did you say yes to this one?
Ralph Macchio: Over the years, certain bad pitches were thrown in front of us. When you look at the Roseannes and the Will and Graces — when those reboots or sequels or whatever you want to call them are well-executed and have a fresh angle that's relevant, it's a big, warm, comfort hug to the audience. We're hoping to have that same thing. The creators, Jon Hurwitz, Hayden Schlossberg, and Josh Heald, had a such a clear vision. It's fresh and relative, and they're the biggest Karate Kid fanboys I ever met. It's Star Wars to them, and they wanted to preserve the nostalgia and the legacy of what the film was. On top of that, we're at a time now where streaming services have the ability to tell a five-hour movie and cut it up into ten parts. All that came together, and it was just the right time for me, because I did say no for 30 years.
Billy Zabka: I worked with Josh on Hot Tub Time Machine, and they emailed me one day and asked if we could have a meeting about a project. We went to a restaurant, and they brought out Cobra Kai and wouldn't let me order — we just had chips — and they ended up pitching the whole thing. They had created this whole world that's not just this season, looking at it through Johnny's eyes. By the end of it, they said, "Well, are you in or you out?" And I said, "I like what I'm hearing. I'm in. What's next?" They said they needed to go get Ralph. A couple days later, Ralph said, "We need to talk."
Macchio: Literally, he said, "I was expecting this." It wasn't even, "We need to talk." I get on the phone, he just picks up and goes, "I was expecting you to call."
We spend a lot of time learning Johnny's story, past and present. How important was developing that part of the show? 
Macchio: It was the first thing. We knew Johnny Lawrence, but we didn't know anything about Johnny Lawrence. It's a similar angle to Creed — Adonis Creed didn't follow Rocky Balboa, but he went in a side door and had a whole other part in the Rocky universe that you get to see, and then Rocky became a part of that story. In Cobra Kai, it pulls Johnny and Daniel LaRusso together.
Audiences are used to seeing anti-heroes now, especially on TV. Is that why now seemed like a good time to tell the Johnny Lawrence story?
Zabka: Yes. In the '70s and '80s, there was a good guy and a bad guy — it was very black and white. I think there's more shades of gray in entertainment in general, but especially in television today. My biggest concern was that I wasn't going to double down on being mean. It was important that there were layers, that you could understand Johnny.
In addition to delving into Johnny and Daniel's current lives, Cobra Kai introduces a whole new generation of karate kids under their mentorship. What has it been like to be the adults this time?
Macchio: Whenever I get scenes with the younger characters, I'm like, "Yeah, I used to do that. I used to do that stuff." I think it's a natural progression. My kids are a little older than the kids in the show, so I sort of lived that as a parent and as a mentor, if you will. It felt natural. The show does deal with bullying in the present day, because that's changed. I really like the way Jon, Josh, and Hayden handled the theme of bullying, peppered throughout the show and showing the difference with technology.
Zabka: The Karate Kid was really about mentorship, with Daniel and Miyagi and Johnny's mentor, who happened to teach him the wrong things. But for my character, he learned a lesson, too. When they asked me to do this, I said, "Cobra Kai is really a Pandora's box for Johnny. You have to give me a real good reason for developing this." And they said, "He's gonna try to do it differently now. That's why it is hard to decide whether the principles of Cobra Kai are noble or not." I'm a father now, and to work with these kids, they were amazing. They were super-excited to be there, and they were so easy to work with. It really ended up not even feeling like acting.
You guest-starred on How I Met Your Mother and you've made appearances together, but did you keep in touch throughout the last few decades?
Macchio: More so in the last ten years than right after the movie. I still had those scars, you know? [Laughs.]
Zabka: Yeah, it took him a while. But once we got to counseling, then we made the 20-year mark, we decided to put this all behind us. After that, we went on our first camping trip together, which was a blast.
Macchio: It was good. And the settlement agreement worked out nicely.
Zabka: Settlement agreement was good. And canoeing down the Klamath River was my favorite memory.
Macchio: Thank God I knew how to swim when he pushed me off.
Zabka: Christmas was not fun that year.
You're both executive producers on the series. Did you have a hand in the callbacks to Karate Kid and the '80s?
Macchio: Yes, but Jon, Josh, and Hayden had all these scenes in mind, too. We would watch them watch us, even in rehearsal, and they were just giggly little kids. They said that they wanted to make a show fans were gonna love, and they've done more than that, in my view. I think it will bring new fans to this franchise. After we did How I Met Your Mother, I run into kids that are like, "I saw How I Met Your Mother and it was awesome, and then I watched The Karate Kid." I think that's gonna be the same scenario with Cobra Kai for a younger audience.
Do you each have a favorite moment in Cobra Kai?
Macchio: The first scene we shot together was really one of my favorites, which is when I come into the dojo for the first time.
Zabka: Yeah, that was exciting. [To Macchio] I don't know how it was for you, but we were calm and ready all along the way until we started shooting. I did my Johnny stuff, and you went up and did all your Daniel stuff, I felt like I shouldn't be around to see it, you know? That scene was my favorite scene, too. It was the first one back after all these years, and it felt very organic and very honest.
Macchio: There's a bunch. There's some nice stuff for Daniel in episode five, where he pays respect to Pat Morita's performance as Mr. Miyagi, finding his power and sending him off in a better direction. There lots of others, but I don't want to spoil it now.
There are a lot of twists and surprises, right to the very last scene.
Macchio: I mean, you're rooting for … well, we can't say this either, but it's interesting that in the final fight scene, you could root for either of the contenders.
You mentioned that the Cobra Kai creators have a whole story line mapped out. Are you onboard for more seasons?
Macchio: Yeah, season one was always a set up for season two. That was by design. Daniel has a lot of story left and so does Johnny. Given some of these great breakout performances from the younger cast, there are many avenues to go down for this whole universe. Hopefully, we get to go down them for a while.
This interview has been edited and condensed.