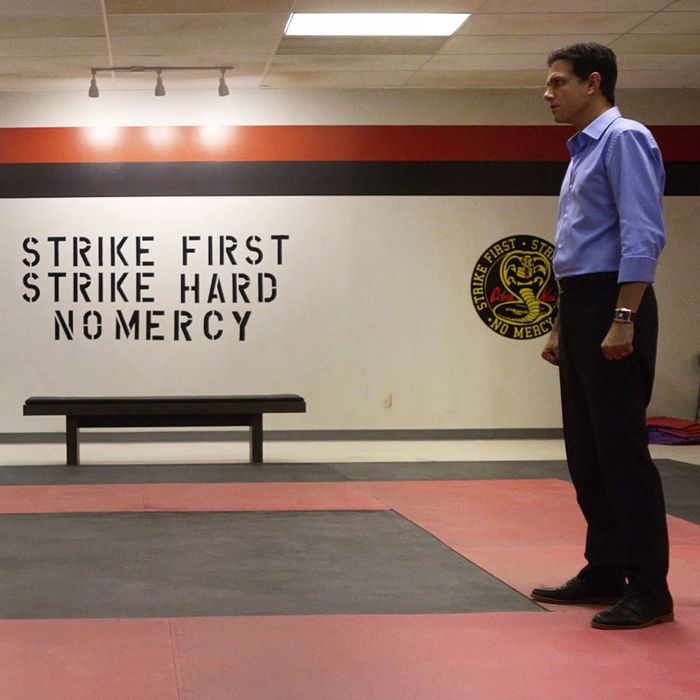 Johnny (William Zabka) and Daniel (Ralph Macchio) face each other once again.
Photo: YouTube Red
Technically, The Karate Kid is a film franchise, one that consists of four movies and a 2010 remake. But with all due respect to Jaden Smith, Hilary Swank, and to Peter Cetera's "The Glory of Love," it's the first 1984 feature — the one that introduced us to Daniel LaRusso, his karate mentor Mr. Miyagi, and Daniel's mortal martial arts enemy, Johnny Lawrence — that remains the most beloved of them all.
The team that made Cobra Kai, a new YouTube Red series that reignites the LaRusso/Lawrence rivalry in the year 2018, clearly feels the same way about 1984's The Karate Kid. Josh Heald, co-writer of Hot Tub Time Machine, joined Jon Hurwitz and Hayden Schlossberg, who co-wrote the Harold and Kumar movies, to create ten half-hour episodes that treat the original not just as canon, but almost like the Bible. That first film provides the foundation for Cobra Kai's plot structure, its character motivations, and numerous visual references. On multiple occasions, scenes from the movie are replayed in their original form in extended flashbacks. It's instantly obvious that the events that led up to and included the pivotal 1984 All-Valley Championship — where Daniel delivered the decisive crane kick that cemented his victory over Johnny, the quintessential '80s teen movie asshole — are still very important to Daniel and Johnny. But they are just as important to Heald, Hurwitz, and Schlossberg, who co-wrote all of the episodes and directed a few, too.
The series plays with that sense of reverence in clever, knowing ways. At one point, Johnny recalls his high school love affair with Allie, the Karate Kid love interest played by Elisabeth Shue, who is mentioned but does not appear in Cobra Kai. Johnny's spoken memories are juxtaposed with scenes from the movie and indicate that, like most people, he has a skewed sense of history that paints the past in a more self-serving and pleasing light. But the subtext of the moment says something else about a nostalgic popular culture that keeps churning out reboots and revisitations: Perhaps we revere our childhood touchstones so much that we glorify them as greater than they were. But although the series toys with that notion, it never fully embraces it. Mostly, it steers its storylines into places that will feel familiar to those who know The Karate Kid, or that at least will enable the writers to make some choice Karate Kid references.
Johnny Lawrence, played by William Zabka, has grown into the kind of man you always thought an '80s teen movie bully would become: a sad, lonely, unambitious drinker of Coors beer who tools around in his Pontiac Firebird and still listens to Poison. But when he unleashes his inner karate master to defend a kid getting picked on, he decides to mentor that kid — that would be Miguel (Parenthood's Xolo Maridueña), one of multiple Daniel-san surrogates in Cobra Kai — and then to reopen the Cobra Kai dojo that instilled the "strike first, strike hard, no mercy" moral code in a young Johnny. Brace yourselves, America: Johnny Lawrence is a sensei now and he's about to impart his values to a whole new generation of impressionable kids. "You can leave your asthma and your peanut allergies and all that other made-up bullshit outside," he says in an early lesson. (Spoiler alert: Yeah, Johnny Lawrence is still a major-league asshole.)
Though Johnny and Daniel haven't been in contact for decades, even though they live in the same general region of Los Angeles, Daniel's presence looms large in Johnny's life because he's everywhere. As the owner of the successful LaRusso car dealership, Daniel's face is on billboards and in car commercials, a constant reminder to Johnny that his nemesis found success. As portrayed by the always winsome Ralph Macchio, he also still seems like a nice guy — one who is married, has two kids, and tries to do the decent thing. But even Daniel is still a bit preoccupied by the days he spent learning karate. Everyone who does business at LaRusso gets a complimentary bonsai tree, an homage to his late mentor, Mr. Miyagi, that probably makes no sense to customers who leave wondering why this Italian man has co-opted this particular piece of Japanese culture.
But once Johnny re-enters Daniel's orbit, old feelings of Cobra Kai resentment are reignited. As viewers will undoubtedly anticipate, the two become enemies again, and this time their rivalry involves their children and the teens that Johnny is attempting to instruct.
Macchio and Zabka embrace their roles with relish and clearly have fun with the more blatant riffs on the original movie. "Any particular way you want me to wash these windows?" Miguel asks while helping to spruce up Johnny's dojo, making us initially expect that a classic line from the movie is about to be uttered. "Nah, I don't give a shit," Johnny says, squashing the moment. But don't worry: In a subsequent episode, Daniel goes out of his way to show Johnny's son Robby (Tanner Buchanan), who gets a job at the dealership, how to "wax on" and "wax off" while shining up the cars on the lot. It makes you think the writers decided to make Daniel an auto salesman mainly so they could justify a wax-on, wax-off callback. It's quite possible that's exactly what they did.
Even if Cobra Kai is a little too in love with its evocations of the movie, there is still something compelling about seeing Johnny and Daniel back together, particularly because both men haven't changed in key ways and have different ways of grappling with and denying that. As I noted earlier, it's rare to see an '80s reboot that tries to address how adults both empower and limit themselves by holding their memories of youth so close. I give Cobra Kai credit for that.
At the same time, the series comes across as amateurish at times. The dialogue sometimes sounds unintentionally ridiculous — "You like Speedwagon?" Johnny asks when he notices Daniel bobbing his head to an REO Speedwagon hit, to which Daniel responds, "What kind of man doesn't?" — and the directing and editing style can be a little cheesy. Sometimes that cheese is meant to echo the cheesiness of The Karate Kid, as in a first-date sequence at the local mini-golf course and arcade that mirrors a similar sequence from the 1984 movie, right down to the use of the awful song "Young Hearts." But sometimes the choices seem more reflective of a low budget and lack of imagination.
While there are several mentor-mentee relationships in Cobra Kai, there isn't one that quite matches the spirit of the gentle bond between Daniel and Mr. Miyagi, played by the late Pat Morita, who is acknowledged in an end-of-episode tribute. Miyagi — and, by extension, The Karate Kid — advocated for avoiding violence whenever possible. But in the series, there are multiple scenes of Cobra Kai trainees, most of them social outcasts seeking to embolden themselves, who use their moves to take down bullies outside the walls of the dojo. While that script flip may be satisfying since it casts the nerds as the triumphant ones, it also sends a mixed message, especially when considered in tandem with grown-up Daniel's focus on finding one's center.
These contrasts ultimately make Cobra Kai more complicated and less black-and-white than its source material. Since there will likely be a second season of this series, incorporating shades of gray would serve it well long-term.