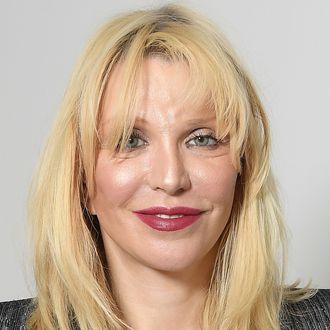 Courtney Love.
Photo: Venturelli/Getty Images
Courtney Love is making headlines again, and for an absolutely wild reason. Billboard reports that in new complaint filed in Los Angeles County, Isaiah Silva, the ex-husband of Love's daughter Frances Bean Cobain, is alleging that Love orchestrated a plot against him that included assault, kidnapping, extortion, false imprisonment, and attempted murder. The reason for all this scheming? Silva says it was hatched so Love could retake ownership of a Kurt Cobain guitar (a 1959 Martin D-18E the Nirvana frontman famously played on MTV's Unplugged) that Frances Bean gifted him as an anniversary present. Love's co-defendants in the suit make the whole case even more surreal, with her business manager Sam Lutfi — the former manager of Britney Spears who became infamous when her family claimed he was puppet mastering her off a cliff, and then he sued Spears for defamation — and 13 Reasons Why star Ross Butler both named as co-conspirators.
According to the lawsuit, a campaign of harassment was waged against Silva by Lutfi, with the crescendo coming on June 3, 2016. That's when, Silva claims, Lutfi broke into his house shortly after midnight with Butler and a man named Yan Yukhtman, and all three of them allegedly kicked out a friend who was over before threatening to rape and beat Silva. Then they kidnapped him, drove off, further threatened him and his family, and almost got arrested when the cops showed up in cars and a helicopter after responding to an emergency call from Silva's friend who had been at the house. No arrests were made because Silva claims Lutfi threatened to hurt his daughter if he didn't go along with a story claiming it was all a prank gone awry. The night continued after, with Lutfi and company taking Silva home and demanding he hand over the guitar (it wasn't at the house) and sign a settlement that would have given Love and Cobain ownership of that and other family memorabilia in his possession.
The harassment allegedly continued after the kidnapping, and involved acts like listing Silva's daughter's puppy on Craigslist as a free dog. Silva also claims Lutfi supplied Cobain with drugs, which he continued to feed her after she became dependent on them. According to Billboard, a source connected to the Cobains said, "Frances and the family are prepared to fight with a fury of unprecedented legal force and they will prevail." In the divorce settlement between Silva and Cobain from earlier this year, he was awarded the guitar while she kept their property and was absolved of spousal support.