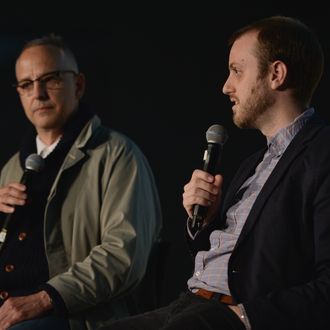 Marc Smerling and Zac Stuart-Pontier.
Photo: Andrew Toth/Getty Images for Vulture Festival
It looks like the Kennedys are getting the Crimetown treatment, or at least something like it. Marc Smerling and Zac Stuart-Pontier's hit true-crime podcast chronicles the history of crime in American cities, with their first season looking into organized crime and corruption in Providence, Rhode Island. Though the next season of city-based crime history isn't scheduled to be released until the end of summer, the duo premiered a trailer at the 2018 Vulture Festival for their next effort, The RFK Tapes.
Slated to premiere on June 5 — the day before the anniversary of Robert F. Kennedy's assassination — the new series will cover the infamous day in the Ambassador Hotel's kitchen when Kennedy was shot by Sirhan Sirhan, the tapes that captured it, and the conspiracy theories that inevitably followed. Episodes will include interviews with the people who were there — as well as original audio from the tapes that were locked away by the LAPD for 20 years.