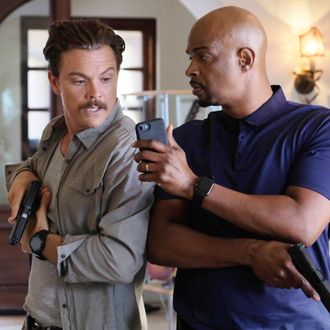 Clayne Crawford and Damon Wayans.
Photo: Darren Michaels/FOX/Fox Broadcasting Co.
Rumors of bad blood between Lethal Weapon co-stars Damon Wayans and Clayne Crawford have been circulating for weeks. Now that Crawford has been fired from the Fox drama series, to be replaced as lead by Seann William Scott, Wayans has taken to social media to respond to those fans reportedly blaming him for Crawford's dismissal. "Kiss the dark side of my ass if you don't understand it wasn't just me," the actor tweeted. "@ClayneCrawford has a file of infractions."
Wayans went on to describe an assault that allegedly took place between Crawford and another performer. Claimed Wayans, "He hit another actor in the mouth with a bottle of green tea and busted his mouth open." In another tweet, the actor elaborates on Crawford's rumored "bad behavior." Wrote Wayans, "He became UNINSURABLE! Relished in making female cry. And stuck fear in cast and crew."
In late April, Crawford addressed his on-set behavior, which he admitted had led to two reprimands from the studio. As the actor explained in an Instagram post, "The first reprimand was because I reacted with anger over working conditions that did not feel safe or conductive to good work under the leadership of a guest director and assistant director who, in turn, were angry at my response." Crawford said he apologized for his reaction and completed "studio-approved therapy" to address the incident, as well as donated part of his paycheck.
The subject of the second reprimand, however, is the topic of Wayans's tweetstorm. As Crawford himself revealed in that same April statement, a then-unnamed actor was injured during filming while Crawford was guest directing. "An actor on set felt unsafe because a piece of shrapnel from an effect hit him," Crawford said at the time. Turns out, that actor was Damon Wayans. In a video posted to his Twitter Monday evening, Wayans can be seen reacting to an injury to his scalp on-set. The Lethal Weapon star tagged the video "#directedby @ClayneCrawford."