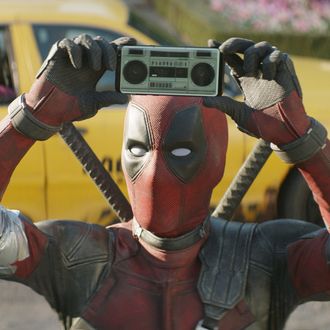 Photo: Courtesy Twentieth Century Fox/Twentieth Century Fox Film Corporation.
Deadpool 2 director David Leitch teased an extremely Deadpool deleted scene that might end up on eventual Blu-ray release. In an early cut of the film, Leitch tells Esquire that there was a post-credits sequence in which good old DP traveled back in time to kill baby Hitler. You don't actually see if he does the deed or not, but he's got the space and opportunity to change the course of history. "We sort of leave it open to the audience," says the director. "And that's what I love about that scene is, because it really makes you think about the character and who Deadpool is, and what was the moral of the story we just told you. And now we're applying it to this crazy situation. And here we are standing with the potential to change history and it's like, How are we going to change it?"
As for why the Hitler showdown didn't end up in the final cut with all those other cameos, Leitch says it was all about maintaining the proper tone, and sending the viewer off with just the right parting shot. "It was a discussion about how do we all feel about this in terms of what's the last impression we want to leave with the audience," Leitch explained. "There are so many things that are working well at the end that you want to leave the audience with that impression. As much as I love this joke, we end on a really high note and that's the way it should end." Fortunately for Letich, the box office didn't hinge on preemptively course correcting World War II, as the movie pulled in $125 million at home and more than $300 million total at the global box office for its opening weekend.