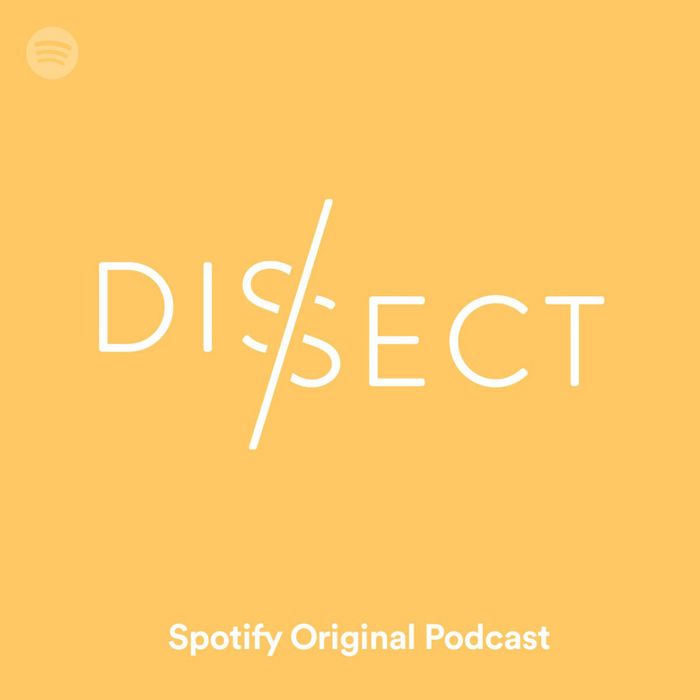 If you like hip-hop, podcasts, and ludicrously close reads of song lyrics, you're in luck. Dissect, one of the more interesting music podcasts around, returns for its third season this week, and this time, it's going deep on Frank Ocean's critically acclaimed 2016 album, Blonde.
Self-described as a serialized music podcast, each season of Dissect is dedicated to studying a different hip-hop album of note. Its first edition, which dropped in the summer of 2016, dug deep into Kendrick Lamar's To Pimp a Butterfly, while its much-improved sophomore effort from the following summer turned its attention on Kanye West's fifth studio album, My Beautiful Dark Twisted Fantasy. It's helpful to think of each season's structure as analogous to a book; while each episode focuses on a different track on the album, each successive episode builds on the ideas that were laid out before, layering on top of each other and ultimately coming together into a pretty interesting argument about the song, the album, and the artist. Quite literally, it's a feat of musicological scholarship, one that sees host Cole Cuchna serving the listener an interconnected mishmash of things through his surprisingly affecting monotone narration: insight into the compositional techniques utilized in a given song, biographical context that deign to say something about West or Lamar's relationship to a particular track, and an abundance of lyrical exegeses to pull everything together.
Dissect froths with passion, and mostly for the better. While Cuchna can get a little overzealous with praise — the words "transcendental" and "genius" are tossed around much too frequently — his fervor is infectious, and that's perhaps the point. In essence, the podcast is an artifact of pure appreciation, functioning as a space for existing fans of the studied albums to unabashedly gush over the work in question. In this, Dissect curiously echoes some of the pleasures found in another really interesting — and really good — music podcast that hit the Apple Podcast charts recently: I Only Listen to the Mountain Goats, Night Vale Presents' wonderful collaboration with the titular band's front man John Darnielle. That podcast, which uses a similar episode-track structure, largely plays out as a shaggy, fun conversation between Darnielle and co-host Joseph Fink, and often finds itself drilling into the notion of the relationship between being an artist and being a fan; that is, how fandom is core to the work of artistry. Cuchna, bottling his intense fandom in a series of podcast episodes, sonically embodies an alternate version of that idea: His fandom is itself an act of creation.
"I don't really consider my work to be music criticism," Cuchna told me. "I'm more of a bullhorn for what I consider to be great art. In a world now that consumes content so rapidly and often passively, we need to champion artists who still put the time into conceptualizing larger works that aren't disposable, that have depth and sustained value. In this way, Dissect is essentially a service."
And it's a service that's evolving. Cuchna's choice to build his third season around Frank Ocean's Blonde marks a slight departure from his modus operandi. Dissect's first two seasons largely comes from Cuchna's personal relationship to those albums. In contrast, the decision to cover Blonde was ultimately a response to listener demand. "I liked Frank Ocean, but I wasn't as familiar with his work as I was Kendrick and Kanye," he said. "There was overwhelming interest from Dissect listeners about Frank, so I really credit them for pushing me to consider him seriously for season three. Of course, they were right."
The shift in subject selection further mirrors a shift in Dissect's larger context. Cuchna produced the first two seasons independently, working in whatever hours he could steal as he balanced responsibilities as a husband, father, and a day job as the creative director of a specialty coffee roasting company in Sacramento. For its third season, Dissect is professionalizing, having been picked up by Spotify as part of the streaming platform's bid to build out its original podcast portfolio. Cuchna himself has been brought into the company to work on the show full-time. "It's really a dream come true," he said.
How will Dissect's sound change with its new resources and digs? We'll find out as the new season unfurls, with new episodes every Tuesday. But I had to ask: Given Cuchna's previous work on My Beautiful Twisted Dark Fantasy, what did he make of West's recent adventures on Twitter? He replied:
A lot of people have been asking about my thoughts about the current Kanye situation and as always my focus is on the music. Like with all past Kanye iterations, it's hard to comment with any clarity until the smoke has cleared. At the very least, I need to hear his new album before I could address this phase with any confidence. Boring answer, I know. But an honest one.




I happen to be reading Nietzsche right now and just yesterday I came across this quote, which I thought was pretty interesting: "When we have to change an opinion about anyone, we charge heavily to his account the inconvenience he thereby causes us."
New episodes of Dissect's third season will be exclusively available on Spotify for a week before being released everywhere else. You can listen to the first two seasons wherever you find podcasts.