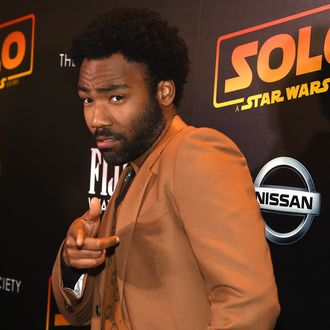 Donald Glover.
Photo: Jamie McCarthy/Getty Images
While the jury is still out (and in and then out again) as to whether or not Star Wars fans will get to see a stand-alone Lando Calrissian movie in the franchise's future, Donald Glover, at least, is extremely onboard. "It would always be fun to be Lando again," the actor told Entertainment Weekly Radio during a Solo: A Star Wars Story cast interview that airs this Thursday, when asked about a potential Lando solo project. "I would love to do it again. It's really fun. The movie, I feel like, is wide open. This part of the universe without the … I feel like with the Skywalkers, it's hard, because it's almost like the Bible. There's a story that you have to tell, and the lineage of that family. I feel like out here its like, yeah, we're just like hustlers and gamblers and space pirates, essentially, so you can do a lot more and have a lot more fun."
While Glover doesn't have any commitments to write a Lando script as of yet (since, you know, the movie may or may not be happening), he does have an idea in mind for the currently hypothetical film's potential plot. "I mean, yeah. I think it would be fun to do," says Glover. "It would be cool to see, like, Frasier in Space — like, a high-end guy in space. All of these characters are very specific and they have very specific points of view, so it's always going to be fun to see them traveling around to a planet that is the opposite of what they're used to … And all of that seems like it would be fun to write, for sure." It's hard to tell who should be more excited by the concept: fans who love Star Wars, or fans who will finally get the pansexual-pirate space opera of their Frasier fanfic dreams.