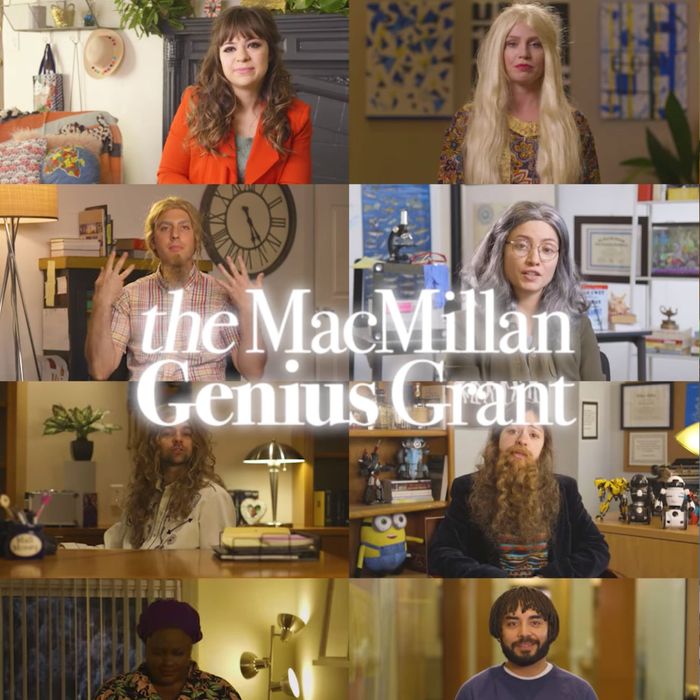 August 2, 2011, was almost seven years ago. Jesus, that's horrifying. Okay, but if I quiet my fears of aging into the dust that I shall soon become, that date doesn't have to be so awful. In fact, this column's loyal readers might say it's a happy date, because on August 2, 2011, This Week in Web Videos was born.
It was called This Week's Web Series You Need to Watch back then, but its focus was the same: identifying and celebrating all voices who took seriously the idea of creating in the ever-evolving, often thankless domain of digital video comedy. Nearly three-quarters of a decade — or 7 percent of a 100 percent filled-up Brita — later, we're honored to continue delivering on that mission, as part of the New York Media family.
In honor of this auspicious Vulture premiere, we present a roundup from three creators — a veritable smorgasbord of web video delight.
Enjoy, and thank you for reading.
The MacMillan Genius Grant, by Alison Rich
Somehow, Alison Rich found time to write and direct eight episodes of this mocku-series that profiles a different not-quite-MacArthur-level "genius" in each installment. Rich is one of the most talented character performers in comedy, but MacMillan strikes a more nuanced tone than, say, her The Body Is Disgusting series. With this contribution, she's managed to nail the art of subtlety that all good mockumentary requires, without losing any of her trademark character work, whether she's the star or not.
Take a few minutes and meet Fred Danvers, the Amateur Dentist, or Ava Gutierrez, Marine Psychologist, or even Kevin Koobey, Aspiring Podcaster. You'll be glad you did. Oh, also, these are real geniuses, and certainly not Rich, Nicole Byer, Andrew Law, Dan Klein, Drew Tarver, and Veronica Osorio.
Resistance Tips 2018, by Hot Shit Machine
Lamenting the results of the 2016 election is old hat. Still being furious about them is not, and no one is better at being furious than Jaime Moyer in Resistance Tips 2018. This installment (and others like it, on Hot Shit Machine's YouTube channel) pack such a perfect one-two punch thanks to vastly distinct yet equally mesmerizing performances of Moyer and Maribeth Monroe. They should really have a sketch show together — OH WAIT, they do. Head on over to Hot Shit Machine's page for a delightful bevy of political panic served up courtesy of Moyer, Monroe, and writer/director/sometimes cameo-maker Andy Cobb.
Are You Still Suffering from PAR-ENT-ING?, by The Dad
We covered this before, right?
Nah, this is Volume 2 and, believe me, I didn't want to like what's really a very simple reboot of an already-simple sketch, but here we are. The same sort of visceral response to its mass appeal that lured me in the first time has grabbed me again. The premise is obvious, but it's just so damn well executed — and I don't even have kids!
As Volume 1 nears 1.5 million YouTube views, I'm betting this installment receives similar treatment.
Or, will it? Virality giveth, and virality taketh away. Such is the gift — and the curse — of internet comedy.
Luke is executive producer at Big Breakfast and a watcher of many web videos. Send him yours @LKellyClyne.