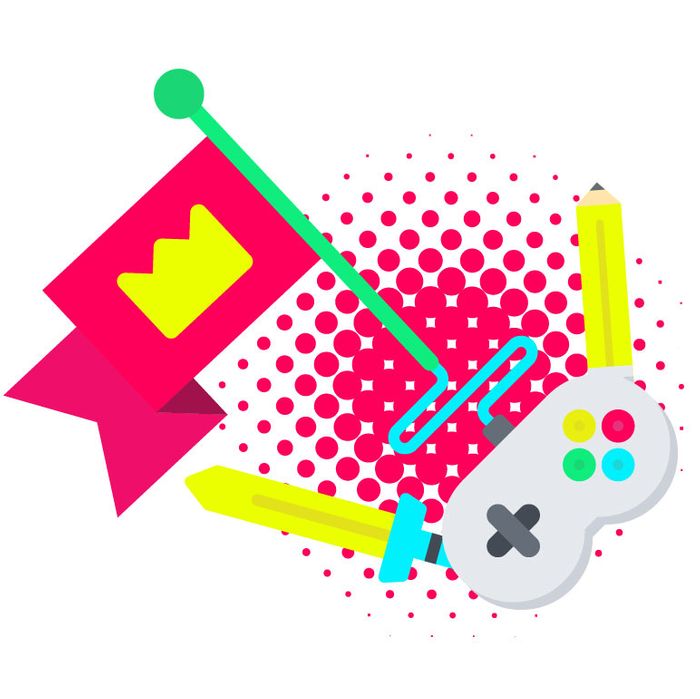 The logo for Universal FanCon.
Photo: Universal FanCon
If you were a nerd in the '80s or '90s, you were probably lonely. Maybe you found a few companions to play Magic: The Gathering with you in the gloomy solitude of your parents' basement, but you knew that your place in the larger culture was on the margins. Then the internet happened. Suddenly you could talk to fellow nerds across the land. IRL communication followed, with comic-cons popping up all over the map. Hollywood began pouring billions into franchises starring mutants and hobbits. By the end of the aughts, you were a minority no longer. At least, not if you were a straight white male.
If you were a nerd of color or disabled or queer — an actual minority — you remained on the fringes. The typical comic-con scene was about as white as the crowd at CPAC, and many of the movies and books in the canon were even whiter. But in the last few years, things have begun to change, with a black Hermione on Broadway and Black Panther smashing box office records. Universal FanCon — the pop culture convention that crashed and burned late last month — was supposed to build on this momentum, bringing together legions of geeks who had always been relegated to the lonely margins of geekdom. Which helps explain why people were so outraged and heartbroken by its abrupt collapse.
To its founders, Universal FanCon seemed like a sure bet — at least at the start. The idea for the project arose late in the summer of 2016, when Robert Butler, the founder of The Black Geeks, a pop culture podcast and website, and Jamie Broadnax, the founder of the podcast and website Black Girl Nerds, had a conversation about how much they longed for a convention where diversity was the main draw, not the subject of a single "diversity panel." Confident that many others felt the same, in December they launched a Kickstarter for a gathering that would "integrate the spirit of an inclusive world into the fabric of the con itself." Within a month, they'd raised more than $56,000, doubling their initial goal. Over the following months, they secured appearances by celebrities like Star Wars' Billy Dee Williams and speakers such as the writer Roxane Gay, and scheduled panels with names like "Hogwarts Black Student Union" and "Cosplay in Non-Canon Bodies." People who visited the Kickstarter site were assured that the project was not "just a geek event," but "a movement."
A year and a half later, that movement was looking more like the next Fyre Festival, only without the schadenfreude of watching rich Instagram influencers go to battle over sad ham sandwiches. On April 20, just a week before FanCon was set to kick off, people learned from a confusing tweet that the event had been cancelled. Vendors, event volunteers, and Kickstarter backers poured out their disappointment and confusion on Twitter. People wanted their money back and were beginning to believe those refunds would never come. Many suspected the project was some sort of scam. In an email to me, Roxane Gay accused the organizers of "willful delusion" and "malfeasance." "Up to a week before they canceled the con," she wrote, "they were communicating with me and supposedly making arrangements while we now know the emperor has no clothes." For Butler, the crowning moment came when black nerd icon Levar Burton (Reading Rainbow, Star Trek) joined the growing chorus of reproval. "As an early supporter," Burton wrote, "I am extremely distressed and disappointed by the sh*t show that #UniversalFanCon has become."
"Oh god," Butler recalled thinking when he learned about Burton's tweet. "It's that bad."
For Butler and the other organizers, the nightmare does not appear to be ending anytime soon. Writers for Black Girl Nerds began resigning out of protest over Broadnax's involvement with FanCon, and Broadnax has temporarily stepped down from her post as editor in chief of her site. Butler, meanwhile, says that an investigator for the Maryland Attorney General has reached out to him about consumer protection claims. Although many on Twitter have speculated that the organizers profited from the disaster, Butler said that he and several other co-founders collectively sank more than $300,000 of their own money into the convention — funds they'll never recover.
In recent weeks, the team behind the event has been grappling with how it all fell apart. According to their accounts, they were simply well-intentioned idealists who took on a project that proved too big for them to handle, and failed to call it off until it was too late. "It was hubris," said Butler, in his only interview discussing the implosion. Hubris — and, as he went on to suggest, a surprising lack of enthusiasm for diversity among fans. If more fans had bought tickets, he said, the whole debacle could have been avoided. "Unfortunately, they just didn't," he said. "I should have known better. But I let my belief in this nonexistent community blind me."
From the beginning, the organizers were hobbled by a lack of experience. Butler and the staff of his website — Rob Gill, Peter Matise, and Austin Abrams — handled the logistics of organizing the convention, while Broadnax, a rising star in black-nerd pop culture, was responsible for pitching the event to fans and celebrities. Together, they'd make up the board of directors, and, though none of them were paid, they agreed that if there was any money left over at the end, they'd divide it evenly. Based on the size of their respective Twitter followings and their general feel for the zeitgeist, they hoped that 10,000 people would attend. Before the Kickstarter campaign had even wrapped up, Butler signed a contract with the Baltimore Convention Center, laying down $45,000 as a deposit. (Some on Twitter who believe the convention was a scam have suggested that the organizers never put down this deposit. In fact, the convention center confirmed to me that $45,000 was paid on signing.) This deposit would prove to be their first, and perhaps biggest, mistake.
"Don't book a convention center for your first year," explains Trae Dorn, who writes extensively about the world of conventions for his website, Nerd & Tie. He's also the co-founder of his own independent convention, No Brand Con, Wisconsin's longest-running anime con. "With that Kickstarter money, they could have easily run a successful convention out of a hotel," he said. "I can think of so many failed conventions that crashed and burned before they ever opened their doors because they said, 'Let's book a convention center!' but then couldn't get the money together."
Looking back, Butler doesn't disagree. "We were victims of our own hype," he said. "We were in the bubble of social media. Our critical mistake on size and scope was that we believed that our combined tens of thousands of Twitter followers would actually come out and support us."
Half a year after the Kickstarter campaign, Butler said, they had run out of money, and had sold only a hundred or so tickets. "There was no marketing," Melanie Dione, the former director of entertainment for FanCon, told me in a text message. "If you didn't know someone directly involved, you wouldn't have known about FanCon at all." Butler and his staff at The Black Geeks decided to dip into their own bank accounts to hire a pair of consultants. (Citing legal concerns, the organizers would not specify how much they paid them.) Ron Roecker, a PR guy from L.A., had worked on the Grammys and other high-profile events, and Thai Pham, a logistics specialist, had spent six years working for Anime Expo, the largest anime-con in North America. In the days after FanCon collapsed, Pham became the focus of considerable attention, with some on Twitter labelling him a con man because he'd played a part in two other conventions that had collapsed due to funding shortfalls. Pham, for his part, told me that he had not profited from the failure of either of those conventions — in fact, he'd had to file for personal bankruptcy after one of them, a story borne out by court documents.
Butler says his advisers assured him that ticket sales would improve as the event date got closer. But by the start of 2018, with the convention just four months away, Butler said that the organizers had only sold 169 tickets — hardly enough to fill out a single auditorium at a convention center, much less the entire space they'd reserved. Meanwhile, costs were still mounting. The organizers offered five-figure fees to celebrity guests like Supergirl's Mehcad Brooks and American Gods' Ricky Whittle, and bought airline tickets for anime stars from Japan. Butler, who has a day job as an IT consultant, told me he didn't mind burning through his personal funds: "We all felt that everything would work out in the end, because the fans believed in our effort, and all of our effort would be worthwhile."
Broadnax claims she first sensed they might have trouble realizing their grand vision in mid-March, when she learned that the actor Orlando Jones was dropping out of the FanCon celebrity lineup. "Robert told me that Orlando's team was concerned about the lack of ticket sales," she said. "They were worried that he'd be showing up in an empty space, and thought that this wouldn't reflect well on his brand." (Jones's manager declined a request for an interview.) Broadnax said this was the first she'd heard that ticket sales were low. But she didn't learn about the deficit, she says, until a phone call with the board members in early April, when Robert announced that they were $289,000 in the hole. Looking back, she wondered why she hadn't paid more attention to the financial picture earlier on. "I should have dug into more details about what was actually being paid, and how much money we had in capital, and I'm going to have to live with that regret for a long time," she said.
On April 4, an emergency conference call was held to discuss the deficit and debate what to do next. "People were crying on that phone call," Melanie Dione said. Dione says she told the board that if they were going to cancel or postpone, "you need to do it now." Instead, they decided to cut expenses and shorten the guest list, while doubling down on their efforts to sell tickets and land a major corporate sponsor who could bail them out. Broadnax landed a $10,000 sponsorship from SyFy Wire, but that wasn't nearly enough to cover their costs. Even in the age of Black Panther and #OscarsSoWhite, corporations weren't ready to back a convention dedicated to diversity and inclusion. This could be attributed to the organizers' financial disarray, or the fact that ticket numbers were never high enough to appeal to corporate sponsors; Gay proposed another possibility: "It goes to show that most people only talk about diversity and inclusion in shallow ways and are completely disinterested in actually supporting diversity and inclusion."
On April 19, Broadnax got an email from the Hyatt that shook her faith in the project once and for all. The organizers had reserved hundreds of rooms for guests and volunteers, and now the hotel wanted them to pay up. If the organizers didn't hand over more than $70,000 by the end of the following day, they'd lose the rooms. In a panic, Broadnax called Pham, who explained that this was the least of their problems, as they still owed $400,000 to various contractors. Butler and Abrams say they wanted to go ahead with the convention, no matter what, even if it meant "one guy two-stepping" in an empty convention hall, as Abrams put it. Broadnax considered this "grossly irresponsible and negligent." The next morning, she told the Hyatt that FanCon wouldn't be paying its bill, prompting the hotel to send cancellation notices to the reserved guests. The fact that many people heard about the cancellation from the Hyatt and not from the FanCon organizers added to the swirl of public confusion and outrage over the debacle. That afternoon, Broadnax and several other organizers replaced the FanCon website with a FAQ stating that the convention had been "postponed until further notice."
Two week later, commenters on Twitter continue to speculate that that the organizers profited from the debacle. Trae Dorn, for one, thinks this is unlikely. "People who lose their money want a villain," he said, "They don't want it to be that some people are just bad at this. But 90 percent of convention failures are just some guys who overspent and over-promised and didn't know what they were doing."
That said, Abrams and Butler declined to show me receipts, or a line budget, or any other financial documents, citing unspecified legal concerns. Butler estimated that they ultimately raised a total of around $150,000 from ticket sales (between mid-March and late April, they increased sales, eventually selling around 1,700 tickets*), vendor and exhibitor fees, the corporate sponsorship, and the Kickstarter campaign, and said he could account for approximately $250,000 in spending. But he was sure he was forgetting some expenditures, and he estimated they owed hundreds of thousands more to contractors and guests who had yet to collect on these debts. He said he and Abrams have begun taking out loans so that they can grant refunds to ticket holders and vendors. They've paid some people back, he said, but will need more time and money to deliver on the rest. "We have no personal cash on hand at all," he said.
The weekend FanCon was scheduled to take place, fans, vendors, and celebrities who had already committed to traveling to Baltimore for the convention attended a last minute pop-up event across town. Meanwhile, the area of the Baltimore Convention Center that had been reserved for FanCon sat empty. Only a banner outside the convention center attested to what might have been. It bore a simple greeting: "Welcome Universal FanCon."
*Clarification: An earlier version of this piece noted that FanCon had only sold 169 tickets by early 2018. Between mid-March and late April, ticket sales increased to around 1,700 sold.