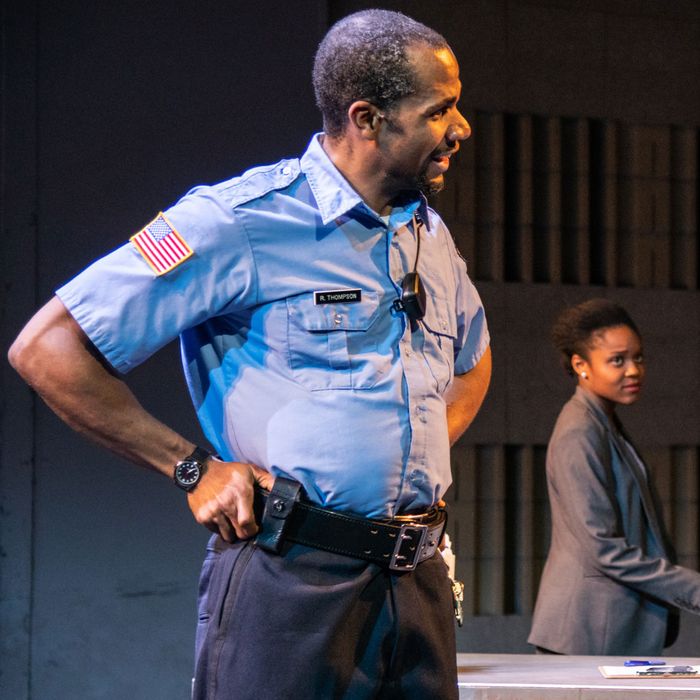 A
Fidelio
for the age of mass incarceration.
Photo: Russ Rowland
The classical music canon is like sex: the substance doesn't vary much, and it's all about how well you do it and with whom. Simon Rattle has, by his own count, performed Mahler's Tenth Symphony more than 100 times, and this time he brought his new ensemble, the London Symphony Orchestra, to Lincoln Center for a three-concert orgy of the composer's late works. The result was meticulously executed ecstasy, thousands of calibrated shivers adding up to memorable wildness. Geffen Hall has a reputation as an acoustically hostile place, harsh and cold and dry, but you would never have suspected from the orchestra's sunlit sounds and gauzy pianissimos. Mahler left the Tenth unfinished at his death, and the musicologist Deryck Cooke completed it in the 1970s, fully acknowledging the limits to his ventriloquism. But Rattle made an overpowering case for it, from the opening's long exhalation of the violas, through a suite of manic dances and psychotic digressions, to the flickering finale that passes through degrees of mournful quiet before subsiding into silence.
Fidelio, too, makes regular appearances in New York, but not like this week's: The roving mini-company Heartbeat Opera whittled Beethoven's prison drama into a swift parable of mass incarceration and performed it with a mostly black cast. The 90-minute abridgment, arranged by Daniel Schlosberg, was played by a bare-bones orchestra that nevertheless included a crucial pair of horns. A chorus of real prisoners sang the prisoners' chorus—not live, of course, but pre-recorded at detention facilities in Ohio, Kansas, Minnesota, and London. Like Mahler's Tenth, this stripped-down Fidelio is a bit of a turducken, but a powerful one. It's not much of a leap from one era's form of oppression to another, even when the sung portions are in poetic German and the dialogue in vernacular English. Adapted and directed by Ethan Heard, this version peels back the operatic trappings to let the characters emerge. Kelly Griffin jerked tears and kicked butt as Leah (Leonore) and Derell Acon gave the compromised flunky Rocco some very human ambivalence about doing terrible things to defenseless people. Heartbeat's Fidelio follows the intertwined grand traditions of miniaturized opera, biting updates, and shoestring spectacle, yet still produced something serious and new.
Fidelio will be performed at the Baruch Performing Arts Center, at 55 Lexington Avenue, on May 11 and 13.