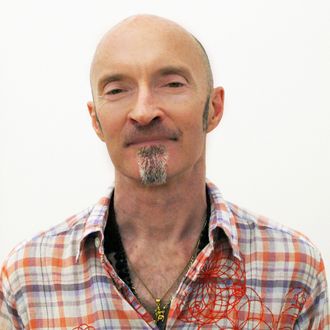 Hudson in June 2009.
Photo: Cary White/Courtesy of Feature Hudson Foundation
Frieze, the art fair from the U.K. which pitches its posh tent on Randall's Island this week, is conscientious about being more than just another high-polish symptom of global .001 percentism and its investment-grade taste economy. Before it became a brand — backed by William Morris Endeavor, with a new fair coming next February to L.A. — Frieze started as a magazine, and it still takes its educational mission seriously, with talks, performances, limited-edition editions to raise money for Downtown 4 Democracy, and, this year, a special section dedicated to the legacy of the gallery Feature Inc., and its eccentric, passionate, and ahead-of-his-time proprietor, Hudson. When Hudson — just call him Hudson — died in 2014, at 63, Jerry Saltz wrote a tribute to him, calling him "among the smartest, wittiest, and most visionary gallerists I've ever known — old-school in that he almost seemed not to want to be a dealer. He just loved art and artists."
Feature Inc. opened in Chicago in 1984 with a show of Richard Prince's re-photographs (appropriately enough, on April Fools' Day) and moved to New York four years later. Over its 30 years, it was among the first to exhibit the work of Takashi Murakami, Raymond Pettibon, Tom Friedman, Charles Ray, B. Wurtz, Judy Linn, Richard Kern, Lisa Beck, Tom of Finland, and many others. Hudson started out as an artist himself — one of his performances was called "The Greek & French Arts" (he described it as "an art history porno cooking lesson") — and was almost shamanish in his affect, with his shaved head, evolving vaguely Burning Man facial hair, and refusal to wear the usual art-world uniform of aloof-in-all-black. He always seemed to be at the gallery itself, often answering the phones, answering questions, and taking the time to respond to artists who sent in their slides. Dodie Bellamy and David Sedaris wrote for his magazine, FARM.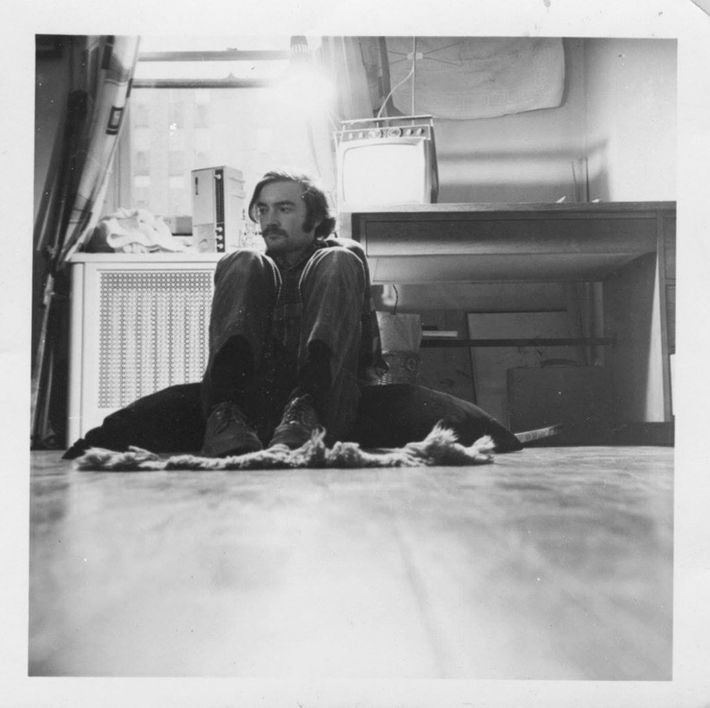 But mostly he was known for his prescience, for seeing a glimmer of possibility before most anybody else did. "I often didn't quite understand the work he showed," Saltz wrote after he died. "But — as with only a tiny handful of gallerists — I trusted him enough to make extra efforts to come to terms with it."
"When Hudson first showed Murakami's work it made no sense at all," remembers Matthew Higgs, who runs White Columns and put together the section, which is titled "For Your Infotainment" (a phrase Hudson would use on his promotional mailings). "Same thing with Tom of Finland," whose once outré gay imagery is now something like mainstream. His prescience not only made careers, but sometimes saved artists from giving up. He included in group shows Huma Bhabha — who currently has the installation on the roof of the Met — in the 1990s, when she once said, "other dealers wouldn't even look at my slides." It kept her going till the rest of the world caught up.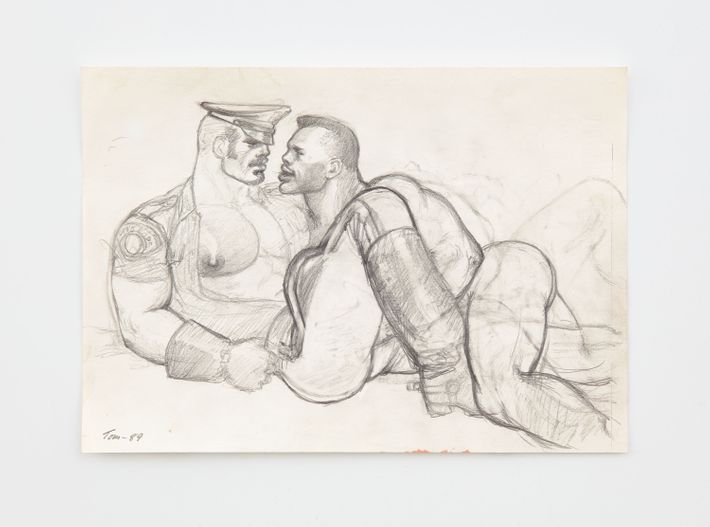 Of course, when it did, more often than not, he'd lose the artist he'd nurtured to slicker, more on-the-money dealers. "He had a maverick idiosyncratic and visionary way," says Higgs. "There was a larger purpose to what he was doing." Hudson ran the gallery "as an artist. He of course trained as an artist. His chosen medium ended up being a gallery." But still, Higgs acknowledged, "It might not have been the most financially smart way to run a gallery." For many years he avoided art fairs (explaining: "We should all pay less attention to the salesmanship and showmanship of auctions and fairs, and, of course, be more aware of the not new and hot. Stop running around trying to see everything everywhere, and spend more time with the richness that is close to home.") even after they became central to the business model for many galleries. But eventually he came around to the idea and, according to Higgs, rather enjoyed the camaraderie of his peers when he did.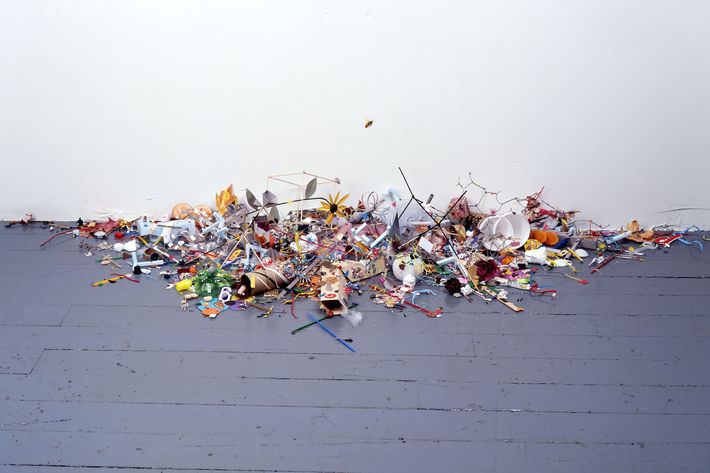 Which is why Higgs thought Frieze was an appropriate place for For Your Infotainment. It consists of artists who had shown with Feature, and are now sold by their current galleries; some of the work is from back in the day, but much of it is new. ("I wasn't interested in it being a historical section," says Higgs.) David Zwirner will present Pettibon; Gagosian, Murakami; Nicelle Beauchene, Andrew Masullo; CANADA, Jason Fox and Daniel Hesidence; Kavi Gupta, Tony Tasset; David Kordansky, Tom of Finland; Karma, Dike Blair; Stephen Friedman, Tom Friedman. Fourteen other former Feature artists, including Kern and Wurtz, will be shown in their own group booth.
Ultimately, "My hope is there would be a book," said Higgs, about Hudson and the influence of his gallery. "I think it would be an amazing museum show." There is also a foundation dedicated to its legacy. But in the meantime, under the Frieze big top, Higgs seems to also be making a larger critical point, and one which could also serve as a counterpoint to the rest of the connoisseurship circus going on this week. "Art doesn't just happen," he notes. You need gallerists like Hudson — willing to nurture, willing to take risks, willing, sometimes, to be wrong, or at least far too early on someone to make much money on them — and for other galleries to behave a bit more like he did.